Tonight: The semi-annual congressional game of chicken is back on. Plus: Self-checkout is mostly a disaster, and stores are beginning to understand why. Let's get into it.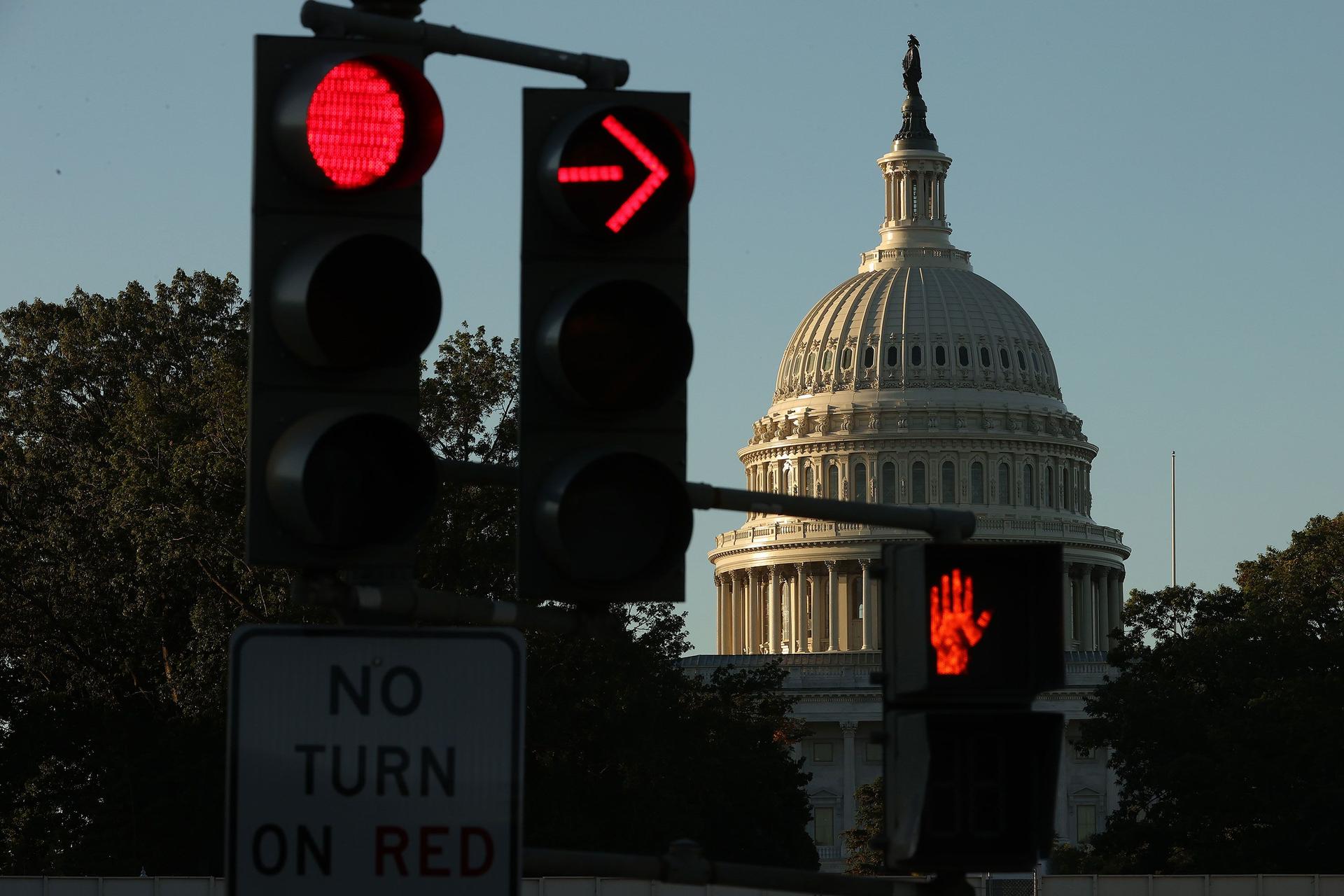 Buckle up, America. It's time for yet another round of DC dysfunction, Thanksgiving Edition. 
Here's how the game is played:
The goal is to prevent the government from shutting down, which will happen this Friday at midnight when it runs out of money. All you have to do is come up with a spending plan and get people to vote for it.
Of course, to do that, you'll have to cater to a recalcitrant extreme-right flank of the Republican party, or try to get Democrats on board, though the latter option will all but guarantee you lose your newfound authority. You are House Speaker Mike Johnson, three weeks into your new gig. Good luck! 
This is, of course, the very real situation the US is facing right now, and the stakes are high. 
Over the weekend, Johnson put forward a somewhat strange two-tier plan to fund some government agencies — the military, Veterans Affairs, transportation, housing and urban development and energy and water — through mid-January. Funding for the remaining government agencies would expire on a second date on February 2.
It's a plan that many Democrats have blasted as a gimmick, but they also acknowledged it can't be dismissed outright given that time is limited and control of Congress is divided.
A vote on Johnson's funding plan could come as soon as Tuesday. 
Why it matters
The immediate impact of a shutdown would fall on federal employees, who wouldn't get paid until lawmakers turned the lights back on. A government shutdown is not the financial armageddon that would come with defaulting on our debt (as we nearly did this summer) but it's not nothing. 
Longer term, all this political dysfunction and near-constant games of chicken in Congress are seriously tarnishing the US brand. 
On Friday, after markets closed, the credit rating firm Moody's announced it would lower its outlook of the nation's debt to "negative" from "stable."
While that move does not automatically mean it will downgrade America's creditworthiness, it certainly raises the likelihood. 
Moody's is the only one of the three major credit rating agencies still giving the US a perfect credit rating. But it cited America's extraordinary political divide in turning its outlook negative.
"In Moody's view, such political polarization is likely to continue," the agency said. "As a result, building political consensus around a comprehensive, credible multi-year plan to arrest and reverse widening fiscal deficits through measures that would increase government revenue or reform entitlement spending appears extremely difficult."
Translation: Y'all need to get your house in order, stat. 
Even the prospect of another US downgrade could hurt Americans' investment portfolios, jack up borrowing costs, and make it more costly for the government to pay off its debts. My colleague Elisabeth Buchwald has more on Moody's decision and what it could mean for Americans. 
The annual income of a typical homebuyer in the United States rose to $107,000 from $88,000 last year, as the market became less and less affordable thanks to low inventory and surging mortgage rates. 
The 22% jump was the highest annual increase on record, according to an annual report from the National Association of Realtors. It also puts the dream of homeownership out of reach for many in the United States, where the median income is about $75,000.
Love it or hate it, I think we can all agree that self-checkout is at best a gamble. Will the scanny thing work? Will you be able to find the barcode? Will you place the item in the bagging area only to find that you did it wrong and you are now under arrest for attempted robbery? And why, for the love of God, are those mirrors in the Target checkout so unflattering?
You are not alone. And some stores are finally acknowledging that the grand self-checkout experiment isn't working out the way they'd hoped. The reason? It makes it way too easy to steal stuff. 
Booths, a British supermarket chain, said it's removing self-checkout stations in all but two of its 28 stores. In the United States, Walmart, Costco, Wegmans and others have had to revise their self-checkout strategies, my colleague Nathaniel Meyersohn writes. 
"Our customers have told us this over time — that the self-scan machines that we've got in our stores … can be slow, they can be unreliable (and) they're obviously impersonal," Booths managing director Nigel Murray told the BBC.
The machines were meant to reduce labor costs for stores. But all they did was shift the work of employees to customers, who are, of course, not incentivized to do a good job with it. 
The problems are obvious.
If you're buying, say, five apples, it's on you to know which kind you put in your basket, lest you over- or under-pay for them. Putting a bottle of wine in your basket requires a human employee to come over and verify your age. Ditto if you make the mistake of putting your bag down on the weighted sensor that sets off an "unexpected item in the bagging area" alert. The whole experience can be stressful for customers, and that's not great for business.
But the main reason stores are scaling back self-checkout is that they're losing money, Nathaniel writes. 
One study found that US and European companies with self-checkout lanes and apps had a loss rate of about 4%, more than double the industry average.
Costco management said this year that "shrink" — losses from theft or damage to products — increased "in part ... due to the rollout of self-checkout." Similarly, the discount toy retailer Five Below found that shrink was higher at stores with more self-checkout lanes. 
💸 Most Americans say they expect the economy to be in fairly good shape this time next year, with inflation continuing to ease and the labor market remaining strong, according to a survey by the Federal Reserve Bank of New York. (CNN)
🏦 Employees say sexual harassment and misogyny pervade the FDIC, the federal agency tasked with ensuring the stability of the nation's banks, driving women to leave. (WSJ)
🎓 More than 1,600 alumni of Harvard University said they would withhold donations until the school takes urgent action to address antisemitism on campus. (CNN)
📉 Look ahead: This is Inflation Week, when economists and investors will be poring over a bunch of data to gauge where we are in the fight against rising prices. On Tuesday, the closely watched Consumer Price Index will be released at 8:30 am ET. 
Last updated November 13 at 7:00 PM ET