An exclusive inside look with your free CNN account
📹 They're capturing the world before it's too late
By Kimberly Richardson
Julian Quinoñes and Evelio Contreras have spent years capturing the state of planetary change across the globe. These photojournalists have been to dozens of countries and all seven continents, primarily with CNN Chief Climate Correspondent Bill Weir.
"There's almost no other job in the world that can do that," Quinoñes said. "But it's central to our goals here. There's really no substitute for a firsthand account, and it's what we do better than anyone."
Not all of their adventures have been climate-focused, however. They also work with talent across CNN on various topics — from going inside an underground hospital in Israel's Tel Aviv as the country grapples with the fallout of Hamas' attack to uncovering why a California salmon festival is unable to serve the fish this year. 
We recently chatted with Quinoñes and Contreras about the impact of their work and what's ahead for the team.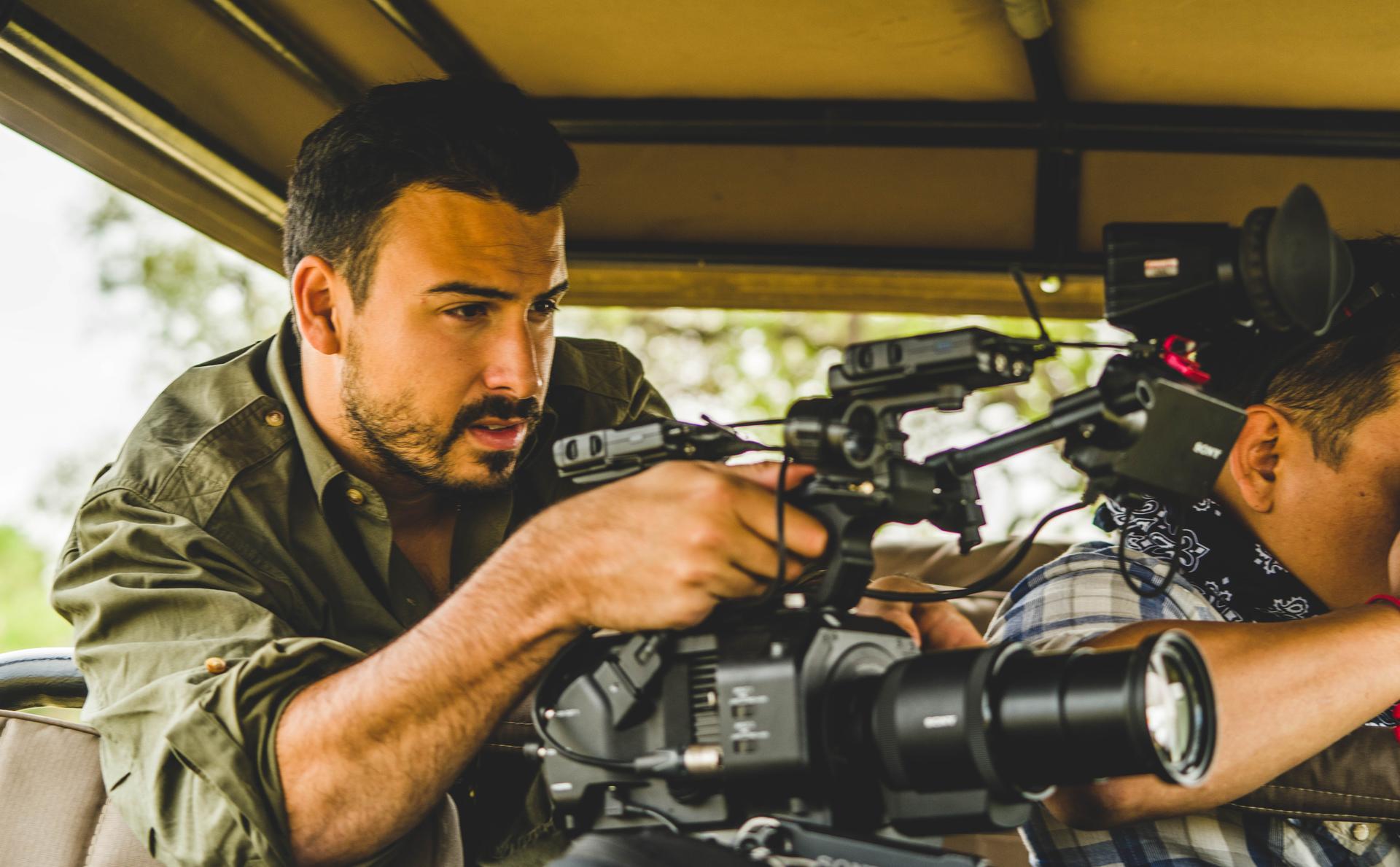 Quinoñes films an episode of "The Wonder List" in Botswana's Okavango Delta in 2015. (Philip Bloom/CNN)

What drew you to a career in journalism?
Julian Quinoñes: I was lucky to see a lot of the world from a young age. I grew up with my mom, who was a flight attendant with a contagious love of travel and people, and she made it a point to take me on as many of her trips as she could. She got me a handheld video camera when I was 10 years old, and I quickly became obsessed with documenting all the places we would go. The footage is pretty shaky and embarrassing looking back, but I loved being able to come home and show friends the places I'd been and the things I'd seen. In my early 20s I reconnected with my dad (John Quinoñes), who is a real trailblazer over at ABC News, and spending time with him taught me the power of crafting clear and inspiring stories.
You recently finished filming a documentary for CNN on how whales are being impacted by climate change in Antarctica. Tell us about that experience and what audiences can expect to see.
Evelio Contreras: Going to Antarctica was a life-changing experience. Upon arriving there, Bill, Julian and I immediately looked at each other because we were in awe that this was the seventh continent we had traveled to. We spent time with researchers studying whales to see how our changing climate is impacting the oceans from the coasts of Antarctica to Colombia. Whales are crucial to the food chain and the carbon cycle. Visually, whales are the most stunning creatures on Earth. Being able to see them from the air and underwater, thanks to footage from drones and GoPros, viewers will get a taste of what it's like to see them in person.
VIDEO: Bill Weir traveled to Antarctica after scientists warned that vital sea ice is disappearing at record speeds.

In "The Wonder List with Bill Weir," your team traveled across 28 countries, highlighting communities on the brink of seismic change. What was it like to be part of revealing ways to save these locations?
Quinoñes: It was probably the most formative experience of my life, and a complete whirlwind. For a couple of years there we were in a different country every month, and often on journeys we just wouldn't have been able to see on our own. Escorted past thousands of landmines by the Israeli military to the mouth of the dwindling Dead Sea. Flying a helicopter for hours out into a seemingly endless blank void over the Greenland ice sheet to check on scientific monitoring equipment. Sleeping in hammocks after being brought to a lonely sandbar by tribal fishermen in Vanuatu. It was an overwhelming amount to cover and explain in such a condensed stretch of time, but also inspiring to see that no matter how far we went, there were people devoting their life to preserving a place that was truly special to them.
🌿 📥 Want to learn how to minimize your role in the climate crisis and reduce your eco-anxiety? Sign up for Life But Greener, a free, limited newsletter series.
You're constantly on the go, traveling from one big story to the next. What do you never leave home without?
Quinoñes: Not having a camera would really be dropping the ball on our team. We've usually got about 10 of them for all kinds of different situations. Among the many great things about working with Bill is that he travels with a Yeti cooler backpack, which — combined with fresh ice — is incredibly clutch when you're living out of a rental car for a few days. More recently I've found the credit-card-sized solid state portable hard drives to be a real game changer, allowing us to bring terabytes of storage and almost every story we've ever filmed on the road with us in case we need to quickly revisit or include footage we've captured on previous stories. On a recent trip profiling low water levels in Lake Powell, we were able to use that footage to find the same location we'd visited on a story seven years earlier and compare the changes from our car.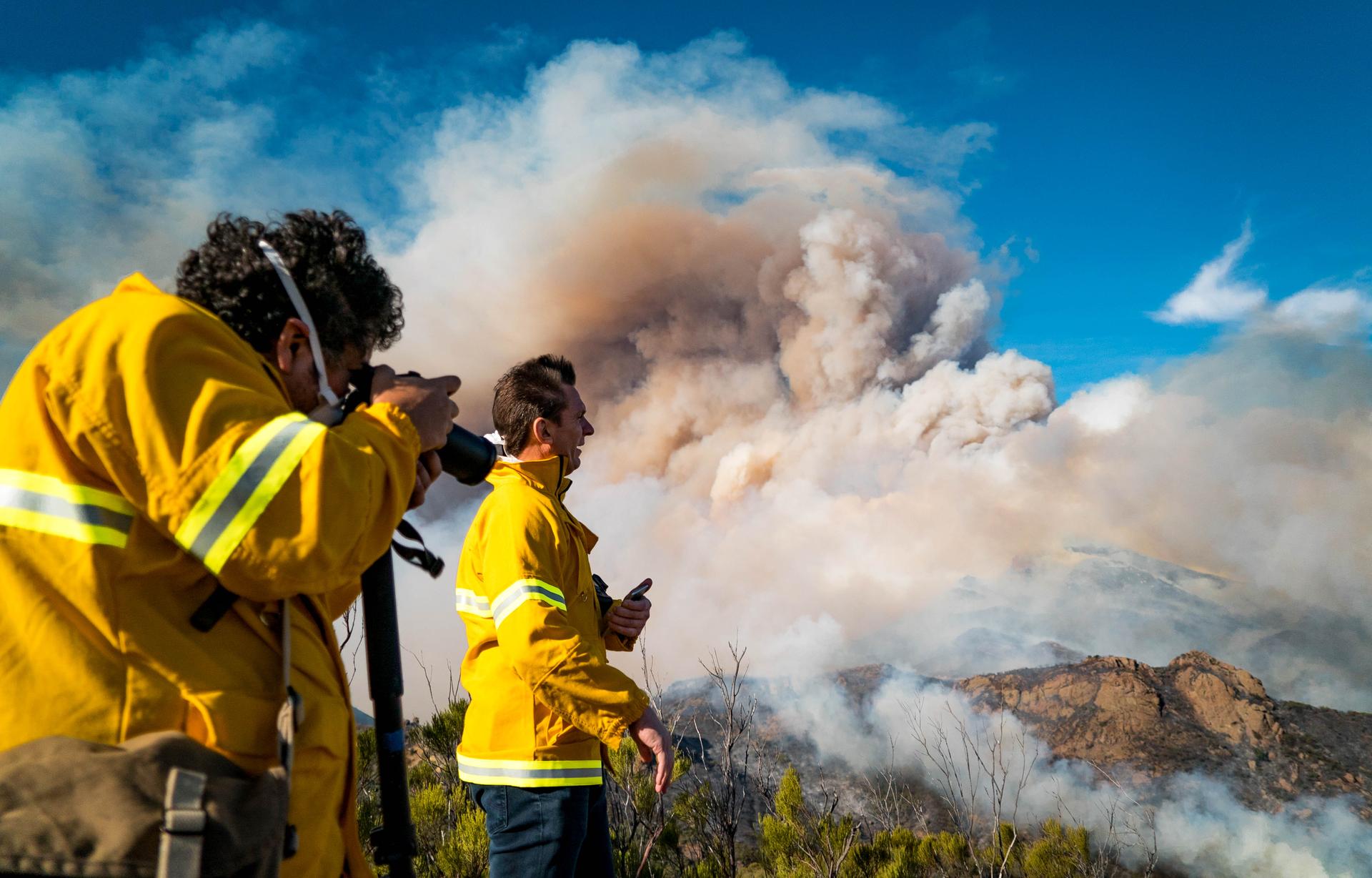 Contreras and Weir witness a rapid flare-up of the Woolsey Fire near Thousand Oaks, California, in 2018. (Julian Quinoñes/CNN)

What is the biggest misconception friends and family have about what you do for a living?
Contreras: Most people assume I'm on vacation when I travel, but when I tell them how often I do so for work their next response is: "Wow, that must be so tiring. How can you travel so much?" I understand their perspective — it's a lot of catching flights, always being on the go and staying up late working on edits for air the next morning. But I never really get tired of being on the road because I'm always learning something new and seeing something like it's the first time. 
If you could pick just one thing, what is something you hope CNN's audience learns from the powerful imagery you capture?
Quinoñes: I just hope it transports the viewer for a moment. Back when I first walked into our old building here in New York at Columbus Circle, almost a decade ago, there was this giant "Go There" logo painted by the elevators. I didn't give it much thought at the time, but over the years, while rolling out and juggling bags of equipment, or returning from a trip with footage in hand, I started to really appreciate the power of that motto. It was almost too simple, but we went there. And you aim to bring the viewer there, too, because from a simple headline or a retweet, things begin to feel distant and unrelated to your life. If you can find a way to bring people to the front lines, before narrowing your focus on the issue, they'll hopefully feel greater connection to the story. I shoot a lot of wide shots because I'm obsessed with establishing the context before you zero in on the details. Show the 10,000 migrants that are stuck on a Guatemalan bridge before you zero in on the mother lowering her two children down on a ladder to a raft, over a raging river, on a quest for a better life. Show the forest so people care about the trees.
| | |
| --- | --- |
| | Ahead of COP28, the UN's annual climate summit in December, CNN is taking an in-depth look at how the climate crisis affects our lives, the global politics and the potential solutions. |
💳   CNN insider rec of the week
Brought to you by CNN Underscored
Every month, we highlight products our editors and writers personally stand by and use on a daily basis. Last month, we were introduced to a plethora of products, from travel backpacks and cat food to self-watering plants.
💳  Sponsor Content by CompareCards
The ultimate strategy to become debt-free
If you're suffering from high interest rate charges, transfer your debt to one of these balance transfer cards with 0% intro APR and start saving money.
✍️ we want to hear from you
Got an idea for this newsletter? Let us know what you'd like to read about or what you've enjoyed so far. You can reach the team at insidecnn@cnn.com. We look forward to hearing from you. 
- Edited and produced by Kyle Almond, Tricia Escobedo and Kimberly Richardson
INSIDE CNN
An exclusive inside look with your free CNN account