Tonight: Nvidia's earnings blew past expectations. Peloton's ... not so much. Plus: Americans may be shopping less, but retailers' dire warnings this week are wildly overblown. Let's get into it.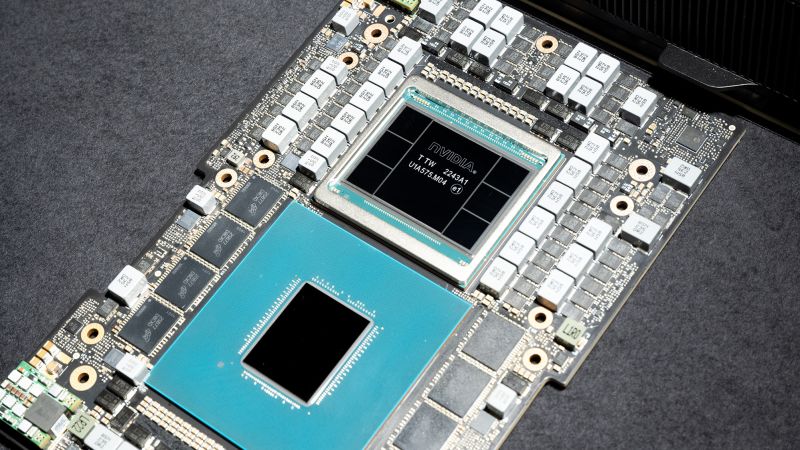 The earnings report that all of Wall Street has been salivating over just dropped. And it's a doozy. 
Here's the deal: Nvidia, the American chipmaker that produces the building blocks of generative artificial intelligence (think ChatGPT and the like), posted year-over-year sales growth of 101% in the second quarter.
One. Hundred (and one). Percent. As in, revenue went from $6.70 billion in Q2 last year to $13.51 billion this year. That's nuts!
The results were even stronger than the $11.2 billion in revenue that Wall Street analysts expected.
Nvidia shares jumped as much as 10% in after-hours trading, continuing a tear that has driven the stock up 220% this year. Nvidia is now one of only a handful of companies with a market capitalization of more than $1 trillion. 
Why it matters
This is the second time in a row Nvidia's quarterly earnings have blown past expectations, and could provide assurances that the AI gold rush is not just a flash in the pan. 
Nvidia is the poster child of the AI enthusiasm that's helped power stocks into a bull market, even as the US Federal Reserve has continued to hike interest rates in its battle against inflation, my colleague Krystal Hur wrote in Wednesday's Before the Bell newsletter. 
"Nvidia's hardware has become indispensable to the AI-driven economy," Insider Intelligence senior analyst Jacob Bourne said in an email following the blockbuster earnings report. "The pressing question is whether Nvidia can consistently exceed the now-higher expectations."
What's next?
Nvidia's results aren't the only thing Wall Street is fixated on this week.
Jerome Powell, the certified Silver Fox of the Federal Reserve, will deliver a speech at the Kansas City Fed's annual economic symposium in Jackson Hole, Wyoming, on Friday. Last year, his reiteration of the Fed's commitment to tamping down inflation sent the Dow Jones Industrial Average index plummeting 1,000 points.
No pressure, Jay. Nooooo pressure. 
Peloton, one of the biggest beneficiaries of the 2020 lockdowns that has since seen sales tank, reported another dismal quarter marked by expensive recalls on its signature exercise bike and about 20,000 pauses on monthly subscriptions. 
Its stock fell nearly 23% on Wednesday. 
In May, Peloton told owners of its PL-01 Bike to stop using the model because of a safety hazard that could result in the seat breaking during use. Peloton said Wednesday it has received 750,000 requests for new seat posts, which the company said was "more than we expected."
To hear executives at some of America's biggest retailers tell it, consumers are strained for cash and buying less stuff, in a troubling sign of a slowing economy.
That's only half true. The consumer appetite that kept the US economy afloat through the worst of the pandemic and beyond remains hearty — it's just craving something new.
This earnings season, retail bosses have offered all kinds of reasons for their dwindling profits. Macy's said credit card delinquencies, a proxy for consumer health, are on the rise. Dick's Sporting Goods said shoplifting is dinging its margins, despite little evidence of rising rates of theft. Foot Locker's stock is down 30%. Nike's stock has fallen 10 straight days, its longest-ever losing streak. Target, Home Depot and Lowe's all saw sales slump.
Is this it? The moment the mighty US economy finally hits the skids?
While it's true that people are spending less on stuff and have long blown through their Covid-era stimulus savings, it is not true that they've stopped spending.
More T-Swift. Fewer tennis shoes...
Instead of shelling out on yet another pair of yoga pants or a new laptop or dishwasher — how many of those does one household need, anyway? — Americans are opting instead to buy tickets for Taylor Swift or Beyoncé or "Barbie." They're buying airfare, reserving hotels and hailing Ubers to concerts, weddings, spas, beach vacations — activities that have been curtailed, to varying degrees, by Covid over the past three years.
and services accounts for two-thirds of US gross domestic product. 
That's important, because Americans' spending on goods
We won't have a read on third-quarter economic growth until late October, but already, forecasts for GDP "are running wild on the upside," writes Chris Rupkey, chief economist at FwdBonds. "It is looking like a blowout quarter for economic growth."
The unofficial GDPNow forecast from the Atlanta Federal Reserve expects economic growth in the third quarter to rise 5.8% on an annualized basis — double the rate of GDP growth from the same period last year.
Bloomberg columnist Leticia Miranda wrote this week. "Retailers just need to find a way to shake them out of their boredom."
"Consumers are just fatigued, not strapped,"
But shoppers are being more judicious about how they spend as inflation continues to bite. That's been great news for Walmart, Amazon and TJ Maxx, which offer more discounted items and saw revenue surge in the second quarter.
Red flags for a different economy
When retailers like Dick's and Macy's issue dire warnings about the state of the American consumer, they're not necessarily wrong —  but they're viewing the ostensible red flags through a pre-pandemic lens.
Historically, sluggish retail sales, credit card delinquency and even shoplifting have been signs of a dark cloud on the horizon. But those events also typically came with other warning signs, like rising unemployment, stagnant or falling wages and a pullback on all kinds of spending, including on services.
That's not the situation in 2023. Wages are rising. Inflation is cooling. Unemployment has been hovering around its lowest level in a half-century, despite aggressive interest rate hikes from the Federal Reserve designed to cool consumer demand.
The question of credit card debt is another area where the nuance matters. The delinquent debt that Macy's warned of this week looks especially elevated in part because it was practically nonexistent over the past two years. And as a share of total credit card debt, it is relatively low.
But Americans' credit card debt is unquestionably rising. In the second quarter, credit card balances shot up by $45 billion, or nearly 4.6%, to surpass $1 trillion for the first time ever.
Obviously, carrying a hefty balance on your credit card can be bad, especially after the Fed raised interest rates 11 times in the span of 18 months. But in the aggregate, rising credit card debt reflects some level of consumer optimism about the ability to pay off summer beach vacations and Taylor Swift swag in due time.
BOTTOM LINE
The economy isn't without headwinds. The rise in credit card and auto loan debt has been accompanied by a drawdown in savings. More Americans are tapping their 401(k) accounts because of financial distress, according to Bank of America data released this month. And come October, millions of Americans will be back on the hook to pay their student loan balances after a three-year reprieve.
What's different now, said Brett Ryan, senior US economist for Deutsche Bank, is that the momentum going into those headwinds "looks a little better." 
"And that leaves the conclusion that maybe the economy is able to weather these upcoming headwinds."
Last updated August 23 at 4:00 PM ET