Good morning. In today's newsletter: Could Fed Chair Powell's Jackson Hole speech send stocks plunging again? Plus, Macy's sounds the alarm on credit card delinquencies.
US futures are pointing higher, led by the Nasdaq as Nvidia jumps nearly 8% premarket after its blockbuster earnings report. Stocks in Europe are higher, and Asia also closed with gains. 
▸ Forwarded this newsletter? Want global markets news and analysis from CNN Business reporters every morning? You can sign up here.
Could Fed Chair Powell's Jackson Hole speech send stocks plunging again?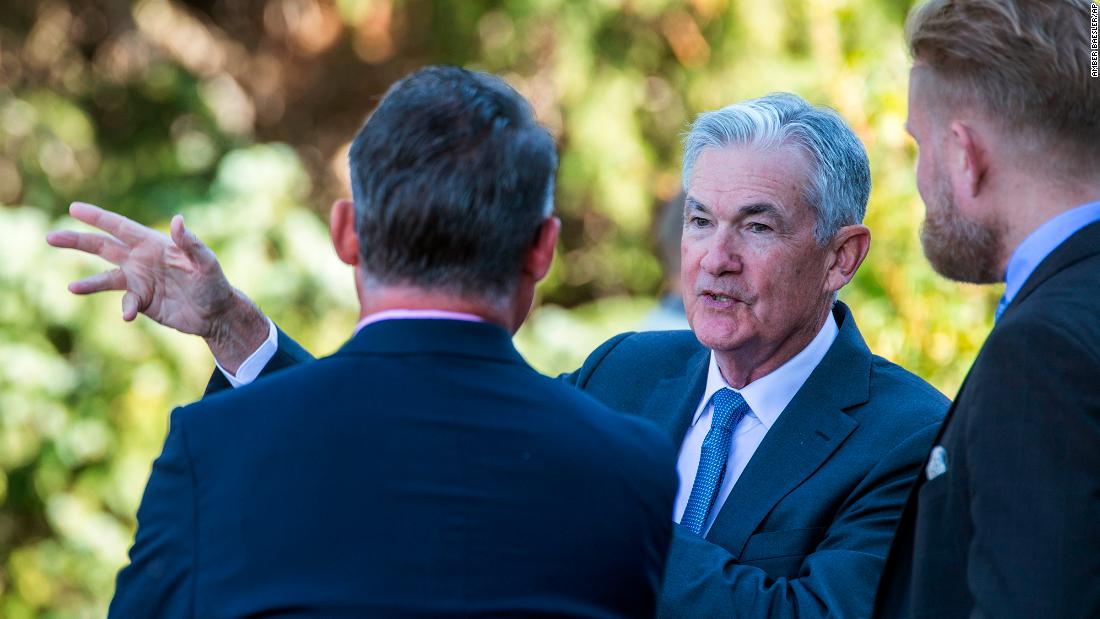 With Nvidia earnings out of the way, the next test for US markets is Federal Reserve Chair Jerome Powell's annual speech at the Jackson Hole economic summit on Friday.
When Powell spoke this time last year at the Kansas City Fed symposium in Wyoming, he warned that interest rate hikes would mean "pain" for US households. The Dow Jones Industrial Average index sank 1,000 points in response.
Will history repeat itself?
At its most recent meeting in July, the Fed unanimously voted to raise interest rates to a range of 5.25-5.5%, their highest level in 22 years.
Minutes from that meeting, released this month, revealed that central bank officials worried inflation wouldn't slow further unless the labor market and US economy continue to cool down.
"Participants continued to view a period of below-trend growth in real GDP and some softening in labor market conditions as needed to bring aggregate supply and demand into better balance and reduce inflation pressures sufficiently to return inflation to 2% over time," the minutes said.
While inflation has cooled significantly since last year, it remains above the Fed's 2% target. The Personal Consumption Expenditures price index, the central bank's preferred inflation gauge, rose 3% for the 12 months ended in June.
Some investors say they expect Powell to reiterate the Fed's commitment to tamping down inflation while acknowledging the progress that's been made.
But the market is unlikely to react quite as dramatically this time around, they say, partly because Powell's speech will likely be similar to the kind of commentary he has delivered following recent policy meetings.
"Expect a balanced assessment with no abrupt hawkishness, but no mission accomplished: The Fed has not come this far to let inflation slip out of its grasp," wrote Evercore ISI strategists in a note on Tuesday.
While it's unclear if the Fed will raise interest rates again this year — Powell has signaled at least one more increase — Wall Street has the end of the central bank's aggressive rate-hiking campaign in its sights. That's a key difference from last year.
"In August of 2022, Powell knew the Fed had several more rate hikes to go. Today, the Fed may be near the end of this hiking cycle. That is going to require him to be a lot more nuanced in his speech," said Tom Graff, head of investments at Facet.
Traders see a roughly 85% that the Fed will hold rates steady at its next meeting, in September, according to the CME FedWatch Tool. Expectations for whether the central bank will pause or raise rates for the rest of the year are more divided, with narrow majorities for no change in November or December.
Germany's economy hasn't looked this weak since the start of the pandemic
"Any hope that the service sector might rescue the German economy has evaporated. Instead, the service sector is about to join the recession in manufacturing."
CYRUS DE LA RUBIA, HAMBURG COMMERCIAL BANK CHIEF ECONOMIST
Read more from CNN Business
Macy's sounds the alarm on credit card delinquencies
Macy's is warning of a spike in customers who are failing to make credit card payments, adding to the evidence of mounting financial stress on consumers, reports my colleague Matt Egan.
The iconic department store had anticipated delinquencies would climb following a post-Covid lull. But Macy's management has been caught off guard by the magnitude of the uptick.
"The speed at which the increase occurred for us and the broader credit card industry ... was faster than planned," Adrian Mitchell, Macy's chief operating officer and chief financial officer, told analysts during an earnings call on Tuesday, adding that this problem "accelerated" in June and July.
This situation is hurting Macy's business, driving down credit card revenue by 36% year over year and contributing to a quarterly loss, he said. Citing worsening consumer leverage metrics, Macy's is bracing for a further increase in "bad debt" in its credit card portfolio.
Earnings from Gap, Ulta Beauty and Dollar Tree.
Plus, the US Commerce Department releases July figures on durable goods orders.
WHAT WE'RE READING AND WATCHING
'A gigantic pile of ash.' Maui restaurant owners describe devastating losses
The fire that ripped through Maui two weeks ago was the deadliest in the United States in over a century.
Those who survived suffered devastating losses — of loved ones, pets and homes. Some also saw their businesses reduced to rubble, reports my colleague Danielle Wiener-Bronner.
On August 8, the day that Maui was overcome with flames, Qiana Di Bari saw a puff of smoke near her home and knew she and her family had to escape.
Earlier that day, a fire had been spotted and put out in her vibrant Lahaina neighborhood. But by late afternoon, Di Bari was hearing of more fires elsewhere on the island. The island's resources, she knew, were stretched thin.
"When I saw that fire reignite ... we knew we were on our own," she said.
In Lahaina, a historic area and popular tourist destination that was hit particularly hard by the fires, restaurants are big business.
As of May 2022, nearly 17% of people employed in the Kahului metropolitan area, which includes Lahaina, worked in food preparation and service — more than in any other sector. Nationally, about 8.5% of workers are employed in food prep and service, according to data from the Bureau of Labor Statistics.
Restaurants are an important part of the tourism sector, which is responsible for 75% of all private-sector jobs in Maui. Accommodation and food services, including arts and entertainment, account for the largest share of those jobs.