Tonight: UPS reached a tentative deal with the Teamsters union to avoid a potentially catastrophic strike. Plus: PacWest is merging with rival Banc of California. Let's get into it.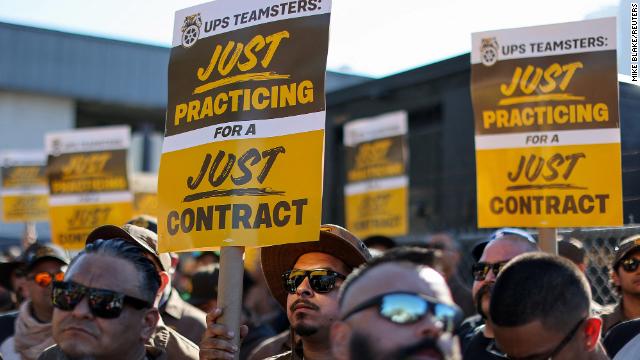 It's become the summer of strikes. But at least one potentially huge, gigantic, behemoth UPS workers' strike looks like it just might be averted.
On Tuesday, UPS and the Teamsters union that represents around 340,000 UPS workers announced a tentative deal on a new contract. Emphasis on tentative...
Even though it's a positive sign, it ain't over till the Teamsters' membership sign off in the form of a vote to approve the deal.
That ratification process will take a little more than three weeks, my colleagues Chris Isidore and Vanessa Yurkevich reported. A no vote by membership could still trigger a strike, but that walkout would now take place in late August, not the original August 1 strike deadline.


Highlights of the tentative deal:
Existing full- and part-time UPS Teamsters will get $2.75 more per hour in 2023 and $7.50 more per hour, or more than $15,000 a year, over the length of the contract
Starting pay for part-time worker will go up to at least $21 an hour immediately and will be increased to $23 an hour during the life of the contract
As someone who's been reading the headlines on the various strikes currently going on, I like to think I know a thing or two. But truthfully, I know nothing compared to CNN's senior business reporter Chris Isidore, who's been tirelessly covering all the latest developments in the ongoing strikes and could-be strikes. 
So I asked him some questions to find out what all this really means.
Nightcap: You've been covering a lot of strikes and potential strike this summer. Is there anything that stood out to you about negotiations between UPS and the Teamsters?
Chris Isidore: Just how much was at stake. A strike by 340,000 Teamsters would be the largest strike in US history against a single employer. And UPS is far more important to the US economy than it was in 1997, the only other time there was a national strike at the company. Then most people who went online did it through a dial-up modem, and very few shopped online. Amazon was just a jungle in South America to most people in those days.
NC: If you were UPS CEO Carol Tomé do you think you'd sleep a bit better tonight given today's news?
CI: I'm sure she feels this is good news. A strike could have hurt UPS for years to come. Shippers would have been signing long-term contracts with competitors in order to move their goods during a strike. There was one estimate that UPS might have gotten back only 70% of its business after a strike.
NC: I'll take that as a yes.
NC: How bad could it have been if UPS didn't reach a deal with Teamsters? Would it have meant that any packages I ordered that would've been handled through UPS would've been halted until a deal was reached?
CI: UPS had been training its roughly 100,000 nonunion US employees to try to move some of the packages but they would not been able to move more than a fraction of the 20.8 million packages that UPS moves in a typical day. 
Some shippers would have sent packages with FedEx, the US Postal Service and even Amazon's own delivery service. But it's not clear how much additional volume those services could handle. And most packages that were already in the UPS system would be stuck there during the course of a strike.
NC: What's the next big potential strike you're keeping an eye on?
CI: I'm not done watching UPS. The contract still needs to be ratified by the rank-and-file members. That vote is by no means certain. 
There is a lot of anger by some of the rank-and-file Teamsters over the fact a majority voted against the current contract five years ago, but it was still put in place. Many feel they weren't properly compensated for helping UPS make record profits in recent years.
And we've seen the rank-and-file of many unions vote no on deal that had the endorsement of their union leaders. Just this week 57% of the pilots at FedEx voted down a tentative deal that would have given them a 30% increase in both pay and pension benefits.
But if the deal is ratified, then the United Auto Workers union could go on strike in mid-September against GM, Ford or Stellantis, which makes cars under the Jeep, Ram, Dodge and Chrysler brands.
NC: Chris, we thank you for your service and sincerely hope all these strikes don't lead you to declare one yourself. 
It's been quiet, a little too quiet on new banking developments after the whole Silicon Valley Bank, shall we say, kerfuffle earlier this year. 
That sent shock waves across regional banks in the United States. Most regional banks were able to regain their footing last quarter by paying higher interest rates on deposits at the expense of their profits in an effort to prevent depositors from transferring their funds to other banks, second-quarter earnings reports from various regional banks show.
I suspected something was a little fishy when PacWest kept delaying when it would release its second-quarter earnings report just like First Republic Bank did before it failed. An analyst I spoke to yesterday who covers PacWest calmed my fears when told me he wasn't worried any big news would happen today. 
Well guess what? Big news happened today. 
PacWest is set to merge with its smaller California-based regional bank rival, Banc of California, in a $400 million equity deal.
The deal was announced Tuesday afternoon ahead of both banks' second-quarter earnings results. Under the terms of the deal, the banks will merge into one bank called Pacific Western Bank.
And about those earnings.... 
PacWest reported a $197.4 million loss in net income last quarter. Total deposits declined by $290 million to $27.9 billion.

Banc of California reported a much smaller decline in net income of $2.4 million last quarter. Total deposits declined slightly from $7 billion to $6.9 billion.
More details on the merger reported by yours truly can be found here.  
🚘 General Motors reported its second-quarter earnings surged 59%, and the company raised its full-year profit outlook.
🌭 In celebration of National Mustard Day on August 5, Skittles partnered with French's to make its first-ever mustard-flavored skittle. Is ketchup next?
💰Countries around the world collectively stand to lose an estimated $4.7 trillion in revenue over the next decade unless substantial reforms are made to global tax rules, according to a report by the Tax Justice Network.
🍦The heat wave currently searing Europe could actually be putting consumers off from eating ice cream, according to Magnum and Cornetto.
Last updated July 25 at 4:00 PM ET