Good morning. In today's newsletter: Why are consumers expectations for the economy and stocks moving in sync? Plus, UPS pilots are standing in solidarity with Teamsters.
US stock futures are narrowly higher. Markets in Europe are also edging up, while Asia closed mixed. 
▸ Forwarded this newsletter? Want global markets news and analysis from CNN Business reporters every morning? You can sign up here.
Consumer sentiment and stocks are moving in sync
Stocks and consumer sentiment are rising in tandem after slumping last year, in another sign of growing optimism that the economy could dodge a recession.
Consumer sentiment tracked by the University of Michigan jumped 13% in July, notching its second consecutive month of improvement. The index also reached its highest level since September 2021.
The university's index tracks consumers' expectations in three areas: personal finances, business conditions and buying conditions.
At the same time, the S&P 500 index has risen over 18% this year, most recently buoyed by cooler-than-expected inflation readings and strong second-quarter earnings reports from both big and regional banks. The broad-based index this week touched its highest level so far this year.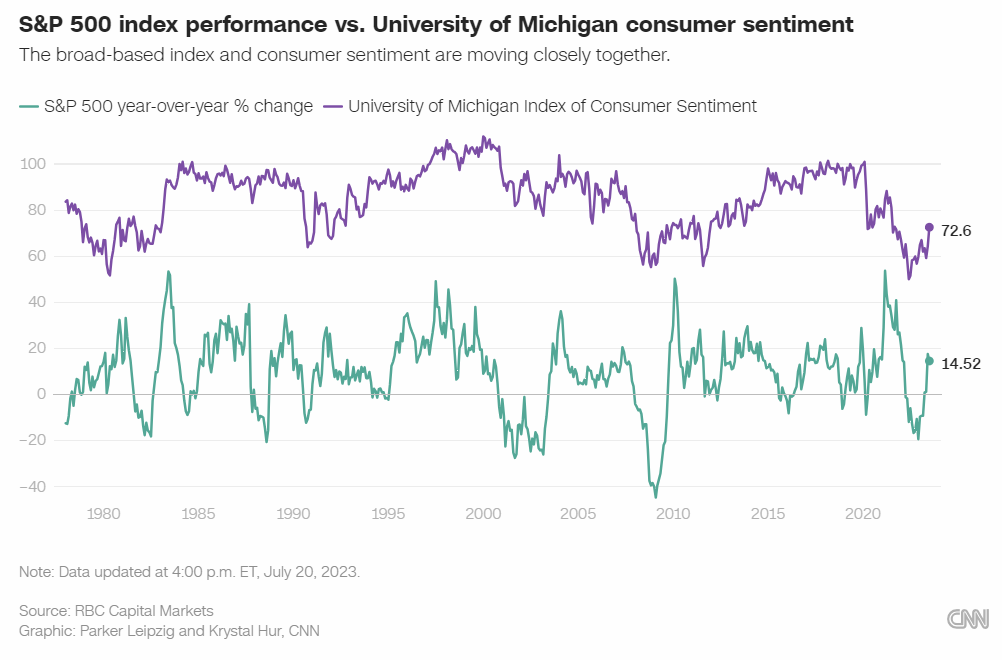 That comes after stocks and consumer sentiment tumbled in 2022 as sticky inflation and the Federal Reserve's aggressive pace of interest rate hikes spurred fears that the US economy would tip into a recession.
"Consumer sentiment reached levels consistent with the lows of some past recessions last summer," wrote Lori Calvasina, head of US equity strategy at RBC Capital Markets. "Both consumer sentiment and stocks have been in the midst of a recovery off recession-like conditions this year."
The tightened correlation between stocks and consumer sentiment suggests that investors believe that the worst-case economic scenarios that seemed possible last year won't pan out, says Ed Moya, senior market analyst at OANDA.
That's in large part thanks to a slew of economic data in recent weeks that's pointed to a cooling but still strong US economy:
▸ The labor market added just 209,000 jobs in June, its lowest monthly gain since a decline in December 2020.
▸ US annual inflation slowed to 3%, compared to 9.1% in the same month the year before, strengthening hopes that the Fed's 2% target is in reach.
▸ While retail sales rose in June at a slower pace than expected, the data notched its third straight month of gains in another sign of a resilient consumer.
▸ JPMorgan Chase, BlackRock, Wells Fargo and Citigroup beat second-quarter earnings expectations, brightening the picture for a potential soft landing.
"Some of the worst fears are off the table as far as stagflation, as far as the Fed taking rates to 6% or higher," said Moya.
Still, consumer sentiment could decline if more people lose their jobs, paychecks and spending power. The possibility of a recession also remains on the horizon, though recent economic data has been encouraging.
"Things are positive right now, but it really takes one thing to trigger" volatility in the market, said Jon Ekoniak, partner at Bordeaux Wealth Advisors.
We can't air-condition our way out of America's heat crisis
"There is no national plan to help lower-income families to transition to higher temperatures."
MARK WOLFE, NATIONAL ENERGY ASSISTANCE DIRECTORS' ASSOCIATION EXECUTIVE DIRECTOR
Read more from CNN Business
UPS pilots stand in solidarity with Teamsters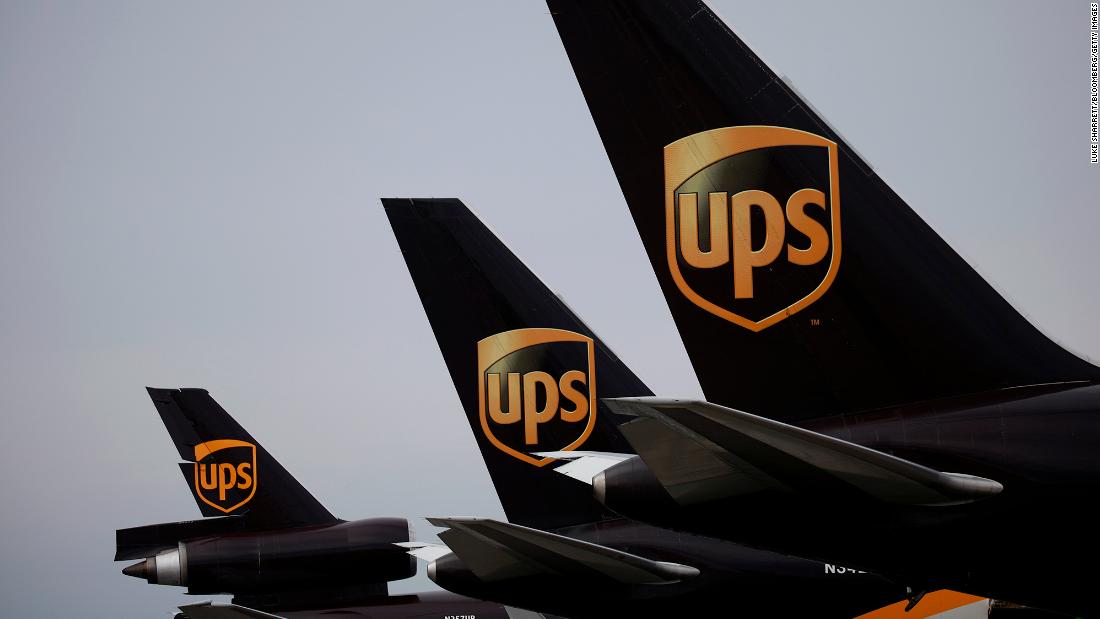 The union that represents pilots who fly cargo planes for United Parcel Service says it won't cross the picket line if Teamsters go on strike next month, report my colleagues Pete Muntean and Vanessa Yurkevich.
The union, which represents 3,400 pilots, has promised to show its support "by not 'turning an aircraft wheel' on behalf of the company."
That's bad news for UPS, which already faces potentially millions of dollars of losses if a strike takes place. A strike could cost the broader US economy a whopping $7.1 billion.
"The IPA (Independent Pilots Association) is committed to exercising our contractual rights, both domestically and internationally, to honor any potential IBT (International Brotherhood of Teamsters) strike and act in sympathy with our fellow workers at UPS by not working," said pilot union head Captain Robert Travis. "No one wants a work stoppage, but should a legal IBT strike be initiated, you and the IBT can count on the IPA for support."
Earnings reports from American Express, Schlumberger NV, Huntington Bancshares and AutoNation.
WHAT WE'RE READING AND WATCHING
▸ Authors demand AI companies pay for copyrighted works (CNN)
▸ Blackstone wins private equity's race to $1 trillion (WSJ)
▸ A new instant payment system may be coming to a bank near you (CNN)
▸ How TV writing became a dead-end job (NYT)
▸ Alarm as teens use social media to self-diagnose ADHD and more (CNN)
▸ Broadway strike averted after deal reached by union and producers (CNN)
Starbucks teams up with K-pop group Blackpink
Blackpink (could soon be) in your area.
Starbucks is releasing a drink and merchandise collection in collaboration with the South Korean pop girl group, reports my colleague Michelle Toh.
The new beverage, called the Blackpink Strawberry Choco Cream Frappuccino, is a blend of strawberry syrup, dark chocolate sauce, oat milk and chocolate curls. Toppings include pink whipped cream and a heart-shaped chocolate.
Merchandise will include drinkware and accessories such as tumblers and keychains. The line will be available at 4,500 stores in nine Asian markets including Hong Kong, Indonesia, South Korea and the Philippines.
"We are so thrilled to partner with one of the biggest icons of this generation," Emmy Kan, president of Starbucks Asia Pacific, said in a statement.