Tonight: Hot people have entered the chat. Plus: Messi is firing up soccer in one of the few places that calls it that, and the Peach State is having a pitiful summer. Let's get into it.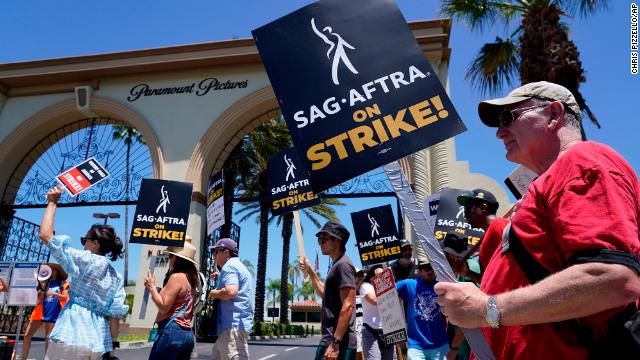 It's a classic trope of the high-school movie genre — persuade the popular kid to come to the party / join the glee club / talk to you at lunch, and everyone will pay attention.
As of this past Friday, the football captain had officially arrived. With an entourage... 
Here's the deal: Late last week, 160,000 members of Hollywood's biggest actors union joined forces with the 11,000 TV and film writers who've been picketing since May. It's the first dual strike in Hollywood in more than 60 years, and it's put virtually all TV and movie production on pause. 
Both unions are seeking better pay and guarantees to protect their jobs from being supplanted by rapidly evolving AI technology. Studio execs aren't budging. 
It might be easy to roll your eyes to see A-List celebrities (who make millions of dollars on any given project) complain about labor exploitation. But it's important to note that while folks like Meryl Streep and Matt Damon support the strike, the protest is not really for them. It's for the tens of thousands of so-called background actors who make up the majority of the industry and are just trying to make a living in the streaming era, which has drastically altered the calculus of their profession. 
Those performers are not making Meryl Streep money. Like, not even close. 
Let's take a look at some numbers...
$27.73 —

The US Bureau of Labor Statistics lists the average pay for California actors in 2022 at $27.73 an hour. The BLS also notes hat actors aren't paid full-time year-round due to the nature of the job

$3,756 —

Under their previous contract that expired last week, SAG-AFTRA members had negotiated specific minimum rates for performers. For example, an actor who worked on a television show for one week was paid a minimum of $3,756. From that, you've still got to pay taxes, agents, managers and lawyers. 

12.7% —

Just 12.7% of SAG-AFTRA members earn enough each year to qualify for the union's health insurance. The minimum amount of money a performer must take home in one year to qualify for health insurance is $26,470.

$31 million —

On Thursday, Disney CEO Bob Iger said striking actors' and writers' demands are "just not realistic." Iger, for the record,

just signed on for two more years as CEO, with base pay and stock options that could net him $31 million a year.

Netflix's co-CEOs Ted Sarandos and Greg Peters made $50 million and $28 million, respectively, last year.
One of the biggest drains on actors' pay in recent years has been the evaporation of residuals. Once upon a time, if you showed up in a few episodes of Seinfeld, you'd get a bit of money sent your way every time those episodes re-aired in syndication. Working actors relied on residuals. Now, they say they're bringing in next to nothing — literally pennies, in some cases — from streaming residuals. 
BOTTOM LINE: What we've got here is a bunch of deep-pocketed studio execs picking a fight with people who are either devastatingly clever (hello, writers) or devastatingly good-looking (hello, Matt Damon). 
It might have been easy for the suits to ignore 11,000 writers no one's heard of (no offense, comrades). But it'll be a lot harder for the Igers and Sarandoses of the world to win the PR war when all the hot, popular people who make movies and TV fun to watch are marching outside the studio instead of strolling the red carpet. 
Speaking of hot people who make a lot of money...
Lionel Messi officially signed with Major League Soccer's Inter Miami over the weekend, and is expected to make his debut with the team on Friday. Tickets for that match are selling as much $110,000 on ticket reselling website Vivid Seats. The average price for a seat for the match is about $490. For comparison, tickets to last year's League Cup match between Inter Miami and FC Barcelona cost about half of that.
It's been a particularly bitter summer in the state of Georgia after severe weather gutted its peach crops, leaving farm workers, restaurants and consumers without their state's signature fruit. 
As my colleague Ellie Stevens writes, the Peach State lost more than 90% of this year's crop after a triple-whammy of bad weather — a February heat wave, followed by two late-spring frosts. Prices for the few varieties that survived have shot up, leaving some proprietors to (quietly) seek out replacements from California, or simply go without. 
It's as much a blow to state pride as it is an economic hurdle. Imagine asking New York delis to import bagels from Los Angeles. Fuhgettaboutit. 
"It's a financial loss, but it's much more than that," said farmer and peach grower Sean Lennon of Fitzgerald Farms in Woodbury. 

Lennon said he was forced to lay off workers, including migrant workers he brings in through an H2-A visa program. 

Georgia peach wholesale prices have shot up to about $40 a box — double the typical range of $17-$20. 
See Ellie's full story here for more on how businesses are coping.