Tonight: Yellow Corp. is going out of business. Elon is X-ing. And the meme-stock crowd is meme-ing again. Let's get into it.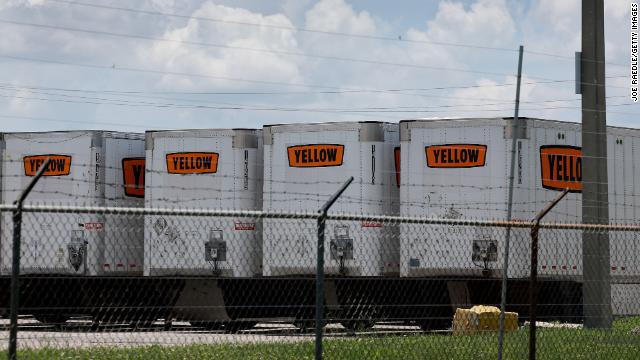 Yellow Corp., the nearly century-old trucking company (whose logo has always looked frustratingly orange, in my opinion), is folding and laying off all of its 30,000 workers. 
"Today's news is unfortunate but not surprising," the Teamsters President Sean O'Brien said. "Yellow has historically proven that it could not manage itself despite billions of dollars in worker concessions and hundreds of millions in bailout funding from the federal government."

Company officials did nor respond to requests for comment Sunday and Monday. 
Here's the deal: Yellow (which, again, looks orange, right?) has been struggling to restructure a ton of debt while tussling with the union that represents most of its workforce of drivers and dock workers, my colleague Chris Isidore reports.

What happened? 
Things started looking dodgy a week ago, when 

the company stopped picking up new freight from customers, delivering only what it already had in its system.

Meanwhile, the Teamsters union had agreed to suspend a threat of a strike to give Yellow more time to make payments to its pension and health insurance plans. But they still couldn't reach an agreement on a new contract, according to a memo from the union's negotiating committee.

Early Monday, the union said it had been notified of the shutdown.
It might seem strange for a trucking company, of all things, to go out of business when the economy is as strong as it is now. Part of the problem, Chris explains, is that consumer spending has shifted from goods — the endless boxes of toilet paper and tech gadgets and accent pillows we had to have while we were stuck at home — to services. We're spending our money on concert tickets, flights, going out to restaurants and other activities that have made trucking demand shrink relative to 2020 and 2021. 

But the reason Yellow has struggled more than its rivals has to do with its debt. The company simply couldn't get out from underneath a $1.5 billion debt load on its books. 
Yellow posted only a narrow operating profit in 2021 and 2022, and a $9.3 million operating loss in the first quarter of this year. Its two other national competitors, ABF Freight and TForce, which are also unionized, were far more profitable.

Yellow's customers were using Yellow was because it was cheap, an industry analyst told Chris. "They're finding out that price was below the cost of supporting a good operation."

BIG PICTURE
Yellow's collapse into bankruptcy marks the end of an era in trucking. 
When the industry was deregulated nearly 40 years ago, the segment that handled full trailers of cargo, known as truckload, was quickly dominated by non-union trucking companies. All you needed to get into the game was a truck and someone to drive it. 
But Yellow is part of the so-called LTL, or "less than truckload" segment, which requires a network of terminals to sort incoming and outgoing freight. That limited, but didn't prevent, the entry of low-cost competitors. Unionized carriers such as Yellow continued to be major players, even as non-union rivals grew.

Eventually, non-union carriers came to dominate the LTL segment as well. Unionized carriers like Yellow had to merge with one another to survive. Yellow grew, but failed to streamline. 
The meme traders who ran GameStop shares into the stratosphere back in January 2021 are back. Their new target: Tupperware. 
Shares of Tupperware have surged about 438% over the past month — for absolutely no good reason. The company is mired in debt; sales have been falling, and it even warned in April that it was on the brink of bankruptcy. 
But when we see stocks taking off like this, we turn to Reddit, where, sure enough, retail traders have been talking about Tupperware as 2023's GameStop. 
"This will be the next big short squeeze, I went all in yesterday," one user commented.
In the past week, Elon Musk has doubled down on his bizarre quest to turn Twitter into an "everything" app known as X.
The bird logo is dead. Typing twitter.com into your browser brings you to a site almost identical to Twitter but topped with an uninspiring black X. 
Other changes:
Kanye West, who was kicked off Twitter for antisemitic hate speech a few months ago, has been welcomed back to X.
Musk appears to have ordered a giant, blindingly bright X sign to be erected atop the company's headquarters. Its incessant blinking drove the neighborhood nuts over the weekend, and on Monday, officials from the San Francisco Department of Building Inspection said the "X," which went up without a permit, was being dismantled.
Separately, Musk is threatening to sue

the nonprofit Center for Countering Digital Hate, which has criticized Twitter's handling (or rather, lack of handling) of hate speech and misinformation. 
It doesn't take a branding expert or an MBA to see how preposterous the X rebrand is. But just in case, my colleague Clare Duffy spoke to some experts to weigh in. 
"While Musk's vision is to turn 'X' into an 'everything app,' this takes time, money, and people — three things that the company no longer has," Mike Proulx, research director and vice president at Forrester, said in an investor note last week. By ditching Twitter's name, Proulx added, Musk "will have singlehandedly wiped out over 15 years of a brand name that has secured its place in our cultural lexicon." 
By some estimates, Musk's rushed rebrand erases somewhere between $4 billion and $20 billion in value, according to Bloomberg.
BOTTOM LINE
There's been a lot of speculation over the past week about why Musk is doing what he's doing, especially given Twitter's 50% drop in ad revenue and negative cash flow. Not to mention Musk's own personal financial hit — he spent $44 billion on a company that's now likely worth a fraction of that. 
Whatever Musk's claims about the name "Twitter" not matching the vibe of his dream app — which he naively envisions as a mega-platform for entertainment, social media and financial payments — the real reason for flushing the brand equity down the toilet is that Musk only likes ideas that are his own, and he's got a thing for the letter X. (See also: Tesla's Model X; SpaceX; the name of his new artificial intelligence firm, xAI; and the name of two of his children, X Æ A-Xii and Exa Dark Sideræl.)
That's really all it is. He saw another kid on the playground with a toy he wanted, so he bought it and scrolled his name across it in big permanent marker. 
Last updated July 31 at 7:00 PM ET