An exclusive inside look with your free CNN account
👩‍⚖️ A behind-the-scenes look into how CNN covers the Supreme Court
By Erica Hernandez
CNN Supreme Court reporter Ariane de Vogue
The US Supreme Court is a famously secretive institution. Journalists are rarely granted access to the high court's justices.   
 
"I have to say it's a different kind of beat," CNN Supreme Court reporter Ariane de Vogue said.
"The justices like to say that they're the most transparent branch of government because they release all of their reasoning. But you never really get to see how the sausage is made."  
 
In 2019, Justice Neil Gorsuch agreed to a rare interview with de Vogue, discussing his judicial philosophy as part of the court's conservative majority as well as a book he had released at the time.  In that interview, he revealed that he had received a gift from Justice Ruth Bader Ginsburg — even though the two justices were ideologically opposed — after he joined the high court in 2017
 
"It's tough to get a scoop because it is all so carefully managed," de Vogue said.
 
De Vogue, an Indiana native, is part of CNN's Supreme Court team along with colleagues Jessica Schneider, Joan Biskupic, Tierney Sneed, Devan Cole, Laura Smitherman and Dan Berman. Even with this team of experienced reporters and investigative journalists, covering the Supreme Court can be a challenge.
"The way I approach it is I really try to follow trends," de Vogue said. "If a justice suddenly asks a question that suggests a shift, I'm there on top of it." 
 
One thing that many people might not understand, she explained, is that the Supreme Court's role is not to correct the errors of lower courts, but to clarify US law.
 
"When the lower courts are confused by an issue and they're ruling in different ways, the Supreme Court wants to get in and clarify the law to make sure that the country is all on the same page," she said.
Supreme Court Justice Neil Gorsuch sits down with CNN's Ariane de Vogue for a rare interview in 2019.
In May 2022, one of the biggest shocks to ever happen in the Supreme Court was the leaked draft of an opinion that would overturn Roe v. Wade.
 
De Vogue was sitting in her living room when she heard the news. At first, she thought there was no way it could be true. But as soon as she started to read the leaked opinion, she said she knew it was legitimate.
 
She and her team jumped into action to report on the stunning leak, and the team has continued to cover how the leak came to fruition. 
 
"I did some reporting earlier this year to show that the justices said that their system was very secure, but when you looked more closely, in fact, it wasn't secure," de Vogue said. "In retrospect, that leak wasn't such a surprise when we saw what was going on within chambers."
 
June is typically a busy time for the Supreme Court, because that's when the court releases its opinions. With this term set to end soon, de Vogue and her team are still awaiting rulings in several key cases, including rulings on affirmative action and President Joe Biden's student loan plan.
 
"The hardest thing for me about an opinion day is that the court will not tell us which opinions we're going to get," de Vogue said.
 
On opinion days, the CNN team usually has one reporter in the courtroom to take written notes on how justices are reacting and interacting as the opinions are read. Electronic devices such as cell phones and laptops are not allowed inside the Supreme Court's courtroom. Meanwhile, a team of reporters in CNN's office on Capitol Hill waits for copies of the opinions so they can dive in and start analyzing them.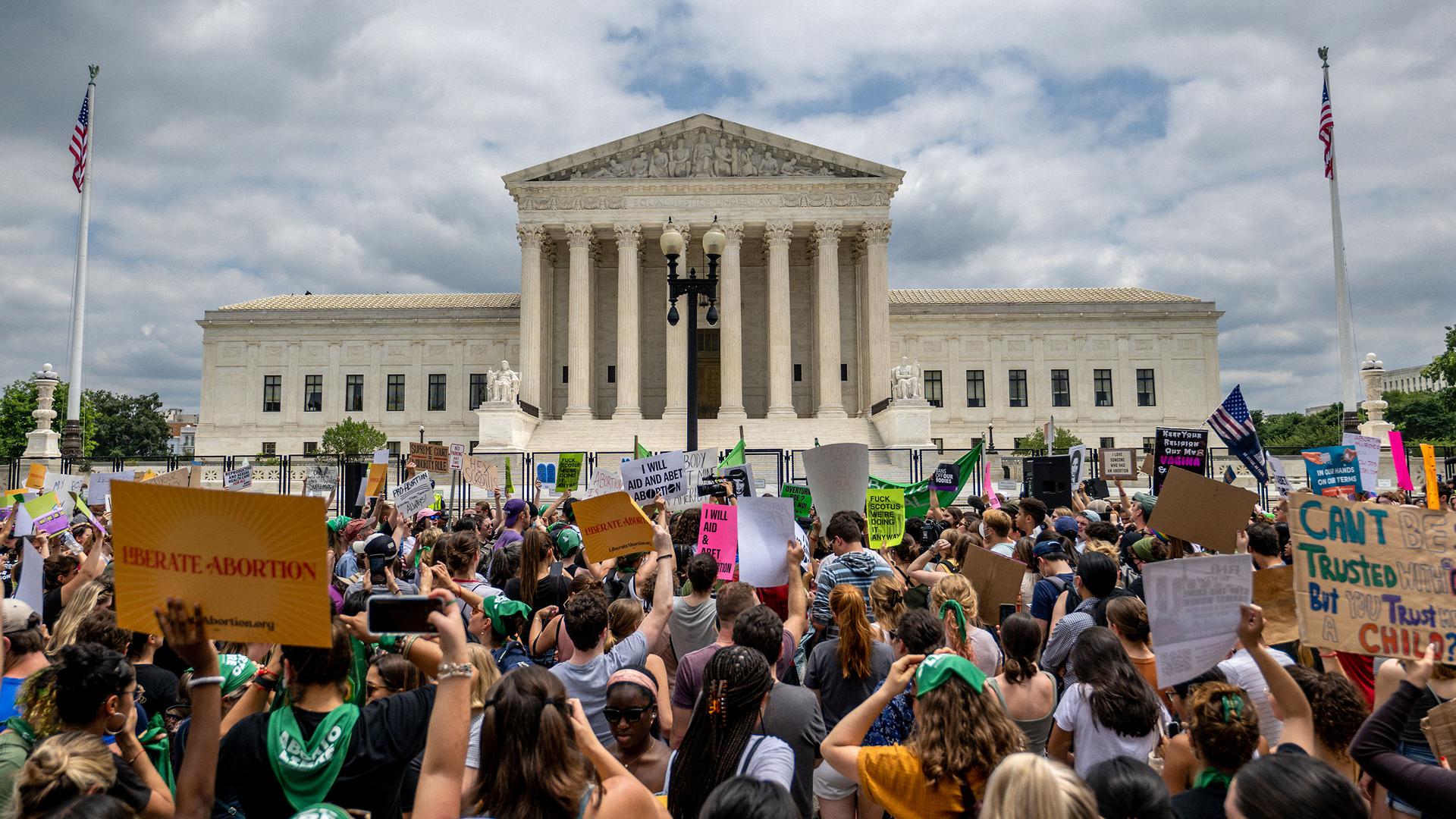 Abortion rights activists demonstrate outside the Supreme Court in June 2022. (Brandon Bell/Getty Images)
De Vogue notes that these big opinion days haven't always been a part of the "SCOTUS" beat.
"When I first started covering the court, you would dream about having maybe one or two big opinions in a term," she said. "But the court has changed a lot." 
The court has gone through a significant amount of change in the past decade. Two justices died while serving on the court — Antonin Scalia in 2016 and Ruth Bader Ginsburg in 2020 — and Anthony Kennedy retired from the bench in 2018. The nominees to replace them sparked heated confirmation hearings. There have also been multiple blockbuster rulings that have thrust the court into the public eye.
More recently, there have been concerns about ethics and transparency. Justice Samuel Alito acknowledged that he attended a luxury fishing trip on a private jet with a conservative hedge fund manager, but he did not recuse himself from cases before the court involving the manager. Other justices have faced similar scrutiny, although none of the actions appears to violate the high court's ethics rules.
"Right now we are seeing a lot of attention on the Supreme Court," de Vogue says. "They're in the spotlight, and they don't like that." 
💳   CNN insider rec of the week
Brought to you by CNN Underscored
The Google Pixel Tablet is a great choice for folks who want a tablet that can double as a smart display — particularly those already deep in the Google ecosystem. At $499, it's more affordable than most flagship tablets out there, and it gives you a functional leg up on the competition. Check out our full review right here.
💳  Sponsor Content by Compare Cards
- Edited and produced by Kyle Almond, Tricia Escobedo and Kimberly Richardson
INSIDE CNN
An exclusive inside look with your free CNN account