Tonight: Wall Street is eating its own tail. Plus: Hollywood writers are fighting to protect themselves from the threat of AI. Let's get into it.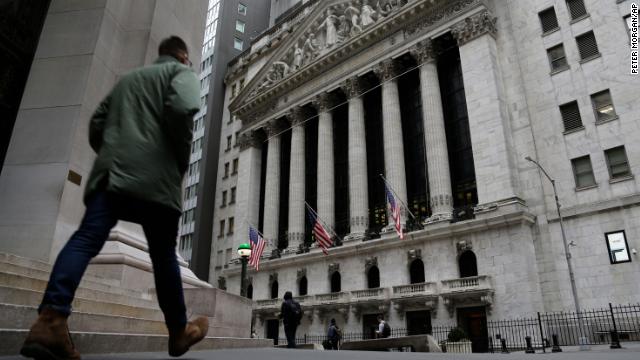 A summary of where things stand in the banking crisis:


The Fed: "Banks are fine."
The Treasury: "Banks are fine."
The banks: "We're fine."
Wall Street: "Everybody sell, the banks are on fire!"
Here's the deal: When Silicon Valley Bank crumbled on March 10, it was a Main Street problem — scared depositors rushed to pull out their money, and the bank ran out of cash. A classic bank run.
Seven weeks later, despite the government's intervention to backstop depositors and extend credit to banks, the panic has taken root on Wall Street, which is now feeding on its own anxiety.
"We're seeing a lot of concern here that something's about to break," Ed Moya, a senior market analyst with Oanda, told me. "This contagion fear has not eased up whatsoever."
Who's in trouble now?
After First Republic on Monday became the third US lender to fail this year, investors shifted their angst toward PacWest Bancorp, yet another regional California lender, whose share price was cut in half Thursday after it confirmed it was "exploring strategic options" (read: seeking a buyer, stat).
Western Alliance was also flagging Thursday after the Financial Times reported that the bank was exploring a sale. The Arizona lender denied the report, helping its stock pare some losses. It was still down 33% midday in New York, and has lost more than 65% of its value this year.
Similarly, southeastern regional bank First Horizon was teetering, having scrapped a $13 billion merger with Canada's TD bank.
While this latest crop of regional banks bears some similarities to the three that failed this year, they don't appear to have the same reliance on uninsured deposits that got the others in trouble.
PacWest said withdrawals had slowed and that 75% of its deposits were insured and the bank remained flush with cash.
"The bank has not experienced out-of-the-ordinary deposit flows following the sale of First Republic Bank and other news," it said. "Our cash and available liquidity remains solid and exceeded our uninsured deposits, representing 188%."
In normal times, those numbers might have alleviated investors' fears, Moya said. But these aren't normal times.
"Even if the the numbers don't look that bad, once the market has its eyes on you, it's game over," he said.
That market pessimism was echoed by Bill Ackman, the billionaire investor, who tweeted Thursday that regional banks broadly are in trouble.


"Confidence in a financial institution is built over decades and destroyed in days," he wrote. "As each domino falls, the next weakest bank begins to wobble."
What's the fix?
Ackman and others have been arguing for the government to step in and lift the limit on deposit insurance, which currently tops out at $250,000 — a fraction of what some businesses must hold in their balances to run their day-to-day operations.
But such a change would require bipartisan support in Congress. And no rational market players are holding their breath for that.
Banks are also contending with a potential recession, high interest rates, and the high-stakes game of chicken playing out in Congress over the debt ceiling. 
How does this all end?
Without a miracle from DC, the outlook for regional banks is not great.
There is so much pessimism percolating on Wall Street, smaller banks are going to get crushed.
That would have massive implications for the US economy, as those smaller operations tend to offer businesses sector-specific expertise that they can't get from Wall Street power players like JPMorgan Chase or Bank of America.
Consolidation is particularly risky at this moment in America, when the Biden administration is trying to bolster manufacturing and domestic supply chains.
"We're trying to revive the productive sectors of the economy, as distinguished from the financialized sectors of the economy," said Robert Hockett, a law professor and expert on public finance at Cornell University.
"And at the core of all of that is regional banking sector … Wall Street banks are much more focused on the global economy, much more focused speculation of various kinds."
That sector specificity, Hockett notes, creates the dilemma we're seeing now: Almost by definition, those specialized lenders are not as diversified in their holdings. Many have loaded up on Treasuries, which, ironically "are the most boring of all possible investments."
Another problem: Who wants to buy a struggling bank, even at a discount, if you can get it for pennies on the dollar after it fails — complete with a guarantee against losses, backed by Uncle Sam?
That means we can expect more bank failures, and more Wall Street panic, in the weeks and months ahead.
It damaged every dang part of me. I can't do what I used to do.
In 2016, Mimi Perkins was working the graveyard shift at a Tyson Foods poultry plant in Hope, Arkansas, when a pipe weld ruptured, releasing a white cloud of ammonia. Perkins lost consciousness and was trapped for 40 minutes while the gas ravaged her eyes, throat and lungs. 
While her injuries were extreme, she is among dozens of employees of Tyson Foods, one of America's largest meatpacking companies, who have been injured in ammonia leaks over the past decade, a CNN investigation found. My colleagues Casey Tolan and Isabelle Chapman have the story.
Streaming technology upended the economics of Hollywood so drastically that thousands of film and TV writers are striking to not only protect their paychecks but their entire industry.
And at the same time, they're attempting to get ahead of the next technology that promises to upend Hollywood yet again: artificial intelligence. 
As my colleague Samantha Murphy Kelly writes, new AI tools make it possible to generate compelling, human-sounding text in a matter of seconds. For now, those bots aren't good enough to churn out an Oscar-worthy script. But as they get more advanced, writers may see their jobs get killed off faster than a lead actor in Game of Thrones.
"Screenwriters are concerned about our scripts being the feeder material that is going into these systems to generate other scripts, treatments, and write story ideas," said screenwriter John August, a Writers Guild of America committee member. "The work that we do can't be replaced by these systems."

The labor union wants AI to be regulated so that bots "can't write or rewrite literary material, can't be used as source material," and that writers' work "can't be used to train AI." 

The Hollywood set aren't the only ones worried. Goldman Sachs economists estimate that as many as 300 million full-job jobs globally could be automated in some way by the newest wave of AI. White-collar workers, including those in administrative and legal roles, are expected to be the most affected. Who else should be fretting? Well, journalists, obviously. And digital artists. Musicians. Engineers. Realtors ... and so on. 
There's another, more philosophical dilemma at the heart of the nascent technology. Because large language models (the heart of generative AI) are trained on text that humans have written before, they're essentially just regurgitating stuff that's already been done. So, at what point does the original, human writer get credit? 
For example, Sam notes: You could, in theory, prompt ChatGPT to generate a zombie apocalypse drama in the style of David Mamet. Who should get credit? If an AI can write an award-winning Michael Bay-style action-adventure flick the style of Sofia Coppola, who gets the award? (And when, oh when, can I buy a ticket for that monstrosity?)
For now, regulations on AI are lagging far behind the pace of development, and the legal landscape is murky. 
For more on this, check out Samantha's segment on tonight's Nightcap show. And then stick around as host Jon Sarlin interviews Semafor's Ben Smith talks on the demise of digital media darlings. 
🤖 The White House announced a series of measures to address the challenges of artificial intelligence, driven by the sudden popularity of tools such as ChatGPT and amid rising concerns about the technology's potential risks for discrimination, misinformation and privacy.
💸 Kroger will pay $68 million to resolve a lawsuit in West Virginia alleging the company contributed to the oversupply of opioids in the state and failed to maintain effective controls.
🚘 Lyft shares fell nearly 15% in late trading after it reported weaker than expected revenue forecast.
🍎 Apple's revenue fell 3% to $94.8 billion as consumers scaled back spending on smartphones and computers.