An exclusive inside look with your free CNN account
🎓 How a 2023 graduate went from intern to full-time employee
Associate producer Cassidy Del Greco
Over the past year, Cassidy Del Greco put her journalism major into practice as an intern on CNN's Off-Platform and New Audiences team. As a member of Gen Z — people born from 1997 through 2012 — she was determined to show her peers how younger audiences consume news. 
"I really love that CNN wants to hear from a younger voice and is looking to gain fresh perspectives about how to tell stories in a way that intrigues new audiences," said Del Greco, who graduated from the University of Florida this month.  
She spent the past year balancing work with her final year of classes, but it all paid off: Del Greco is putting aside her cap and gown and joining CNN full-time this summer as an associate producer with the Global Digital Programming team. 
We caught up with the recent graduate before her big move to New York City and learned what advice she has for student journalists interested in following a path similar to hers. 
What inspired you to pursue a career in journalism and digital media?
I have always been a nerd for the internet. I love following stories and knowing what was going on across the world, so when I got to UF, it was easy. It's funny because in high school I was pretty much forced to take AP English and writing courses, and I hated writing. My teachers always told me I had a knack for storytelling, but I never wanted to do it. When I was able to take a stab at journalism, I realized being part of the bigger picture, delivering stories to others, was something I really loved to do. 
Why did you want to intern at Warner Bros. Discovery? 
I wanted to learn from and work with the best of the best, delivering the stories that matter to and impact people globally. I saw the opportunity that came with national and digital news. In my first interview, I also felt immediately welcomed, and that played a huge role in deciding to take my first internship within the organization. 
Do you have any wisdom to share with student journalists trying to balance the demands of school and internships?
My biggest piece of advice would be to choose yourself in both your career and your personal life. Make sure you log off when you're supposed to; you still need to finish your homework and final projects. That said, take every opportunity that presents itself. If the team needs an extra eye on a project? Do it. Make yourself known. Also, communicate! Your team at an internship, your professors, your friends and family, everyone wants to see you succeed. Don't be afraid to voice your needs and deadlines. Your team will support you. 
What is one of your favorite projects you've worked on for CNN so far?
I have been so fortunate to work on many incredible projects and stories for CNN's Off-Platform and New Audiences team. My favorite so far was the competitor analysis I completed in my first semester of internship, where I did a deep dive into CNN's social media accounts to see where we had opportunities for growth and new avenues for success. It was so interesting to look at industry trends and grasp what we could do differently, and analyze the great wins we were already making. 
How does your perspective as a member of Gen Z elevate the work you do for CNN?
I offer a different, unique perspective compared to some of my peers. When a story drops, my initial thought for how we might package it usually differs from other members of the team, and combining those ideas has led to not only great teamwork but incredible digital packages and social media posts. Being a member of Gen Z also puts me in the seat of those younger audiences we are aiming to reach. It's pretty easy for me to think about how I would receive a story and what would catch my eye. 
What have you enjoyed most about working at CNN in general?
The people! CNN is packed with some of the most talented people, but also some of the kindest. Each person on the Digital team has jumped at the chance to take me under their wing, and because of this I have been able to expand my knowledge of digital news more than I ever could have hoped for. I really love that the company fosters growth, and I have felt supported and uplifted each day I have logged on to work.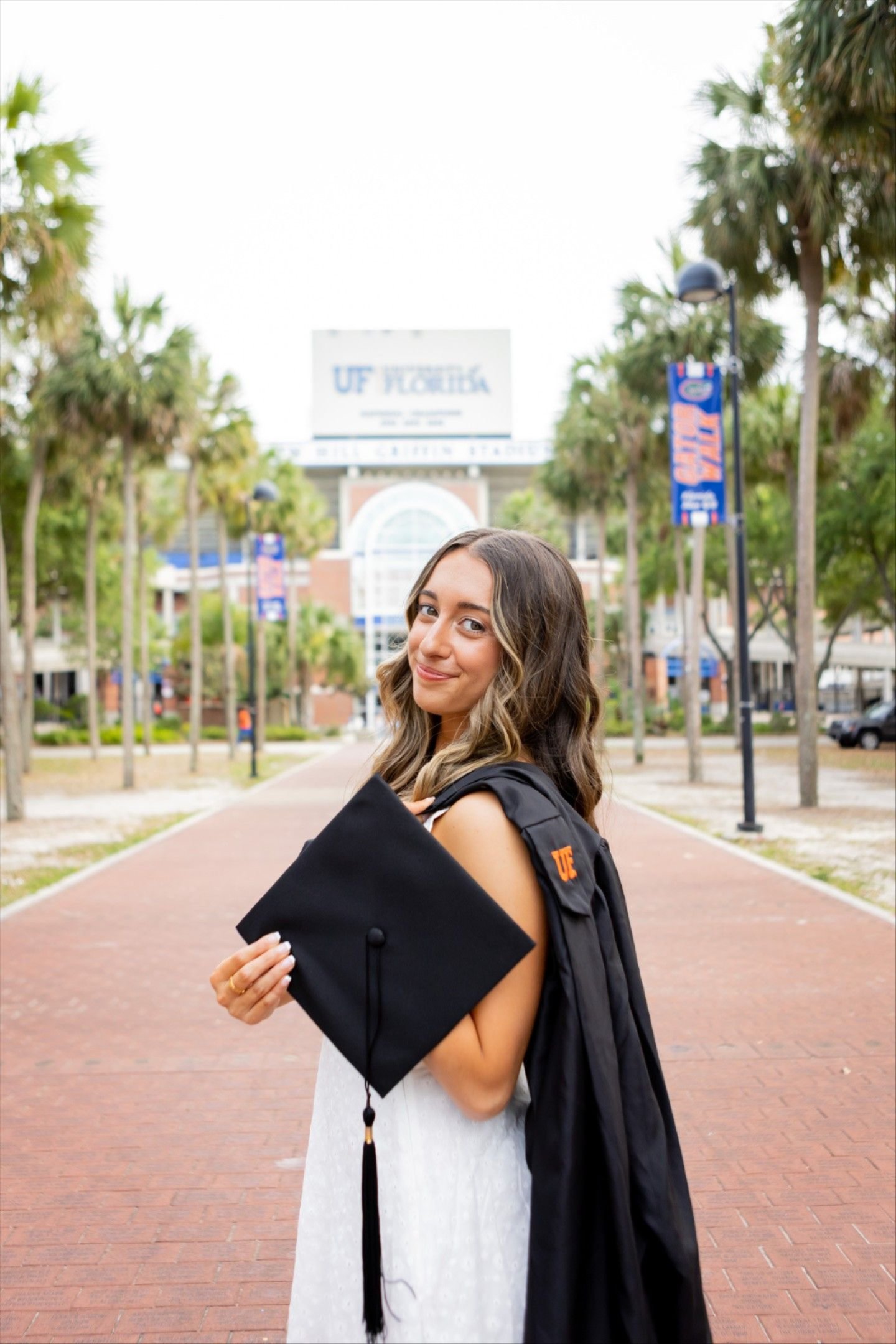 Del Greco graduated from the University of Florida on May 6. 
You just graduated, and now you're joining CNN full-time! What do you think helped you to stand out as an intern and earn your promotion to associate producer?
Networking. I strongly believe that the reason I earned my position as an associate producer was because I made myself known across the Off-Platform and New Audiences team and I vocalized what I wanted to learn. Taking initiative and learning from people outside of my team really helped me learn how the different digital teams work together. It also allowed me to work more closely with journalists on the Politics, Business and Entertainment teams. Put your name out there. Be a go-getter. 
What are you most excited about as you begin this next chapter?    
I'm excited to keep learning! I can't wait to be more involved with the stories we are telling and delivering to the world, and I am looking forward to learning the ins and outs of how CNN is doing this. It will also be great to visit Hudson Yards (where CNN's New York office is located) and meet more of the fantastic people who make up this organization.
What advice would you give to people who are just starting out in journalism and hope to work for a major news organization someday?
Always remember, no goal is too big. If I can get here, so can you. Submit every application, even if you feel unqualified. Reach out to that person who works for your dream company. Trust me, it will help you. In school and internships, get to know each person. There is something to learn from everyone. In terms of hard skills, become a jack of all trades. As journalism has moved into this digital age, it is so valuable to know how to do it all. It's not just about writing or producing; know how to perform headline tests, build graphics and write social media copy. Know how to create videos? Learn how to transform them for other platforms. Learn how to interpret analytics. Get to know your audience. It is great to be passionate about one thing and know what you want to do, but being able to do it all is what will set you apart. Lastly, when they say it's all about who you know, it's true. Build your network in the industry while you are still in school. It sounds daunting, but a quick coffee chat and connection on LinkedIn could be the difference between landing a job before graduation or being left searching after. 
💳  CNN insider rec of the week
Brought to you by CNN Underscored
CNN Underscored extensively test the latest laptops on the market from the likes of Apple, Dell and Samsung in order to help you figure out what's actually worth spending your money on. Here are our picks for the best laptops you can buy now.
🏓  Learn: Pickleball is coming to your local mall, replacing shuttered Bed Bath & Beyond, Old Navy, and Saks Off 5th stores. It may seem like a strange strategy, but the match offers benefits to both mall owners and pickleball players. Here's how. 
📚  Read: A blackmail scam took a 17-year-old boy's last $25, and then he took his own life. Now his lawmaker father is fighting to save other teens.
🎧  Listen: Oprah Winfrey took the stage at Tennessee State University more than 30 years after receiving her communication degree from the school. The former talk-show host warned against imposter syndrome during her captivating speech. 
🍼 Imagine: The list of the 20 most popular baby names of 2022 is out. They're all fairly familiar, with one notable exception.
- Edited by Kyle Almond, Tricia Escobedo, Kimberly Richardson and Jessica Sooknanan
INSIDE CNN
An exclusive inside look with your free CNN account