Tonight: A progress report on the banking crisis (spoiler alert: we're not out of this mess yet). Plus: Meta is a little less jazzed about the metaverse these days. Let's get into it.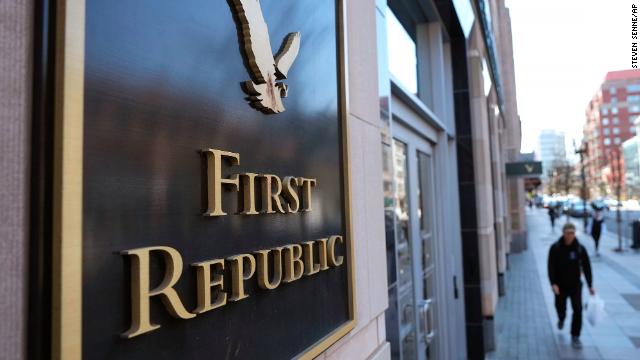 Six weeks after Silicon Valley Bank's collapse sparked an earthquake in the financial world, lenders are still bracing themselves for the aftershocks that haven't let up. 
Here's the deal: Tomorrow, federal banking regulators are set to release a post-mortem on SVB. The Federal Reserve, which is responsible for supervising banks in the United States, plans to release its report at 11 a.m. ET, laying out its internal investigation of its own oversight. The FDIC will issue a similar report on Signature Bank's collapse in the afternoon. 
Meanwhile, First Republic, a midsize lender that's had a target on its back ever since SVB fell, is on death watch (more on that in a minute). 
Allow me to consult my crystal ball and give you a heads up about what the Fed is likely to say in its report mañana... 
There's no single smoking gun. Fed officials and the media have already revealed some of the fatal mistakes Silicon Valley Bank's leadership made in the run-up to its collapse on March 10. There were, as we've reported, many, many red flags.


There was 'textbook' mismanagement. SVB sat on a mountain of unrealized losses, having invested about 55% of its customer deposits in fixed-income securities such as government bonds. Those assets began steadily losing value when the central bank raised interest rates at a rapid pace last year.


SVB appears to have had zero hedges in place on its bond portfolio.
"Frankly, managing your interest rate risk exposure — that's one of the first things that I teach an undergraduate banking class," John Sedunov, professor of finance at Villanova University, told CNN last month. "It's textbook stuff."


SVB also grew at a breakneck pace during the pandemic, as its tech and venture capital-focused clientele thrived. The bank nearly quadrupled in size between 2018 and 2021, and by the time it collapsed it was the nation's 16th largest bank, with $209 billion in assets. That should have been a red flag in itself, because compliance departments seldom grow at pace with the rest of the business.


Virtually all of its deposits were uninsured, making it highly unstable. Uninsured deposits — any over the FDIC insurance limit of $250,000 — is known as hot money. That's because if you're a customer with that much in the bank, either for yourself or for your business, you're going to be quick to yank it if you hear that the bank is going under.


The Fed is likely to deflect blame, because, well, it's investigating itself. The Fed, which plays both a regulatory and supervisory role, is investigating itself on a tight deadline, fueling critics' concerns that the central bank is trying to deflect blame. Key quote: "The Fed's so-called self-investigations are incomplete and biased, predictably leading to unwarranted self-exoneration," said Dennis Kelleher, CEO of nonprofit advocacy group Better Markets. "No genuinely thorough, comprehensive, and unbiased review of such a major event would have been put on such a short deadline, which clearly suggests other motives." 
Meanwhile, tomorrow is Friday, which means everyone in the banking world will be on edge to see whether a) First Republic finds a buyer, b) First Republic gets shut down by regulators (which almost always happens on a Friday after the closing bell),  or c) something else happens to the beleaguered bank. 
In case anyone forgot, First Republic has been widely seen as the next domino to fall in the banking turmoil because of both real and perceived similarities to Silicon Valley Bank.
On Wednesday, its stock was in freefall after disappointing Q1 financial results and a stunningly brief earnings call that rattled investors. Today, its shares shot up 10%. Why? Investors are buying the dip. 
"If you're an active trader, it doesn't hurt to throw something at this," said Edward Moya, senior market analyst at OANDA. 
After all, most of the big banks have already reported this earnings season, as have the regional banks who saw their stocks tank during the banking turmoil last month. And most of them are in good shape. 
BOTTOM LINE: The banking sector has put a real dent in my plans to "Quiet Summer Friday" my way through the year.  
US economic growth slowed in the first three months of the year as higher interest rates forced businesses to scale back their investments.
Gross domestic product, the broadest measure of economic activity, grew at  an annualized and seasonally adjusted rate of 1.1% — well below economists' expectations of 2%.
Even though consumer spending, which is the engine of the US economy, remained strong, the slower headline figure fueled concerns about entering a recession later this year. My colleague Bryan Mena has the story.
The company formerly known as Facebook is enjoying a good start to the year, at least on Wall Street. Its stock is up 90% since January, and it surged 14% on Thursday after it reported its first quarterly revenue boost in nearly a year. 
But none of that has to do with the the metaverse, the product that the company has staked its future on. Back in October of 2021, Facebook was so jazzed about the future of its virtual-reality experience that it changed its name to Meta. 
"We are going to be metaverse first, not Facebook first," CEO Mark Zuckerberg declared at the time. 
A lot has changed since then.
Meta blew $4 billion on its metaverse unit in just the first three months of this year. And that's after it lost $13.7 billion on it last year.
After a year and a half and tens of billions spent on it, the metaverse still just kinda sucks and no one wants it. 
But something that a lot of people really do want (or at least are curious about) is artificial intelligence.
Ever since ChatGPT came on the scene last fall, everyone in Silicon Valley has been racing to stake their claim in the technology du jour. And why not? It's early days, and I can say a lot of bad things about AI bots (though I won't type them here, lest they seek revenge on me) but at the very least they are impressive. And kinda fun. The metaverse is neither. 
That may be why, on Wednesday's investor call, Zuck spent a full six minutes in his opening statement discussing the company's work on AI, and just 90 seconds on the metaverse, according to Bloomberg. 
Bottom line: Meta's resurgent stock and major cost-cutting efforts will give it some runway to keep throwing money at its highly speculative projects, including the metaverse and AI. But at some point it's got to prove the merits of those projects, and I'd wager that AI — or the next shiny object to capture the tech world's imagination — will win out. 
Want to hear me rant about the metaverse a bit more? I'm on tonight's Nightcap show, talking to host Jon Sarlin about all of it. Plus, the New York Times' Emma Goldberg joined us to discuss the downsides of remote work. And the New Yorker's film critic Richard Brody makes his case for the three-hour movie. Watch it online here. 
Last updated April 27 at 4:00 PM ET