Some Covid-19 data-sharing requirements will come to an end as the federal government winds down the US public health emergency on May 11, leaving experts concerned that the virus will be harder to control.


Data-sharing had required state and local health departments, hospitals and commercial labs to regularly pass information to federal officials. But as the requirements come to an end, the federal government will lose access to key metrics, as a skeptical Congress seems unlikely to grant agencies additional powers.


This means states and territories will collect data in their own ways and decide how much they share with federal officials.


Meanwhile, private projects such as those from the New York Times and Johns Hopkins University, which made Covid data accessible and useful for everyday people, have also stopped collecting information.


This has left public health, legal scholars, data experts and current and former federal officials with worries about controlling Covid.


"We're all less safe when there's not the national amassing of this information in a timely and coherent way," said Anne Schuchat, former principal deputy director of the Centers for Disease Control and Prevention (CDC).


A lack of data in the early days of the pandemic left federal officials such as Schuchat with an unclear picture of the rapidly spreading coronavirus. And even as the public health emergency opened the door for data-sharing, the CDC labored for months to expand its authority.


Eventually, more than a year into the pandemic, the CDC gained access to data from private health care settings such as hospitals and nursing homes, commercial labs, and state and local health departments. CDC officials are now working to retain its authority over some information, such as vaccination records, said Director Rochelle Walensky.


Walensky told the US House in February that expanding the CDC's ability to collect public health data is critical to its ability to respond to threats.


"The public expects that we will jump on things before they become public health emergencies," she later told KFF Health News. "We can't do that if we don't have access to data."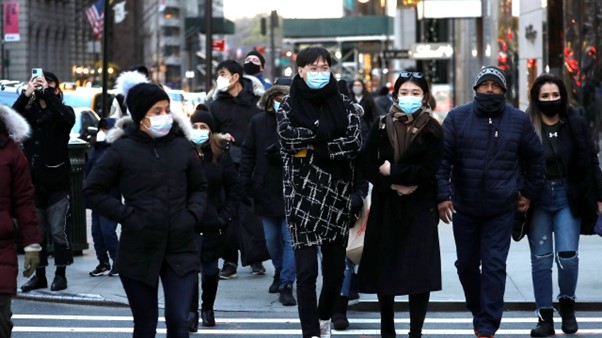 People wearing masks crossed a street in New York City in 2020, when the viruses that Covid-19 began to spread widely in the United States.
(John Lamparski/Getty Images)
The agency is continuing to negotiate information-sharing agreements with dozens of state and local governments, Walensky said, as well as partnering with the Centers for Medicare & Medicaid Services. It is also lobbying for the legal power to access data from both public and private parts of the health care system.


Moving forward, Walensky said, the CDC's Covid tracking will resemble its seasonal flu surveillance, which uses information from sample sites to establish broad trends. It'll offer a less granular view of how Covid is spreading, which experts worry could make it harder to notice troubling new viral variants early.


This could create blind spots that exacerbate poor outcomes for high-risk populations, said Denise Chrysler, a senior adviser for the Network for Public Health Law.


"If you don't have the data, you can't locate who you're failing to serve. They're going to fall between the cracks," she said.
IN OTHER NEWS

The World Health Organization (WHO) has classified the fast-growing Omicron sublineage XBB.1.16 as a new variant of interest, and says it is outcompeting the previously dominant XBB.1.5 in many regions. XBB.1.16 is a descendant of the recombinant XBB, which is a mashup of two BA.2 sublineages. On social media, the variant has been nicknamed Arcturus, like the brightest star in the northern celestial hemisphere. Currently, it is the dominant variant in India, where it is causing a wave of mostly mild illnesses. But it has been spotted in 32 other countries, including the United States.



Dogs could be used to help screen for Covid-19, according to new research from in the journal JAMA Pediatrics. The study was conducted in 27 California K-12 public schools which two yellow Labradors named Rizzo and Scarlett visited to screen for Covid-19 in April and May last year. The researchers found that the dogs had an overall accuracy of 90% when detecting the virus. They wrote that their study supports the "use of dogs for efficient and noninvasive" Covid-19 screening and that the canines "could be used for other pathogens."
Q
What are the most recent CDC recommendations on Covid-19 vaccines?
A
Another dose of the bivalent booster is now recommended for people aged 65 and older or who have weakened immune systems and "want the option of added protection" against the coronavirus.

The CDC also recommends the updated vaccines for everyone aged 6 and older, even if they didn't finish the two-dose series of the original shots. But those who have already gotten a dose of the updated vaccine do not need more shots unless they're 65 and older or have a weakened immune system, the agency says. The FDA has also urged anyone who hasn't gotten their first dose of the bivalent booster to do so. Only about 17% of eligible Americans – fewer than 1 in 5 – have gotten a recommended booster dose.
Send your questions here. Are you a health care worker fighting Covid-19? Message us on WhatsApp about the challenges you're facing: +1 347-322-0415.

CORONAVIRUS: FACT vs FICTION