Tonight: The three things keeping bankers up at night. Plus: Tupperware is in trouble, and Starbucks is getting downright diabolical with its newest drinks. Let's get into it.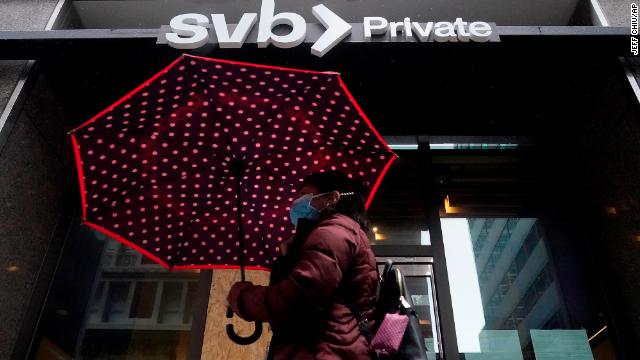 It's been one month since Silicon Valley Bank collapsed, triggering alarms throughout the halls of global finance.
The initial panic has settled into a more tolerable state of tension. We can all take a deep breath, knowing our money is safe and that banks have the tools they need, courtesy of the federal government, to weather the storm.
"We're going from flashing red lights to flashing yellow lights," Wells Fargo's senior bank analyst Mike Mayo told me recently. "I think it's time for hyper awareness and vigilance to anything else" that might further undermine confidence.
Regulators and investors are certainly on high alert. And they don't have to look too far to find things to worry about.
Here's the deal: SVB's red flags — its breakneck growth, lax risk management, and over-reliance on uninsured deposits, among other things — should have been easy to spot before its collapse. Now, everyone's looking for the next Big Thing hiding in plain sight.
A consensus is forming around three areas that analysts fear could create a systemic problem — commercial real estate, underwater bond portfolios, and the industry with the most metal moniker ever, shadow banks.
The WFH toll
Commercial real estate — offices, apartment complexes, warehouses and malls — has come under substantial pressure, my colleague Julia Horowitz reports. Prices in the United States were down 15% in March from their recent peak. Commercial property valuations could fall by roughly 20% to 25% this year, according to Rich Hill, head of real estate strategy at Cohen & Steers. For offices, declines could be even steeper, topping 30%.
Office properties are a particular pain point here. The average occupancy of offices in the United States is still less than half their March 2020 levels, according to data from security provider Kastle.
About $270 billion in commercial real estate loans held by banks will come due in 2023. Nearly a third of that, $80 billion, is on office properties.
Signs of strain are increasing. The proportion of commercial office mortgages where borrowers are behind with payments is rising, according to Trepp, which provides data on commercial real estate, and high-profile defaults are making headlines. Earlier this year, a landlord owned by asset manager PIMCO defaulted on nearly $2 billion in debt for seven office buildings in San Francisco, New York, Boston and Jersey City.
This is a potential problem for banks, given their extensive lending to the sector. Goldman Sachs estimates that 55% of US office loans sit on bank balance sheets. Regional and community banks — already under pressure after the failures of Silicon Valley Bank and Signature Bank in March — account for 23% of the total.
"I'm more concerned than I've been in a long time," said Matt Anderson, managing director at Trepp.
Unrealized losses
Back when interest rates were near zero, US banks gobbled up long-dated Treasuries and mortgage-backed securities. (And, typically, that's a safe move if you make sure to hedge against the risk of those assets losing value — which SVB did not.)
But as the Fed and other central banks have raised interest rates aggressively, the value of those bonds has been eroded.
US banks are now sitting on an estimated $620 billion in unrealized losses — their assets are worth less now than they paid for them, making it a problem if the bank is forced to sell those assets in a crisis (like, say, a bank run).
That $620 billion is a conservative estimate, experts say. And it remains unclear where those unrealized losses loom — whether they are spread out across the sector or concentrated among certain kinds of lenders.
Shadow banks
As we discussed here last week, shadow banking refers to financial institutions that lend money (like a bank) but don't take deposits from customers.
The sector is a large and diverse cast that includes investment banks, hedge funds, insurance companies, private equity funds, all manner of Wall Street power players.
The menacing nickname can be interpreted widely. They're in the shadows because they're unregulated, sure. But are they, like shady? Yes and no. Hedge funds and private equity types get a bad rap that is sometimes deserved, but they also provide financing to young firms that can't get the time of day from regular bank-banks.
The key thing to remember is they're not subject to the same strict rules as banks are, meaning they can take on more risk. They also don't get the benefit of a government backstop if the wheels start to come off.
But bank-banks and non-banks overlap in all kinds of real and perceived ways, and when confidence is eroded on either side, that creates a potential for panic to spread.
The mere perception that the banking sector might be connected to a struggling non-bank could spark a broader financial crisis, as my colleague Anna Cooban explains.
Bottom line
One of the many troubling reminders to emerge from the SVB debacle is that banks are big, sprawling operations run by human beings, in service of other human beings, none of whom are entirely rational. That might seem simplistic, but it's especially relevant for an industry as uniquely reliant on trust as banking is.
"This is not a zero-defect industry," Mayo says. "This is an industry that tries to minimize losses of mistakes, just like any other industry...The reality is that there are going to be mistakes."
He added: "This is a time when banks can reinforce the importance of their most important asset, which is trust."
RELATED: Senator Elizabeth Warren and Representative Alexandria Ocasio-Cortez sent letters to 14 of the largest depositors at Silicon Valley Bank, seeking details about the lender's "unusually cozy" relationships with its well-heeled clients.
Tupperware shares fell 49% Monday following a bleak warning about its ability to stay in business.
In a regulatory filing late Friday, the company said there is "substantial doubt about the company's ability to continue as a going concern," and that it's working with financial advisers to find financing to stay afloat.
The New York Stock Exchange also warned that Tupperware's stock is in danger of being de-listed for not filing a required annual report.
Ah, coffee. It is, objectively, the perfect drink. (I will brook no dissent on this.)
And yet the whole coffee ~industry~ appears obsessed with making coffee into something it's not.
See here: The rabid industrialists over at Starbucks have whipped up an olive oil-infused line of beverages for reasons I can only assume have to do with stoking chaos in the subways throughout Gotham. 
They seem to think that their customers — people who ritualistically shell out six bucks on sub-par bean juice every day — would care in the slightest about the health benefits of olive oil.
(Side note: Wasn't butter-in-coffee a thing for a hot minute in, like, 2016? Is olive oil the new butter? What are we doing here?) 
Former CEO Howard Schultz recently told CNN's Poppy Harlow that EVOO coffee would "transform" the industry, and be "a very profitable new addition."
Oh it's transformative all right, but probably not in the way Schultzy imagined.
Here's the deal: The olive oil coffee, dubbed Oleato, appears to be, for some customers, a powerful and surprising laxative. (Now those are two adjectives you rarely want to see before the word "laxative.")
A small sampling of social media reviews: 
"That oleato drink from starbs makin my stomach speak," one person tweeted.

Another on Redditor cautioned: "IBD patient here. I wouldn't touch these drinks with a ten-foot pole."
Starbucks didn't immediately respond to requests for comment.
My colleague Ramishah Maruf dove into the science of this potent elixir:
Caffeine is, of course, a stimulant.

Olive oil is a high-fat relaxant that is often used to treat constipation.  

Put those two together — at 7 in the morning without any carbs or other nutrients in your stomach to even things out — and you could wind up in a rather awkward and/or painful situation. 
"[The drink] is not going to make somebody physically ill from the standpoint of having a negative impact on health," nutritionist Erin Palinski-Wade said. "But more of that uncomfortable feeling of having to go in the bathroom or potentially cramping."
Perhaps there is a somewhat poetic, if unintended, irony in making New York one of the first cities to test out this oily concoction. After all, this is a city whose official public restroom is whatever Starbucks you're closest to when nature calls. And to Starbucks' credit, that's a brilliant way to create a repeat customer. 
💊 Dozens of biotech and pharmaceutical company leaders signed an open letter condemning Friday's decision by a Texas district court judge to halt the FDA's approval of mifepristone, one of the medications used in abortion procedures.
🐦 Elon Musk's antics at Twitter are undermining his plans to turn the company around. 


🔋 Tesla will open a Megapack battery factory in Shanghai, doubling down on its investment in China even as political tension rises between Beijing and Washington.
Last updated April 10 at 7:00 PM ET