Tonight: Lawmakers in Washington have really mastered the performative moral panic thing. Plus: All the food news that's fit for print. The Let's get into it.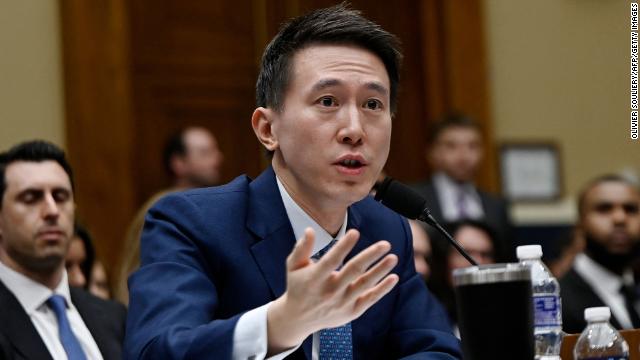 Despite lacking any public evidence for their belief that TikTok is a spying tool for the Chinese Communist Party, US lawmakers from both parties on Thursday carried out an ugly political theater to advance that narrative. 
Here's the deal: TikTok's CEO, Shou Chew, appeared before Congress to ostensibly face questions about his company's efforts to protect user data and its ties to the Chinese government. Instead, Chew was subjected to five hours of badgering and political grandstanding by politicians who've already made up their mind that they want to boot TikTok — which is headquartered in Los Angeles and Singapore —from all Americans' phones. 
Rep. Cathy McMorris Rodgers, the chair of the House Energy and Commerce Committee, set the tone for the hearing early, telling Shou: "Your platform should be banned." 
Unlike most of his interrogators, Shou remained civil and answered lawmakers' concerns in good faith. Or at least he tried to, when he wasn't being interrupted or talked over or denied a chance to respond to an allegation. 
BIGGER PICTURE
Chew's testimony comes as some lawmakers are renewing calls for the app to be banned in the United States over concerns about its ties to China through its parent company, ByteDance. Federal officials are demanding the app's Chinese owners sell their stake in the social media platform, or risk a US ban. 
But — and I cannot stress this enough — the national security concerns are purely hypothetical. And rather hysterical. 
The idea, my colleague Brian Fung has written, is that because the Chinese government enjoys significant leverage over businesses under its jurisdiction, it could compel ByteDance to cooperate with a broad range of security activities, including possibly the transfer of TikTok data.
"It's not that we know TikTok has done something, it's that distrust of China and awareness of Chinese espionage has increased," said James Lewis, an information security expert at the Center for Strategic and International Studies. "The context for TikTok is much worse as trust in China vanishes."
BIGGER-BIGGER PICTURE
Ties between the US and China are at an all-time low, raising the specter of a new Cold War era (see: the shooting down of spy balloons, long-running trade disputes, the cozy friendship between Vladimir Putin and Xi Jinping, diplomatic sparring over Taiwan, etc). 
And against that tense (not to mention deeply xenophobic) backdrop, everyone in Washington is bolstering their "tough in China" credentials. One easy way to do that is tap into parents' worst fears that their children's brains are being manipulated by a foreign adversary, haul that company's CEO to Capitol Hill and declare his app — wildly popular, with more than 150 million users in the US — a tool for the Communist Party. 
BOTTOM LINE
The spectacle that played out on the Hill today had nothing to do with fact-finding or expressing any genuine concern for Americans' privacy. If that were the goal, Mark Zuckerburg and Elon Musk, the CEOs of Facebook and Twitter, ought to have been called on to account for their platforms' use of customer data and lax regulations around the spread of misinformation. Nope, today was was about advancing a modern Cold War narrative about China's threat to American supremacy. 
As digital rights advocate Evan Greer told Nightcap host Jon Sarlin today, the hearing was "mostly xenophobic showboating to show that they're tough on tech and tough on China."
Greer notes that there are legitimate concerns about TikTok's data collection practices, but they're hardly unique to TikTok. "We see this handwringing about TikTok as a big distraction from the conversation that we really need to be having," Greer said. "It's a national embarrassment that we have no basic data privacy law in the United States." 
RELATED COVERAGE
Accenture, the Irish-American professional services company, plans to slash 19,000 jobs worldwide as it tries to cut costs. The company said in a filing that it would spend $1.2 billion in severance to cut 2.5% of its workforce over the next 18 months, and another $300 million to consolidate office space. Accenture has 738,000 employees globally.
Who's hungry? It's time for another installment of all the news that's fit for human consumption. 
🐓 MEATY
Lab-grown meat is almost here, America. And no one knows quite how to feel about it.
The news: Good Meat, the developer of chicken grown from cells, said this week it has received a "no questions" letter from the FDA. In other words, a letter saying it's safe to sell its lab-made chicken in America. Another company, Upside Foods, got a similar letter in November.
Both companies need to get a green light from the the US Department of Agriculture before they can actually sell their franken-chicken on US soil. And in the meantime, they've got to convince people it's, like, good...
Fun fact: Cultivated or lab-grown meat is made in a vat much like what you'd find at a beer brewery. My colleague Danielle Wiener-Bronner has the details.
🌯 WRAP WARS
The fast-food biz can be a cutthroat game. Exhibit A: Wendy's just straight up ripped off an old McDonald's fan favorite.
That's right, Wendy's now has its own version of the Snack Wrap, a chicken wrap that McD's discontinued in 2016. People apparently missed the portable, quasi-healthy option, my colleague Jordan Valinsky writes. 
☕ THE BUX
The new CEO of Starbucks, Laxman Narasimhan, officially took over from Howard Schultz this week. And he's not wasting any time getting his hands dirty: Narasimhan has completed his 40 hours of training, and plans to don the green apron once a month for a barista shift. 
To which I say, rather unexpectedly: Hell yeah, Laxman, welcome to the resistance.  Here's Danielle again with the story. 
🚫 French transport networks, oil refineries and schools were hit by widespread disruption as workers staged a national strike to protest an increase in the retirement age that was pushed through parliament without a vote.
📈 Unions at Disney World won 37% pay hikes in a tentative labor deal.
📉 Shares of Block, the company behind Cash App, fell nearly 15% after short-seller Hindenburg Research accused the company of allowing fraudulent accounts involved in illegal activities.
🏡 Good news for homebuyers: Mortgage rates just dropped again.
It's Thursday, which means it's showtime.
Tonight: Semafor's Max Tani explains what's going very wrong at Vice. Plus: Fight for the Future's Evan Greer explains why banning TikTok isn't a solution. And "Winner Sells All" author Jason Del Rey explains Amazon's recent hiccups. Check it out.
Last updated March 23 at 7:00 PM ET