China has approved its first mRNA Covid-19 vaccine just weeks after an outbreak of the virus swept through its under vaccinated population following the end of strict lockdown measures.
The vaccine was developed by CSPC Pharmaceutical Group, a Chinese firm based in the northern city of Shijiazhuang, according to a statement by the company. Approval was granted after the vaccine was tested in China on over 5,500 people, the company said.
 
mRNA vaccines use genetic material called messenger RNA, a kind of genetic software that instructs cells to make a piece of the coronavirus spike protein – the part of the virus used to grapple the cells it attacks. The immune system recognizes it as foreign and is prepared to attack when actual infection occurs. 
Until now, China was relying on inactivated vaccines made by Sinovac Biotech and Sinopharm Group, two Beijing-based drugmakers. This is an older method for vaccinating people, in which whole batches of the virus are grown, "killed" and then made into the vaccine.  


But the efficacy of these vaccines was found to be much lower than the mRNA shots. Multiple studies suggest the immunity provided by the Chinese vaccines wanes rapidly. 
According to the World Health Organization (WHO), Sinovac's vaccine CoronaVac was just 51% effective at preventing symptomatic disease caused by the original variant of the virus, while Sinopharm was 79% effective. In comparison, the efficacy of mRNA vaccines developed by Pfizer/BioNTech and Moderna were as high as 95%. 
A Hong Kong study published in The Lancet in June 2021 found that health workers fully vaccinated with BioNTech's mRNA shot had about 10 times the amount of antibodies as  those who received Sinovac's inactivated vaccine.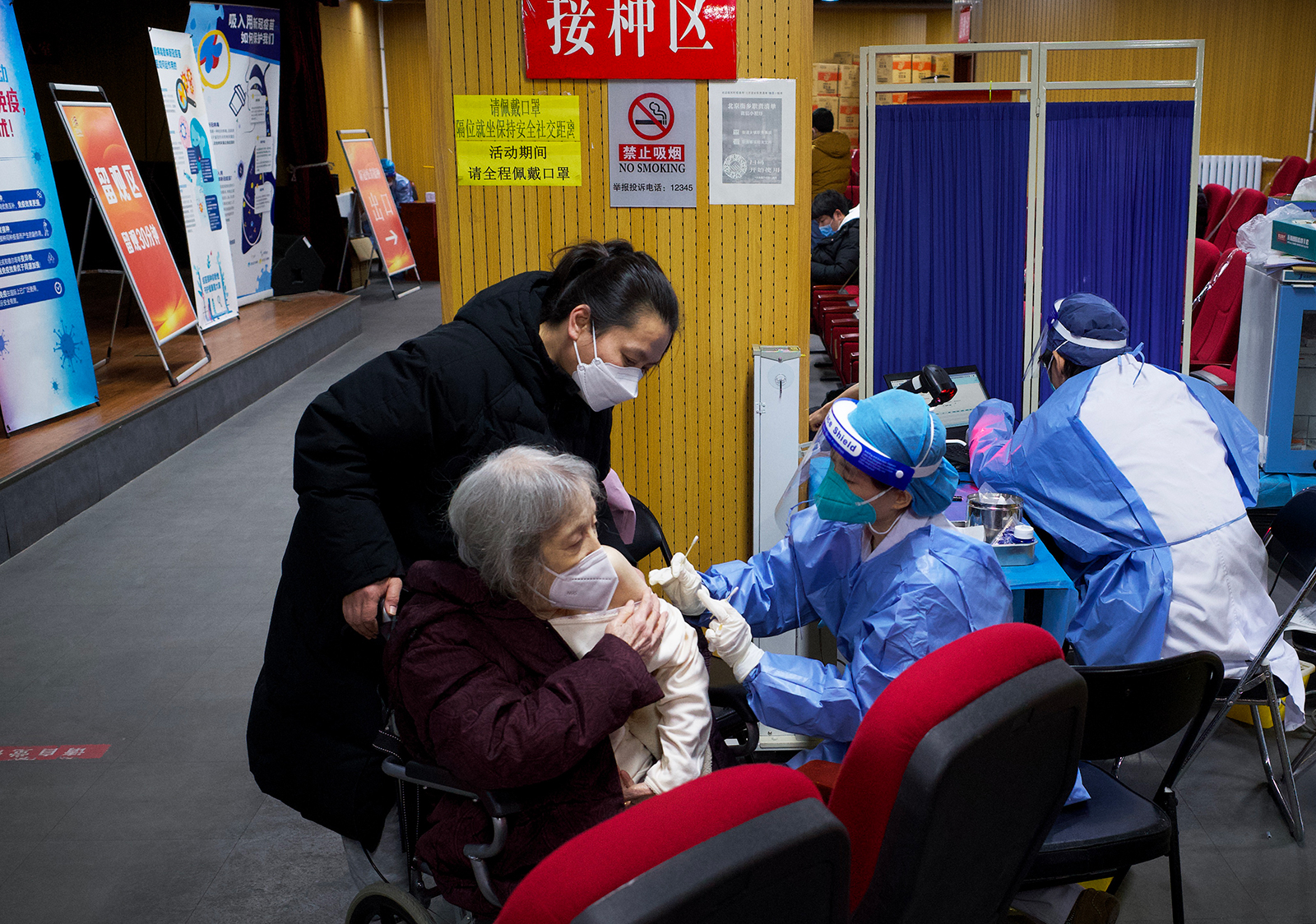 A woman gets her vaccine in Beijing, China, on December 11, 2022. 
(Photo: Hou Yu/China News Sevice/VCG/Getty Images)
WHO and other experts have long called on China to start using the more effective mRNA vaccines. But China resisted importing western shots, relying instead on its own vaccines. 
China's zero-Covid policy was unique; no other country embarked on such a stringent regimen of restrictions. The policy became a source of national pride – before it caused some of the largest protests the country has seen in decades. While other governments began lifting their restrictions, China insisted on keeping the rules in place.
China was confident its own unique policy was the correct one and resisted using western mNRA vaccines.
While Chinese regulators held off on approving foreign mRNA vaccines, domestic companies were given the green light to develop their own. 
Jin Dong-yan, a professor in molecular virology at the University of Hong Kong, told CNN the first approval of this type of vaccine in China was "a positive step because there is strong scientific evidence that mRNA vaccines do much better than non-MRA vaccines." 
The CSPC said in a statement that the results demonstrated the vaccine's "safety, immunogenicity and efficacy," but added it was still too early to determine "whether this product… is as good as other products on market." 
IN OTHER NEWS

WHO's vaccine experts have updated their global Covid-19 vaccination recommendations, saying that healthy kids and teenagers considered low risk may not need to get a shot. "The public health impact of vaccinating healthy children and adolescents is comparatively much lower than the established benefits of traditional essential vaccines for children," according to a statement from WHO's Strategic Advisory Group of Experts on Immunization (SAGE). The revised roadmap is designed to prioritize Covid-19 vaccines for those at greatest risk of death and severe disease.



Bernie Sanders has criticized Moderna CEO Stéphane Bancel for his refusal to lower the commercial cost of the company's Covid-19 vaccine. Sanders opened the March 22 hearing of the Senate Health, Education, Labor and Pensions Committee by slamming "an unprecedented level of corporate greed" and highlighting the personal wealth amassed by top Moderna executives after the Covid-19 vaccine rollout. Moderna has proposed a price of $130 per vaccine dose. The federal government so far has spent more than $30 billion on Covid-19 vaccines,  according to a report from the Kaiser Family Foundation. 
Q
Can Paxlovid decrease the risk of long Covid?
A
Following the FDA's full approval of Paxlovid in December a new study has found that the antiviral drug can lower the risk of developing long Covid. 
The US Centers for Disease Control and Prevention defines long Covid as new, returning or ongoing health issues more than four weeks after an initial infection. 
But Paxlovid, a tablet that is taken orally, can help prevent the condition.  
The study, published in JAMA Internal Medicine on 23 March, found that using the antiviral medication Paxlovid within five days of a positive Covid-19 test was associated with a 26% lower risk of long Covid in all age groups. 
This is good news for the one in five Covid-19 survivors aged 18 to 64 who are affected by long Covid, according to CDC data. 
Send your questions here. Are you a health care worker fighting Covid-19? Message us on WhatsApp about the challenges you're facing: +1 347-322-0415.

CORONAVIRUS: FACT vs FICTION