Ah, the old trillion-dollar-coin theory. Plus: The Iger sequel is rolling. Let's get into it.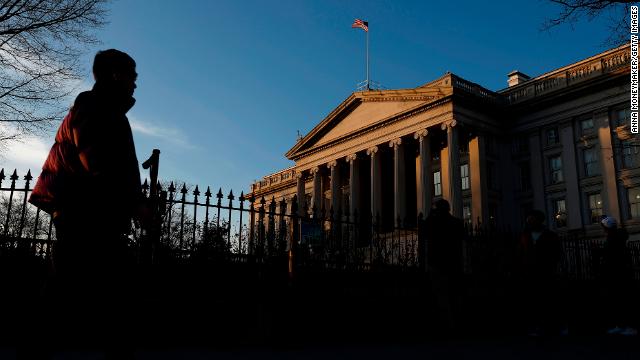 The Fed and the Treasury have something in common with the American people: They do not want to talk about the debt limit. 
On Tuesday, when asked about the debt ceiling, Fed Chair Jay Powell batted away the suggestion of a trillion-dollar coin (more on that in a minute) that could save the country from defaulting.
"This ends in only one way, and that's Congress voting to raise the debt ceiling," Powell told a panel at the Economic Club of Washington.
Neither Powell nor Treasury Secretary Janet Yellen are willing to even countenance the idea that their offices have any power to prevent a default, or that they could intervene to blunt the impact if Congress were to ultimately drop the ball and trigger a what economists have called "financial armageddon." (Think: markets collapsing, interest rates soaring, payments to federal workers and social security recipients freezing, not to mention the unknown effects of essentially shutting down the economy twice in three years.) 
The reason Jay and Jan don't want to talk about, though, is probably different from the reasons the rest of us don't want to talk about it.
Their reason? We can't let the petulant children in Congress think there's any other way out of this. 
The Federal Reserve and Treasury are not publicly speaking about what they could do if an outright default were to happen this time, in part because the mere suggestion they will bail out warring politicians could leave lawmakers with less of an incentive to reach a deal.
In other words: Shhh. 
To be clear, the Fed and Treasury have only a handful of pretty bad tools in the toolbox to either prevent or cope with the unmitigated disaster that a default would bring. 
One idea that's evolved from something of a fringe theory to an actual proposal is the trillion-dollar coin. In short, the Treasury technically has the power to mint any size coin it wants, so Yellen could order up a trillion-dollar platinum coin and stash it in the Federal Reserve. Because it'd be locked up, the coin wouldn't get into circulation and drive up inflation the way cash would. Again, in theory. 
Yellen, for her part, has repeatedly dismissed the idea. Further, it'd be up to the Fed whether to accept such a coin, and doing so would undermine the central bank's independence (and general disdain for getting dragged into politics). 
In the event of a default, the Fed could, theoretically, purchase defaulted bonds to keep financial markets from going off the rails. And Treasury could, theoretically, prioritize interest payments to bond holders (something Republicans have floated, signaling they're already making contingency plans when their leadership shoots the hostage and plunges the global economy into chaos.) 
Both of those ideas have been shot down by current officials.
"Treasury's systems have all been built to pay all of our bills when they're due and on time, and not to prioritize one form of spending over another," Yellen said last month.
Bottom line: Not only would the Fed and Treasury be largely ineffective at mitigating the disaster, it would also push the two agencies into the middle of an ugly political fight they have no business being in. 
Once again, it's up to Congress to stop being petulant children long enough to do their jobs and avert financial bedlam (as Yellen recently called the result of a default).
Zoom will lay off about 1,300 employees, approximately 15% of its staff, becoming the latest tech company to announce significant job cuts as a pandemic-fueled surge in demand for digital services wanes.
But there's a twist. In a memo to employees, Zoom's CEO Eric Yuan said he and other executives would take a significant pay cut, acknowledging he made mistakes in how quickly the company grew during the pandemic.
"I am accountable for these mistakes and the actions we take today – and I want to show accountability not just in words but in my own actions," he wrote. "To that end, I am reducing my salary for the coming fiscal year by 98% and foregoing my FY23 corporate bonus."
Disney is in the middle of a culture war battle that could end up transferring Disney World's governance to a board appointed by Florida Governor Ron DeSantis. And that may be the least of the company's problems.
As Bob Iger returned to the top job in November, he was greeted by an industry is in turmoil. Cable subscriptions are plunging, streaming revenues are a disaster, labor disputes are brewing and activist shareholders are circling like sharks. 
So far, Iger has been quiet about his plans to right the ship. That ends when Disney reports earnings after the stock market closes tomorrow afternoon. Here are the key things analysts say Iger needs to address on the earnings call, per my colleague Chris Isidore. 
Job cuts on the way?
Disney's earnings are expected to fall nearly 30% from a year ago, though the financial results might be the least interesting part of the call.

"We anticipate Disney is likely to introduce structural changes as well as cost cuts," said Jessica Reif Ehrlich, analyst with Bank of America.

Iger is expected to roll back the reorganization of the company's Media and Entertainment Division that his predecessor, Bob Chapek, announced in 2020.

Disney has so far avoided large layoffs, but the outlook for ad dollars this year is grim, prompting a wave of cuts in media.  


Streaming and Disney+
Subscriber numbers are key in streaming, but beyond that, investors will want to know how much money Disney+ lost last quarter.

Chapek set expectations for Disney+ to be profitable in 2024. Will Iger change that target date?

"Given a shift of attention from subscriber growth to profitability, most [streaming] services have moved into a price-raising mode," wrote Doug Creutz, analyst for Cowen.
Spin-off of ESPN
The sports network is facing the same problems that competitors throughout the industry are dealing with: a steady, inexorable decline in cable subscribers.

ESPN gets more fees per cable customer from cable operators than any other group of networks, making it particularly vulnerable to the loss of cable subscribers.

At the same time, competition for sports programming is rising as streaming services such as Amazon start competing for rights packages.

But even if spinning of ESPN would raise cash and allow Disney to trim debt, that would be a classic case of selling low. And it's not clear there'd be a buyer. 
Labor pains
Unionized rank-and-file workers at Disney World last week voted 96% against a contract offer from Disney that would have given them raises of at least $1 a year over the next five years.

The company and a group of six unions representing 32,000 union member are due to return to the negotiating table, and no strike deadline has been set.

The last thing that Iger or Disney needs is to upset the strong demand for travel to Disney World or other park locations. 

The parks unit brought in revenue of $7.4 billion and operating income of $1.5 billion in fiscal year 2022, which ran through October 1, even though the first six months of that fiscal year were affected by surging Covid cases.


Political battles in Florida
Disney has long enjoyed special status in Florida as its own sort of city-state

known as the Reedy Creek Improvement District. 

But in the fallout over Chapek's handling of state legislation that opponents dubbed "Don't Say Gay," Republican lawmakers took aim at that special status. 

The Florida legislature is now in a special session to pass a Disney-focused law that would give control of the Reedy Creek to a board appointed by the governor, not Disney.

"We are monitoring the progression of the draft legislation, which is complex given the long history of the Reedy Creek Improvement District," said Jeff Vahle, president, Walt Disney World Resort. "Disney works under a number of different models and jurisdictions around the world, and regardless of the outcome, we remain committed to providing the highest quality experience for the millions of guests who visit each year."