Tonight: Retailers need to come clean about crime. Plus: Wall Street's biggest advocate for flexible work is cracking the whip on under-performers. Let's get into it. 
🔐 'Maybe we cried too much'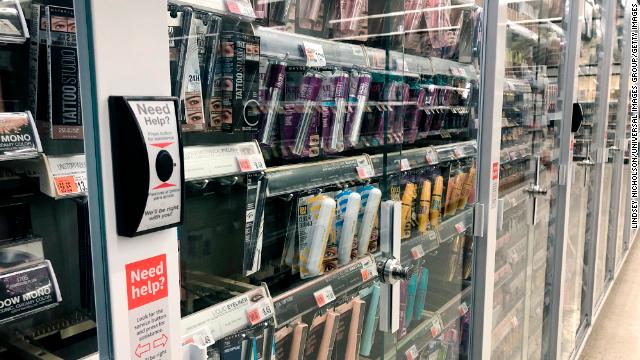 It seems like it all happened overnight.
One day, you walk into your local CVS or Duane Reade to grab a few essentials and find ... locks. Locks on the deodorant. Locks on the razors. Locks on locks. You find yourself staring at a bottle of Gas-X wondering just how embarrassing it'd be if you actually hit the little button that alerts a salesperson to come and open the case for you. (The answer, of course, is you'd die of embarrassment and would rather suffer physically than inconvenience another human, so instead you buy a pack of gum because it's not behind a plexiglass prison and place an order for what you really need on your Amazon app while you wait in the checkout line.)
My point is: Not only does everyone hate the lock-up situation, it turns out the stores were going a little overboard with them. 
Here's the deal: Retailers have wildly overstated their losses from theft. Despite reports you may have seen on the news about marauding gangs of shoplifters hitting up the local pharmacy, there's no evidence that theft is actually spiking the way companies claim it to be.
To explain why, we have to talk about "shrink" — this is how the retail industry describes losses from a bunch of different factors, including theft by shoppers and employees, human error, vendor fraud or mismarked items, among other things. 
But, as my colleague Nathaniel Meyersohn reports, the retail industry's own figures on shrink cast doubt on their claim that the problem is getting worse.
See here: The National Retail Federation's annual survey of around 60 retail member companies found that the average shrink rate as a percentage of sales actually dropped to 1.4% in 2021 from 1.6% in 2020 — roughly the same as it's been for the past decade.
Shrink is an "issue where you've got a problem, but there's no way to know exactly where the losses are coming from," said Richard Hollinger, a retired professor of sociology and criminology at the University of Florida who studies retail losses and launched the retail industry's first annual security survey in the early 1990s.

Still, retailers maintain that organized retail crime has gotten worse.

Retailers, on average, saw a 26.5% increase in organized retail crime incidents nationally in 2021 from the prior year, according to the NRF survey. Organized retail crime typically refers to large-scale retail theft and fraud by groups of professional shoplifters who conspire to steal and resell stolen merchandise. 
  
But such crime is just one component of inventory losses. It's not the largest, and is a lower percentage of overall shrink than it was five years ago, according to the NRF surveys.

In fact, organized retail crime costs companies an average of just 7 cents for every $100 in sales, according to the NRF.
None of this is to diminish the severity of the sometimes-violent smash-and-grab jobs that retailers are pointing to when they complain about theft. Those incidents do happen, and they can be traumatizing for staff and customers. But they don't reflect a broad rise in crime. 

So, why the panic from business leaders?

Experts Nathaniel spoke to note that brick-and-mortar chains are under pressure from forces outside their control — competition from Amazon, higher costs for labor and transportation, supply chain challenges, etc — so it's convenient to blame shrink because the companies have greater control over it. 
It's also easier for companies (and the public) to blame theft for store closures and retail struggles than it is to admit their own strategic errors, like over-expansion and losing customers to online rivals, said Jonathan Simon, a criminal justice professor at UC Berkeley School of Law. 

"It's much more convenient if we can blame it on people we already consider reprehensible," he said. 

Walgreens, which previously said it saw a spike in shrink during the pandemic and cited organized retail crime in its decision to close five San Francisco stores in 2021, is backtracking.
"Maybe we cried too much last year" about shrink numbers, Walgreens finance chief James Kehoe said on an earnings call earlier this month.

During its latest quarter, the company's shrink rate fell to around 2.5% from 3.5% of total sales last year. 
Bottom line: Theft is an age-old problem for stores, but its monetary impact in the pandemic era has been overblown. And if retailers feel like things are getting worse, that may be because of the way stores have evolved to reduce labor costs in recent decades. Researchers say having fewer people in the store, while good for reducing costs, has had the unintended consequence of making stores more vulnerable to shoplifting and human error. 
Microsoft plans to lay off 10,000 employees as part of broader cost-cutting measures, making it the latest tech company to reduce staff because of growing economic uncertainty.
The company had approximately 221,000 full-time employees globally as of June, with some 122,000 of those staffers based in the United States.
CEO Satya Nadella said the job the cuts represent less than 5% of the company's total workforce and the reductions will be complete by March.
When Jane Fraser became CEO of Citigroup nearly two years ago, in the middle of the pandemic, she established the kind of flexible hybrid work culture that's mostly unheard of among elite Wall Street bankers. 

Although Fraser sees no need to return to the old ways, Citi's experiment has shown not all workers can hack it working remotely. The less productive ones, she said, are being called back into the office for coaching. 

"We do measure productivity very carefully," she said during a panel hosted by Bloomberg News during the World Economic Forum in Davos, Switzerland. "Apprenticeship is really important," she added, recalling her own "eccentric and wonderful" mentors from her time as a young banker. 

"We do want people collaborating, and they do collaborate better together," Fraser said. "But at the same time we don't have to go back to the '80s model that sort of epitomized Wall Street, either."

Fraser's comments do not signal any formal change to the bank's hybrid work policy, a Citi spokesperson said. 

Citi's edge in the talent war
Fraser became the first woman to run a major Wall Street bank when she took the Citi CEO role in March 2021. Roughly a year into the pandemic, signs of burnout were everywhere with deal volumes soaring. 

As part of her mission to cast Citi as the "bank with a soul," Fraser saw an opportunity to embrace rather than resist a hybrid work schedule that allowed staff flexibility.
"The blurring of lines between home and work and the relentlessness of the pandemic workday have taken a toll on our well-being. It's simply not sustainable," she wrote in a memo to Citi's more than 200,000 global staff. 
Most roles at Citi would become hybrid, with three days in the office and up to two at home, she said in the memo. She also implemented "Zoom-free Fridays" and urged staff to avoid scheduling calls outside traditional work hours. 
That decision was both a response to the human tragedy of the pandemic and a calculated strategic decision to give the bank an edge in the cutthroat war for talent on Wall Street.
Ultimately, she said told the Davos panel, that bet has paid off, helping the bank "attract, retain and get the most out of our talent." 

Now, Fraser says, it's important for Citi to strike a balance between in-person collaboration and giving workers the flexibility they need. 

"I think we're in for a world of pretty tight labor supply," she said. "We're not seeing people coming back who had left the workforce in anything like the numbers we expected ... We're going to have to keep listening to our people to get that balance right."
📉 The US economy is in a bit of a funk. The Federal Reserve said in its latest Beige Book report that Americans "generally expected little growth in the months ahead." Wall Street wasn't thrilled, and stocks fell Wednesday.
🇫🇷 French workers are set to take to the streets Thursday to protest reforms to the country's pension system that would require most people in France to work two years longer before retirement.
🎉 Party City, America's largest party supply store, filed for bankruptcy protection, weighed down by competition and years of financial losses.