Tonight: Congress is already playing chicken with the global economy. Plus: A bunch of absolutely wild purchases SBF made before it all came crashing down. Let's get into it.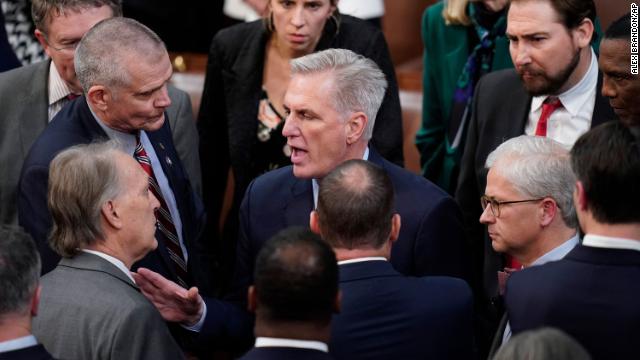 Last week, on Wednesday, we wrote here about the humiliating saga of Kevin McCarthy's quest for the House Speaker gig. Long story short, he finally got it. You know what they say, 15th time's a charm.
That chaotic process, which leaves McCarthy with the gavel but the real power in the hands of the party's far-right extreme, has solidified a consensus in Washington and on Wall Street that dysfunction won't just be the opening act of the 118th Congress. It might be the whole play, my colleague Matt Egan writes.
And that's a potentially devastating prospect for the global economy.
Here's the thing: McCarthy will either have to cave to his party's far right or lose his job. The far right, meanwhile, has declared that the notion of raising the debt ceiling is "non-negotiable" without serious cuts to federal programs, potentially including Medicare and Social Security.
(ICYMI: The debt ceiling is the cap on spending lawmakers must lift to pay its existing bills. Failure to do would result in what some have called "financial Armageddon.")
"The debt limit is going to be a problem," economists at Goldman Sachs said plainly on Monday. "Fiscal deadlines will pose a greater risk this year than they have for a decade."
Even a near-default, Matt explains, would cause mayhem on Wall Street and risk delaying paychecks to federal workers, military salaries and other payments millions of Americans rely on.
A senior Washington lobbyist told CNN on Friday that there is a real risk of a repeat of the 2011 debt ceiling crisis or "potentially worse." As a reminder: In that episode, we learned how even threatening not to raise the debt ceiling is a dangerous idea. Investors were so freaked out that credit agency S&P downgraded America's debt for the first time ever.
On the bright side, we have some time. Goldman Sachs estimates the debt ceiling won't limit the Treasury Department's ability to finance the deficit until August at the earliest. 
On the less bright side… we've never seen this level of chaos in Congress (Fif! Teen! Ballots!) nor did we suspect even the most extreme flanks of previous legislatures to, like, want to default just to prove a point. The vote to raise the borrowing cap was once largely a formality, with everyone agreeing not to exploit the potential calamity for their own ideological pet projects. Those times are long gone.
Bottom line: The election of a new speaker is an important event, of course, and the stakes are high. But the squabbling over it didn't yield much of a tangible impact beyond the US, or even Capitol Hill, tbh. That kind of messy brinkmanship over a debt default? That's flirting with financial ruin.
Defaulting on our debt would cause Treasury rates to soar, setting off a chain reaction in financial markets. (Treasuries are viewed as risk-free investments backed by the full faith and credit of the federal government.)
No one knows exactly what it'll look like — a steep recession? Sure. Financial markets becoming unglued with billions in wealth evaporating? You betcha. But what keeps economists up at night are the unknowns. If there is a serious argument out there in favor of the US defaulting, I've not come across it.
Goldman Sachs will lay off as many as 3,200 employees this week, according to a person familiar with the matter. More than a third of the job cuts are expected to be from the firm's trading and banking units.
Like its Wall Street rivals, Goldman Sachs has been hit by a slump in global dealmaking activity as fewer companies merge or seek to raise capital. The bank had 49,100 employees at the end of the third quarter, having added thousands of jobs in recent years as markets and investment banking boomed.
Related: Silicon Valley layoffs have gone from bad to worse. 
🍸 'IDIOTICALLY INEFFICIENT'
When they make the FTX limited series for TV — scripts for which are almost certainly already in the works in at least five different studios, if I had to guess — the most fun scenes will be the flashbacks. The startup in its heyday, flush with cash and showering employees with gifts in the form of luxury hotel stays, parties, bottomless boozy outings. I can already picture the slow fade from the beach party at Jimmy Buffet's Margaritaville to the rat-infested jail where Sam Bankman-Fried spent a week between his arrest and extradition to the United States.
(And seriously, for any HBO or Netflix producers out there: DM me and I'll happily drop this whole journalism thing to go full Hollywood…)  
Anyway, the source material for those scenes is beginning to surface via FTX's bankruptcy proceedings, giving the public a quantitative look at just what happens when a bunch of 20- and 30-somethings who think they're saving the world end up with billions of dollars at their disposal.
See here: FTX, the crypto exchange platform that went bust in November, spent about $40 million in just over nine months last year on hotels, entertainment and flights, according to court documents reviewed by Insider. Nearly $7 million of that was just food.
The largest chunk, totaling about $5.8 million, was spent at an oceanside resort called the Albany Hotel, where Bankman-Fried previously lived in a $30 million penthouse.
Keep in mind, this is all taking place within a company that had no centralized cash controls, would send expenses and invoices over Slack, and ran its accounting on QuickBooks. 
Here's perhaps my favorite example, reported by the Financial Times: When FTX moved its headquarters from Hong Kong to the Bahamas last year, the staff soon realized that Amazon didn't deliver to the island. So they struck a private deal with an air carrier to fly their orders from Miami, according to former employees. More from the FT: 
A lack of internal controls that are typical of large financial companies meant FTX's spending went largely unchecked, according to former employees and filings in the group's Delaware bankruptcy case. "[It was] kids leading kids," said one former employee.
"The entire operation was idiotically inefficient, but equally mesmerising," they added. "I had never witnessed so much money in my life. I don't think anybody had, including SBF."
Last week, SBF pleaded not guilty to federal charges that he stole customer funds from FTX to underwrite his lavish lifestyle as well as to cover losses at his hedge fund, Alameda, and make political contributions.
In a series of interviews since FTX's collapse in November, SBF has sought to portray himself as a fundamentally good guy but a hapless businessman who got out over his skis. 
Lawyers could have a field day spinning the expenses narrative in any number of directions. Certainly, if the defense does lean into the whole "I was a stupid 29-year-old whom no one should have trusted with money" argument, well, it appears there's some evidence to back that up. 
🚫 More than 7,000 nurses at two major New York City hospitals walked off the job Monday, saying that immense staffing shortages are causing widespread burnout and hindering their ability to properly care for their patients.
💸 Former McDonald's CEO Steve Easterbrook will pay $400,000 to settle charges that he allegedly misled investors about the circumstances of his firing in 2019 following a relationship with an employee.
📈 Stocks had a terrible 2022, but they're off to a solid start to this year. 
👀 Federal regulators are investigating a tweet from Elon Musk in which he appeared to support a new feature that would allow drivers to disable alerts on Tesla's (super buggy, pretty scary) "Full Self Driving" system.