After three years of sealing itself from the world, China reopened its borders on Sunday.
"I've waited for this so long," said newlywed Felicia Feng in Hong Kong, who hadn't seen her husband since they were married in the mainland a few months ago. China's stringent zero-Covid policy meant those crossing the border had to navigate labyrinthine and costly restrictions. Many decided it was not worth the effort and expense.
But President Xi Jinping's abrupt abandonment of his flagship policy has allowed families to reunite. Travelers are no longer faced with onerous restrictions – just a PCR test before flying.
Feng was delighted to see her husband again. "This is his first time [coming] to Hong Kong. I have a full list of food and the places that we want to go," she said. Zero-Covid, she added, had created "a lot of difficulties for my life, but now it seems that everything starts to become better."
Investors also welcomed the news. Stocks in Asia are starting the year in a bull market: the MSCI Asia Pacific Index jumped 2.5% during Tuesday trading to close the day at 535.69 points. That's up 24.6% since its most recent low on October 24 – around the time Xi redoubled on his commitment to zero-Covid during the Communist Party conference.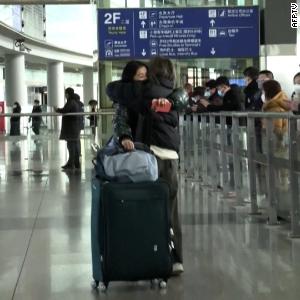 Many Chinese citizens reunited with friends and family for the first time in three years.
Neighboring economies are also set to see significant boosts to their GDP, as they prepare to welcome Chinese tourists who have been accumulating savings throughout the pandemic. Hong Kong, Thailand, Vietnam and Singapore are set to benefit from the release of this pent-up demand.
There could be "revenge spending," according to Alex Loo, a macro strategist for TD Securities. Analysts at Goldman Sachs estimate that Hong Kong could see an estimated 7.6% boost to its GDP as exports and tourism increase. Thailand's GP may be boosted by 2.9%, while Singapore would get a lift of 1.2%.
But the economic relief comes amid continued concern about the scale of China's ongoing Covid wave. The World Health Organization has accused China of "under-representing" the severity of its Covid outbreak and criticized its "narrow" definition of what constitutes a Covid death. China's official Covid-19 death toll since it eased restrictions remains strikingly low – with only 37 deaths recorded since December 7.
However, satellite images tell a wholly different story. The images – taken by Maxar in late December and early January and reviewed by CNN – show crowding at crematoriums and funeral homes. One location on the outskirts of Beijing appears to have constructed a brand-new parking area to keep up with demand.
"We continue to ask China for more rapid, regular, reliable data on hospitalizations and deaths, as well as more comprehensive, real-time viral sequencing," WHO director-general Tedros Adhanom Ghebreyesus said at a media briefing in Geneva last week.
On Thursday, China's Foreign Ministry said the country has always shared epidemic information "in a timely, open and transparent manner" and insisted its Covid situation was "under control."
Chinese health officials also presented recent genomic data to a WHO advisory body during a closed-door meeting Tuesday. In a statement Wednesday, the WHO advisory body said the variants detected in China are known and have been circulating in other countries, with no new variant yet reported by the Chinese CDC.
Meanwhile, a new variant is causing concern in the United States. Maria Van Kerkhove, WHO's technical lead on Covid-19, warned last week that XBB.1.5 may be "the most transmissible form of Omicron to date."
XBB.1.5 is the product of recombination: Two descendents of BA.2, the subvariant that drove a modest wave of cases in April, swapped pieces of their genetic code, resulting in 14 new mutations to the virus' spike proteins compared with BA.2, and a new sublineage, XBB.
XBB drove a wave of cases in Singapore last fall but failed to gain much ground in the US. However, recent mutations to the XBB strain allowed it to take hold. XBB.1.5 has a key mutation at site 486, which allows it to bind more tightly to ACE2, the doors the virus uses to enter our cells.
"The mutation is clearly letting XBB.1.5 spread better," Jesse Bloom, a computational virologist at the Fred Hutchinson Cancer Center, wrote in an email.
The US Centers for Disease Control and Prevention (CDC) estimate the new variant is causing an estimated 28% of cases in the country. In the Northeast – where the variant was first detected – this figure jumps to 60%.
Although a post-holiday season peak was predicted, experts say XBB.1.5 is likely driving this higher. Hospitalizations for Covid-19 are climbing and have now surpassed the numbers seen during last summer's BA.5 wave.
While much of the attention towards new variants has been focused on China, XBB.1.5 is a reminder that the pandemic is not over in the rest of the world.
IN OTHER NEWS

Secretary of Defense Lloyd Austin has officially rescinded the military's Covid-19 vaccination mandate for troops after President Joe Biden signed the 2023 National Defense Authorization Act, requiring its dismissal. The requirement to remove the mandate was viewed as a win for conservative lawmakers who had long argued that it was hindering the military's recruitment efforts, though Pentagon officials maintained there was no evidence to support the claim. CNN previously reported that Democrats ultimately decided that in order to get the legislation – which bolstered US support for Ukraine and NATO – over the finish line, they would have to allow the Republics' removal of the mandate.
Global Cases

665,331,605

 

Global Deaths

6,712,883

 

US Cases

101,347,243

 

US Deaths

1,097,660
Source: Johns Hopkins University
Q
Can international tourists visit China?
A
While many neighboring countries prepare to welcome Chinese tourists over the coming weeks, China isn't exactly rolling out the red carpet for international tourists just yet.
Borders remain largely closed to foreigners. According to the government notices, for now it plans to focus on facilitating visa applications for foreign nationals traveling to China for business, employment, study, family visits and reunions.
For international tourists hoping to experience the country's many attractions, they may still have to wait a little longer.
Send your questions here. Are you a health care worker fighting Covid-19? Message us on WhatsApp about the challenges you're facing: +1 347-322-0415.

WHO is preparing a risk assessment for the XBB.1.5 sublineage, which will be published in the coming days. The group's technical advisers are looking at both real-world data on hospitalizations and lab studies to assess severity.
While the true extent of the variant's severity remains to be seen, Maria Van Kerkhove told reporters, "We are concerned about its growth advantage."
However, while Van Kerkhove said she expects "further waves of infection around the world," she stressed this "doesn't have to translate into further waves of death because our countermeasures continue to work."
WHO urged people to continue to get their bivalent boosters, as this remains the best defense against this potentially immune-evasive variant.
New data from the CDC shows that, in October, people ages 5 and older who had received an updated Covid-19 booster shot had a 19 times lower risk of dying from Covid-19 compared with those who were unvaccinated. As this variant continues to take hold in the US, our top tip this week is to get the updated booster shot if you haven't already done so.
CORONAVIRUS: FACT vs FICTION