Tonight: Tesla investors say they're starting to worry about Elon Musk. And I say, starting? Let's get into it.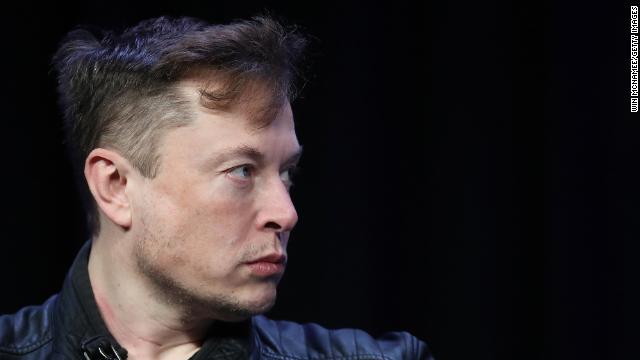 Elon Musk's rather expensive whims are becoming a liability.
See here: This week, Musk sold another 22 million shares of Tesla, raising $3.6 billion. In November, he sold 19.5 million shares, shortly after closing on his purchase of Twitter.
Musk didn't disclose reason for the sales in the latest filing.
But since Musk announced his intent to buy Twitter back in April, he has offloaded nearly $23 billion worth of Tesla stock, Prior to his quixotic Twitter takeover, he rarely sold shares. 

Naturally, Tesla shareholders and analysts are a little on edge, my colleague Chris Isidore writes.
"The Twitter nightmare continues as Musk uses Tesla as his own ATM machine to keep funding the red ink at Twitter, which gets worse by the day as more advertisers flee the platform with controversy increasing driven by Musk," wrote Dan Ives, analyst at Wedbush Securities. "When does it end?"
Great question, Dan! No one (least of all Musk) really knows. 
To be sure, Musk's sales this week represent less than 5% of the Tesla shares he held outright. He still owns 423.6 million shares through a trust he controls, worth about $69 billion based on the average sale price he received this week, and he has options to buy more. (He's likely to get even more options early next year after Tesla reports earnings.)

But the value of Tesla's stock has dropped steadily this year. Shares are down 55% in 2022 — and that's the main reason Musk is no longer the world's richest person. 
What are the sales for?
Ives said it's possible Musk is using the funds to cover losses at Twitter, or to pay down loans he used to help fund his $44 billion purchase. (Which, in case anyone forgot, was by all accounts an outlandishly high price for the social media company, especially when you consider Musk didn't even really want the dang thing. Being that level of stupid-rich must be wild...)
Either way, it's bad news for Twitter and Tesla alike, Ives said. Tesla's board, which is made up of Musk fans, may have to place some limits on him.

"Musk is the heart and lungs of Tesla, but his attention is solely focused on Twitter, and that and selling stock on a continual basis is not a good combination for Tesla," Ives said. "While 20% of the Tesla stock decline is due to concerns about demand and growing EV competition, 80% is because of his focus on Twitter. Twitter needs to have a CEO who's not Musk."
RELATED: A group of former employees suing Elon Musk's Twitter scored an early procedural win.
Central banks in Europe joined the Federal Reserve in slowing down the pace of interest rate hikes as decades-high inflation shows signs of easing.
The Bank of England and the European Central Bank both hiked rates by half a percentage point, aka 50 basis points, in their final meetings of the year. Previously, they had gone with increases of three-quarters of a percentage point.
Wall Street's top cop has voted in favor of major changes to the way millions of everyday investors buy and sell stocks. 

Here's the deal: The Securities and Exchange Commission just proposed a rule that it would add competition to a typically unseen part of the stock trading system for retail investors, my colleague David Goldman writes. In short, the change would, in theory, help level the playing field for normies like you and me. 
To explain the change, let's step back and look at how the system works now:
So, you've got an app on your phone that lets you buy and sell stocks, ostensibly for free. Robinhood, say, or Schwab. You tap a couple of buttons and voila, your trade is executed. Easy peasy. 

But beneath that simple buy/sell action is a complex web of Wall Street players exploiting tiny differences in price to rake in huge amounts of cash.

When you tap buy or sell, the app, aka the broker, takes your order to a firm known as a wholesaler or market maker — middlemen that are supposed to get you the best price. The wholesaler pays the broker for the privilege of executing the trades.

Brokers like Robinhood typically make pennies from wholesalers off each transaction — but those pennies add up, and are the bulk of brokerages' revenues.

The process is known as "payment for order flow."

If that rings any bells, it may because you were paying attention to the meme stock craze of early 2021. That wild run-up and subsequent crash gave regulators reason to take a close look at the payment for order flow process.
The SEC says that wholesalers typically execute trades "without providing any opportunity for other market participants to compete to provide a better price."
Critics of the process, including SEC chief Gary Gensler, say the brokers and market makers have conflicts of interest, and that payment for order flow hurts everyday investors while amassing huge wealth for Wall Street firms.

"Today's markets are not as fair and competitive as possible for individual investors — everyday retail investors," Gensler said. "This is in part because there isn't a level playing field among different parts of the market: wholesalers, dark pools, and lit exchanges."
...Which brings us back to the new proposal. 

The SEC wants to inject more competition at the middleman level to ensure retail investors are actually getting the best prices. Under the new rule, orders would be routed into auctions where trading firms would have to compete to execute them.

"The markets have become increasingly hidden from view, especially for individual investors," Gensler said. "Thus, today's proposal is designed to bring greater competition in the marketplace for retail market orders."
The rule is likely to get final approval in a vote this spring. And then legal challenges will almost certainly follow, as brokerages aren't likely to take well to this kind of business-upending change. 
📱 The Senate passed legislation to ban TikTok from US government devices, in a move designed to limit perceived information-security risks stemming from the social media app.
🏥 Nurses across much of the UK went on strike Thursday, after years of falling pay and declining standards left the country's nationalized health care system in a state of crisis.
📉 So much for a Santa Claus rally: US markets tumbled on recession fears.