The virus is no more deadly than a cold, but vaccines are essential. Case numbers have plummeted, but most people you know are sick. The death toll is tiny, but there are long lines outside crematoriums.
These are just some of the contradictions that Chinese citizens are having to live with, as claims from the government fail to stack up with events on the ground.
China began unwinding its stringent zero-Covid policy after nationwide protests saw thousands take to the streets to demand the end of restrictions – and, in some cases, the end of the regime that imposed them.
In response to this, the government unveiled a 10-point plan that scrapped many of the measures. With the abrupt change in policy came a change in rhetoric. Chinese citizens, who have become accustomed to having most aspects of their lives micromanaged by local authorities in the name of "defeating" the lethal virus, were told – suddenly – that the virus was not so much of a risk, and that they should begin to enjoy their new freedoms.
But many feel these freedoms have been foisted on them. The sprawling metropolis of Chongqing announced Sunday that public sector employees testing positive for Covid-19 can go to work "as normal" – a remarkable shift for a city that only weeks ago had been in the throes of a mass lockdown.
Jerry Cheng, who works at a state-owned construction company in the city and is currently Covid positive, told CNN: "I won't go unless they call my name. It's definitely not a good thing to have a group of infected people working together."
Cheng's anxiety is widely shared. After three years of harsh restrictions, the u-turn is leaving many with the feeling of whiplash. On Weibo, China's version of Twitter, one user wrote: "This is going from one extreme to the other."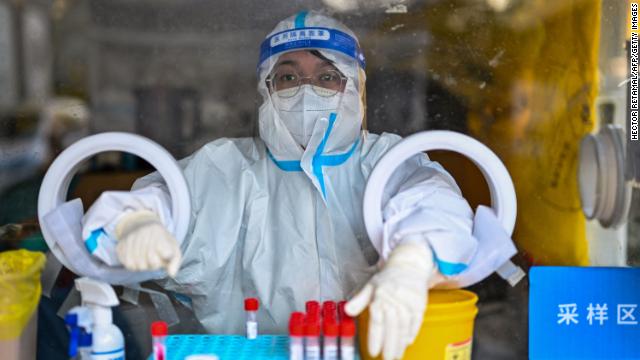 A health worker collects swab samples at a testing facility in Shanghai.
Citizens do not feel safe enough to return to life "as normal" when Covid-19 continues to spread, even though it is now being termed merely a "coronavirus cold" by Zhong Nanshan, a key public voice during the pandemic.
Official data suggests that the worst of the recent spike has passed. But recent changes to the way cases are counted mean official data is unreliable. China stopped reporting asymptomatic cases last week, conceding it was no longer possible to track the actual number of infections. Even symptomatic cases may not get picked up, as cities roll back mass testing and allow people to use antigen tests at home.
The death tolls are no more reliable. On Monday, Chinese health authorities announced two Covid deaths, both in the capital Beijing. They were the first officially reported deaths since the dramatic easing of restrictions on December 7.
But CNN's Selina Wang saw a wholly different story when she visited a crowded funeral center in Beijing. Staff told her that people are dying of Covid "every day," while families queue in long lines of cars waiting to hear if their loved ones can be cremated. On Baidu, China's main online search engine, searches for "funeral homes" by Beijing residents have hit a record high since the pandemic began.
When countries elsewhere in the world reopened, this was often met with an economic rebound. But in China, where fear of contracting the virus is causing many to stay home, experts warn a full recovery may be months away. Analysts at the investment bank Nomura warned that "the road to a full reopening may still be painful and bumpy."
Some were tempted to venture out to see the new "Avatar" movie in cinemas – but, in the case of one viewer, only after putting on protective clothing, an N95 mask, and spraying her body and hands with alcohol. "My 3D glasses were covered with fog," she told CNN.
The abrupt decision to abandon zero-Covid – at a time when cases were already set to reach record levels among an under-vaccinated population – has left the Chinese government with the worst of both worlds.
Under zero-Covid, the economy took the hit, but the population was protected from the virus. Under the new system, the economy is still taking the hit, and the population is now at risk from the virus.
And that risk is likely to be severe. A new study found that China's under-prepared exit from zero-Covid could lead to nearly 1 million deaths. Under the current conditions, a nationwide reopening could result in up to 684 deaths per million people – or 964,400 deaths across the population – according to researchers at the University of Hong Kong. The report stressed that boosting vaccination and antiviral coverage is the key to limiting this toll.
The cost to President Xi Jinping's prestige is likely to be high. For nearly three years, Xi staked his political legitimacy on zero-Covid, styling himself as the "commander-in-chief" of a "people's war" against the virus. But now, as China grapples with a haphazard exit, Xi has fallen silent. He was last quoted in state media on November 10, where he vowed to "unswervingly" carry out "dynamic zero-Covid."
The People's Daily, the Communist Party's flagship mouthpiece, has filled some of this silence, claiming on Thursday that Xi's policy has been "completely correct" all along.
But for citizens afraid to leave their homes and unable to arrange funerals for their loved ones, this may sound like another contradiction.
IN OTHER NEWS

The White House warned Americans preparing to celebrate Christmas with friends and family that they are at risk from a trio of threats. "This is not one disease in isolation," said White House Covid-19 response coordinator Dr. Ashish Jha, in an interview with CNN on Monday. Instead, the US is battling a confluence of respiratory diseases: not just Covid-19, but influenza and RSV as well. The simultaneous waves of all three diseases is causing strain on the health system. "This increase that we're seeing in Covid is in the context of one of the worst flu seasons in a decade and RSV that was quite bad," Jha told CNN.


Democratic investigators on the House Intelligence Committee have alleged that US intelligence agencies may have lost a critical opportunity to gather useful information on the Covid-19 pandemic's origins. A report published Thursday claims that the intelligence community gave a litany of warnings to the Trump administration in the early days of the pandemic, which the former President was slow to respond to. The report cited a "lack of clandestine collection" of information from sources during the initial outbreak of Covid-19, which may hamper the intelligence community's ability to understand where or how the virus emerged – a debate that is likely to intensify once Republicans claim control of the House of Representatives in the coming weeks.
Global Cases

654,759,458

 

Global Deaths

6,670,326

 

US Cases

100,007,330

 

US Deaths

1,088,280
Source: Johns Hopkins University
Q
Can I get a free Covid-19 test in the US again?
A
Yes – but there is a limit of four per household.
On Thursday, President Joe Biden announced that the US Postal Service will once again be sending Covid-19 tests to every household that orders them through covidtests.gov.
"Covid cases are rising across America as folks gather for the holidays," Biden tweeted. "That's why, starting today, every household can order four free Covid tests shipped straight to your door."
While four may not sound like a lot, there are other ways to get hold of Covid tests this holiday season. Insurers, including Medicare, reimburse consumers for up to eight tests per month per person. The ICATT, or the Increasing Community Access To Testing program, provides free testing at more than 15,000 sites across the US – meaning uninsured individuals can also stay safe.
Send your questions here. Are you a health care worker fighting Covid-19? Message us on WhatsApp about the challenges you're facing: +1 347-322-0415.

If people seem to be coughing, sneezing, blowing their noses and making gargling throat-clearing noises more than usual – well, that's because of the trifecta of respiratory diseases in circulation.
Whereas Covid poses a greater risk to elderly people, young children are especially vulnerable to the RSV wave. After remaining largely shielded from respiratory diseases during lockdown, many kids' immune systems are battling against these pathogens for the first time.
As families begin to get together this weekend, our top tip is to remain alert to the symptoms of all three diseases – Covid, influenza and RSV – and take appropriate measures to make sure your family can enjoy a healthy and happy Christmas.
CORONAVIRUS: FACT vs FICTION