Tonight: The next episode of our pandemic-era drama takes us to the high seas. Plus: The world's saddest pajamas that are low-key brilliant. Let's get into it.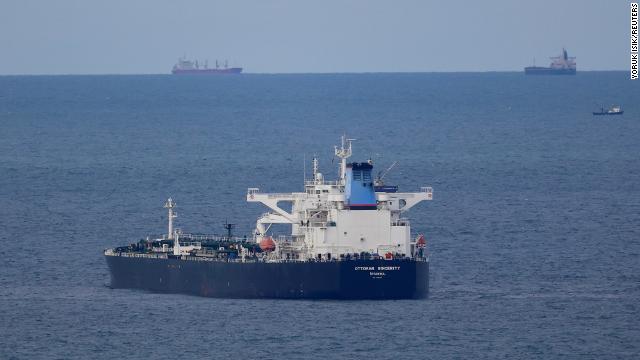 One of the fun things about the pandemic era we're living in is the way things tend to repeat in cycles — a variant emerges, we avoid indoor gatherings, some weeks pass, and we reemerge. Supply chains break down, then rebuild, then a war starts it all falls apart again. Jobs are lost, jobs come roaring back, jobs go away again. (To be clear, when I say "fun," I mean god-awful.)
Here's the latest deja vu moment on my radar: A shipping bottleneck is forming in waterways around Turkey, with a couple dozen oil tankers stuck waiting to make their way through.  *Cue flashbacks of 2021's Great Suez Ever Given Debacle...
This time, the shipping snag is threatening global oil supplies at a particularly fragile moment, my colleague Hanna Ziady writes.
What's the holdup?
It has to do with the price cap that the US, Europe and allies imposed on Russian oil on Monday (more on that in a minute).
As of Thursday, there were at least 16 oil tankers in the Black Sea waiting to cross the Bosphorus Strait into the Sea of Marmara, up from just five on Tuesday, according to the Istanbul-based Tribeca Shipping Agency. Another nine were waiting to cross southbound from the Sea of Marmara through the Dardanelles Strait into the Mediterranean.
Turkish maritime authorities are concerned about the risk of accidents or oil spills involving uninsured vessels, and are preventing ships from passing through Turkish waters unless they can provide additional guarantees that their transit is covered.
UK and US officials were in talks with Turkish authorities to resolve the impasse.
So, the price cap…
It's the latest and possibly strongest sanction against Russia since the war in Ukraine began 10 months ago.
The way it works is, it compels the majority of companies involved in financing, insuring and brokering the ships that carry Russian oil to do so only if the oil is being sold for $60 a barrel or less (which is below the market value). The idea is to keep the global oil supply moving while eating into the revenues Russia can tap to finance the war. If, say, India were to try to pay market price for Russian oil, it basically wouldn't be able to secure insurance for the ship, which is vital.
But in the run-up to the price cap being implemented, Turkey threw a wrench into the works, demanding that insurance providers — most of which are British or European — cover ships passing through Turkish waters with an extra cover known as "protection and indemnity" insurance. The International Group of P&I Clubs, which provides protection and indemnity insurance for 90% of the goods shipped by sea, says it cannot comply with the Turkish policy.
The Turkish government's requirements "go well beyond the general information that is contained in a normal confirmation of entry letter" and would require P&I Clubs to confirm coverage even in the event of a breach of sanctions, the UK P&I Club said in a statement.
Bottom line: Although the logjam hasn't yet disrupted energy supplies, analysts say it needs to be resolved quickly. The two straits are popular routes for global trade, especially (but not exclusively) for crude oil.
New York, New York, it's a helluva town. Emphasis on hell…
See here: The average rent in Manhattan was $5,249 in November, up 19% from the same month last year, and the third-highest monthly amount on record. The median? $4,095.
The only way for Manhattanites to see that change anytime soon is if the economy goes into a painful recession. Or if they move to Jersey. Neither option is good. 
The holidays are lovely but they can also be stressful, right? Like, by the time we're all forced under one roof, in the middle of winter, navigating wine-fueled grievances about who burned Christmas dinner in 1997 and what new tattoos Alli is hiding under that ironic Santa sweater, things can get ugly.
But this year, Jim Beam is offering more than just bourbon to get you through the annual game of Please Stop Talking Politics It's Christmas. And it is the saddest, weirdest gimmick product I've seen in a long time.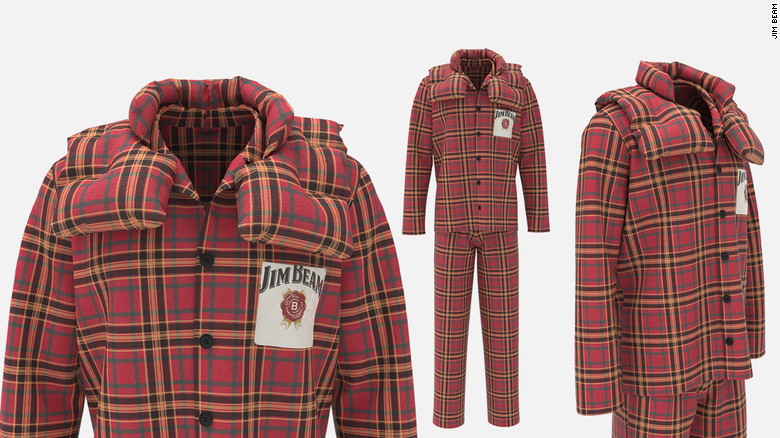 What we have here are red flannel "Kentucky Hug" plaid PJs.
They're pajamas, but with a removable panel in the neck and shoulders that when activated applies pressure to simulate a real-life hug. 
According to Jim Beam's marketing, the PJs are designed to "foster that spirit of connection" even when you can't be with your family. The name is an extremely literal nod to what bourbon drinkers refer to as the feeling of warmth you get from your first sip of whiskey.
Cheesy? Yes. Worth 25 bucks? Quite possibly…
📺 Showtime! Tonight, Nightcap host Jon Sarlin talks to futurist Amy Webb about the implications for ChatGPT, the next-gen AI tool that's blowing everyone's minds. Plus, CNN's Sam Kelly discusses the lawsuit filed against Apple by two women alleging their exes used AirTags to stalk them. Watch it all here. 
🔍 Apple is abandoning its plans to launch a controversial tool that would check iPhones, iPads and iCloud photos for child sexual abuse material following backlash from critics who decried the feature's potential privacy implications.
🎮 The Federal Trade Commission sued to block Microsoft's $69 billion acquisition of Activision Blizzard, challenging one of the largest tech acquisitions in history.


🛢️ The Keystone Pipeline has been shut down following a leak discovered near the border of Kansas and Nebraska.
💸 Lawmakers are demanding that Sam Bankman-Fried, the founder of the failed crypto exchange FTX, appear before the Senate Banking Committee next week over "significant unanswered questions " surrounding the collapse of his companies.
📈 US stocks surged higher, snapping a five-day losing streak.
Treasury Secretary Janet Yellen and Treasurer Lynn Malerba got their hands on some newly minted dollar bills bearing both of their signatures — the fist time in history two women have been featured on the US currency. And as Yellen promised on the The Late Show with Stephen Colbert, her signature is perfectly legible.