An exclusive inside look with your free CNN account
 📹  Behind the scenes with CNN's digital video team
Jackson Loo — carrying his son, Owen — shoots a travel feature outside the American Museum of Natural History in New York in 2019.
With the holiday season upon us, we wanted to spotlight one of many teams across CNN that work around the clock to make sure the network is delivering the latest news 24 hours a day, seven days a week all year long.
We recently chatted with two of our colleagues on CNN's digital video team: supervising producers Jackson Loo and Karol Brinkley. Here's what they told us: 
Jackson Loo, left, and Karol Brinkley, right  
So what exactly is 'CNN Digital Video'? 
Jackson Loo: This question is tricky because pretty much all video is "digital" these days, right? Almost anything can be streamed over the internet onto your TV or mobile device. Some of our digital video will end up on TV. And viewers who come to our digital platforms will see a lot of video that appeared on TV first. 
For our production teams, digital video refers to stories that we're making specifically for CNN's online digital platforms, as opposed to something that's meant to go on TV first. So that includes video for our website, mobile website or the CNN mobile app, but it also could include video for a social media platform like YouTube, Instagram or TikTok. 
There's an extremely wide range of video we produce. In addition to covering the news of the day, we produce explainers, features, interviews, profiles, digital shows and interactives.
Karol Brinkley: I'm on the Digital Video Programming team, which has two primary functions: we watch the CNN TV feed all day long and identify and publish online the most compelling moments for digital audiences. We're also the people who take all video content — whether from TV or created specifically for digital — and showcase it across different CNN platforms. Think of the CNN platforms as a giant puzzle. We are the people who place the video pieces of the puzzle and turn it into what you see when you come to any CNN site or account. 
How much of the video that we see on CNN.com is from TV?
Brinkley: It depends! CNN has incredible access to telling stories around the globe. Sometimes when a story is breaking or evolving, you'll initially see a lot of TV content since that's the quickest way to get the video to the audience. On any regular day you'll see a good mix of both content from our incredible TV reporters as well as videos from our super talented digital video team who really think about the best way to tell video stories specifically for digital audiences.
Talk about the process of creating video content for an online audience. How is it different than TV?
Loo: From a production standpoint, our digital teams are often leaner than traditional TV production teams. In a TV crew, you might have a producer, a photojournalist (we call them PJs) and a correspondent. A separate editor might cut the story later. But many of our digital video producers are capable of producing, shooting and editing. So that gives us a lot of flexibility in terms of how we produce certain stories.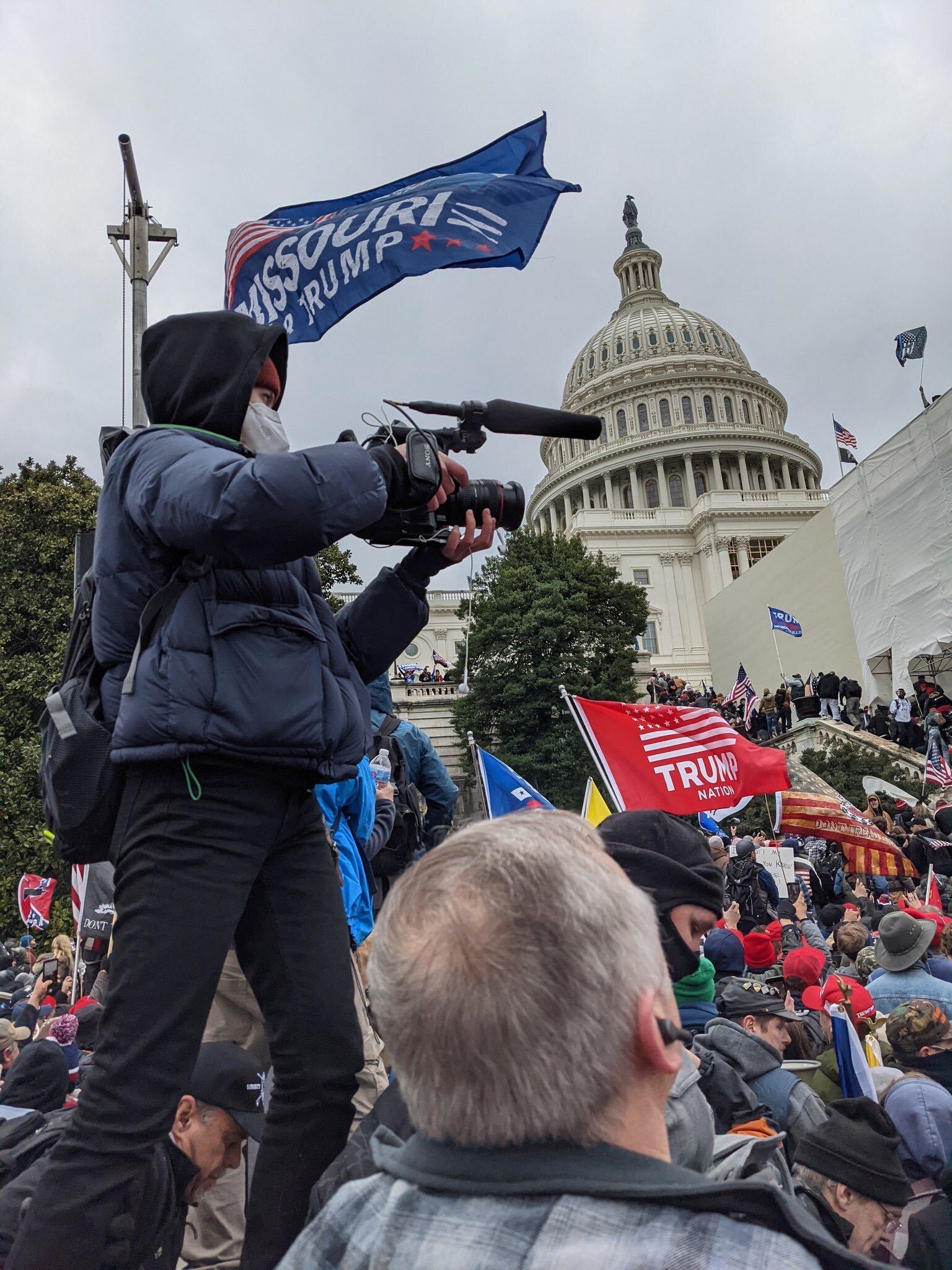 Video producer Samantha Guff works during the US Capitol riot on January 6, 2021.
From an editorial standpoint, online audiences are different than TV audiences in that they get to choose what story to click on. When viewers watch CNN on TV, yes, they first need to make the choice of coming to CNN. But after that, viewing is largely passive. They trust our network to bring them the most important stories of the day. 
When digital audiences come to CNN.com's homepage, they might see more than a hundred headlines at once. Oftentimes our audience is on their phones. So we have to consider what type of video story our audience will actively click on — perhaps in a short amount of time — since they might be on the go. We have to decide whether each story is best told in video, text or a combination of the two. And we have to ask ourselves, what can we provide to audiences that's different and complementary to what's being shown on TV?
Brinkley: What we get with digital platforms that we don't necessarily have with TV is the ability to really get deep into understanding who our audience is and what they are interested in. We use this data to really help inform our strategy about how to best create content for the specific online platforms we are trying to serve. For example, we know that the audience on CNN's YouTube will sit and watch video for longer durations than perhaps those watching on our mobile app. So we might publish a 10-minute clip of a TV segment to YouTube so that the audience can watch the full conversation and then focus in on a really compelling three-minute moment in the conversation for our mobile app. These are the type of specific considerations we keep in mind when going through the process of creating and showcasing digital video.
Tell us about
… the most impactful news story you've worked on:
Loo: In 2016, I had the opportunity to go to Midway Atoll in the Pacific Ocean to investigate how everyday plastic enters the food chain thousands of miles away. The island is part of a protected wildlife refuge so most people aren't allowed there. Experts opened up seabirds to show us what was in their bodies. Spoiler alert: It was lots and lots of plastic.
Brinkley: It's so hard to pick just one. So many stories make an impact and leave their mark on you for different reasons. As journalists who work in breaking news every day, we are used to putting our emotions on pause to cover the news and process those later. I happened to be working the day of the Capitol insurrection, and it was one of those moments where I'll never forget how incredibly chilling it felt watching the live video, seeing that crowd and really taking a moment to take all that in as a human being first because it was too hard to compartmentalize. There are a lot of stories that will stick with me, but that one was almost a surreal experience.
… the biggest misconception about what you do for a living:
Loo: Everyone assumes I'm best friends with Anderson Cooper and Wolf Blitzer. 
Brinkley: People think I know every detail about every news story out there and they want my point of view on it. Let me tell you, CNN Digital covers a lot of news and I read/watch tons daily, but there's no way I could take it all in each day and still have time to do the non-news parts of my job. 
💳  CNN insider rec of the week
- Written and edited by Kyle Almond, Tricia Escobedo and Jessica Sooknanan
INSIDE CNN
An exclusive inside look with your free CNN account