For the past 10 days, the streets of Guangzhou have gotten quieter and quieter. Home to nearly 19 million people, the metropolis in the south of China has been under increasing restrictions since November 5, as authorities rushed to stamp out a wave of infections. Keen to avoid a citywide lockdown – the sort that devastated Shanghai earlier this year – officials initially targeted "snap" measures to individual neighborhoods.
But the highly transmissible Omicron variant proved hard to contain. Officials were forced to ramp up restrictions. Schools were closed, buses were suspended, and more and more residents were forced to stay home. For millions of Chinese citizens, the rhythm of life under its zero-Covid policy has become grimly predictable.
On Monday night, something snapped. Residents in the Haizhu district of Guangzhou delivered the sharpest rebuke to China's policy since the start of the pandemic, when crowds took to the streets to tear down barriers meant to confine them to their homes, according to video and images circulating on social media. Earlier in the day, the streets would have been empty, save for those waiting in line to be tested for Covid-19. But the silence was broken by the clanging sound of metal railings falling to the ground – and cheers from those protesting.
The demonstrations sparked a rare admission from a local official. At a press conference held Tuesday, Su Mingqing, a deputy head of the district, said  "we have also realized many of our shortcomings."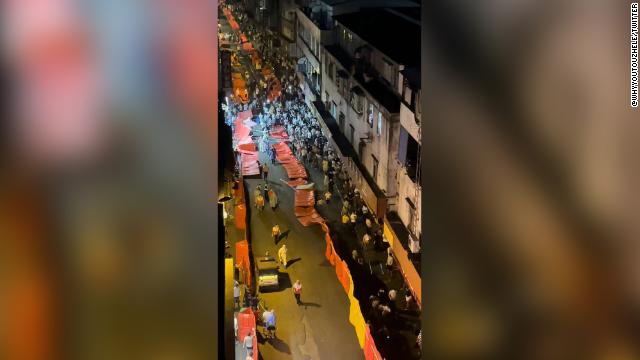 Residents took to the streets in Guangzhou to protest against the latest lockdown.
Dissent like this is almost unheard of in China, where authorities are quick to silence criticism. Some isolated incidents occur: in the build up to the Communist Party Conference in October, angry citizens hung banners from a highway overpass to protest against zero-Covid: "Say no to Covid test, yes to food. No to lockdown, yes to freedom," one read. And it seems to be starting to have some effect.
On Friday, China began to unwind some of its most stringent restrictions, begging the question of whether its strategy might finally be shifting. Following a meeting by the Communist Party's top decision-making body, Beijing announced the end of bans on inbound flights found to be carrying passengers who tested positive for Covid-19 upon landing. Inbound travelers also had their quarantine time cut – although only slightly.  The long-awaited announcement, however, does not explicitly mention when the changes will take effect.
Meanwhile, life for millions of locked down residents – and the Chinese economy – continues to deteriorate. In messages shared on social media, Haizhu residents were heard pleading for help from officials – asking for compensation for rent and free supplies. Blocked from leaving their apartments to work, many are unable to afford basic necessities. Even for those who do have the money, many goods are not delivered to residential units. In one video circulating online, a resident could be heard saying: "Our landlord doesn't care if we live or die. What should we do?" Others have protested against having to eat rotten meat from government supplies.
In China's Inner Mongolia autonomous region, a 55-year-old woman reportedly suffering from anxiety disorders jumped to her death from a locked-down apartment building. Her adult daughter could not exit the apartment following her mother's suicide as the door had allegedly been "welded shut for a month."
Amid mounting public frustration that the stringent measures are costing the very lives they are intended to protect – and with growing economic pressure – it could force the government to reevaluate its position.
IN OTHER NEWS

Flu season is already hitting the United States hard. About half of the US – 22 states, along with Washington, DC, New York City and Puerto Rico – is reporting high or very high respiratory illness activity, as flu season starts sooner than usual. According to estimates from the US Centers for Disease Control and Prevention (CDC), there have been at least 2.8 million illnesses, 23,000 hospitalizations and 1,300 deaths from influenza as of November 5. The CDC has urged US citizens to get their flu vaccines as the wave continues to sweep through the country.


The Biden administration is calling on Congress to include additional funding in a government package targeting what it said are three "critical funding needs'': Continued support for Ukraine, natural disaster recovery and Covid-19 response. Emboldened by his strong performance in last week's midterms elections, the Biden administration made what budget director Shalanda Young called an "urgent" request for $10 billion in additional Covid-19 funding, as the US braces for a winter surge. In a letter to House Speaker Nancy Pelosi sent Monday, Young acknowledged that the virus  was "no longer the disruptive force it was when the President took office," more funding was needed to battle new subvariants and "keep the American people safe."
Global Cases

635,982,819

 

Global Deaths

6,613,252

 

US Cases

98,097,756

 

US Deaths

1,075,211
Source: Johns Hopkins University
Q
How can I protect my family against Covid-19 illness this Thanksgiving?
A
This year's Thanksgiving is the third since the pandemic began. We have more tools to stay safe this year than we did in any other. But the coronavirus – and other circulating respiratory conditions – still presents a danger, especially to older people and those with chronic medical conditions.
CNN Medical Analyst Dr. Leana Wen shared the steps she will be taking to protect her loved ones against Covid-19 this Thanksgiving and throughout the holiday season – from getting vaccines to ensuring each room has good ventilation.
Send your questions here. Are you a health care worker fighting Covid-19? Message us on WhatsApp about the challenges you're facing: +1 347-322-0415.

This year's flu season is here – and it's early. Not since 2009, during the height of the swine flu pandemic, have there been this many cases of influenza so early in the season, according to CDC data.
As a lot of stress has been placed on Covid-19 vaccines since the start of the pandemic, less attention has been paid to flu vaccines. With both diseases now circulating, it's important to stay protected.
Dr. Leana Wen told CNN this week that "the flu vaccine does two things. First and most importantly, it reduces your chances of severe illness – that is, of being hospitalized and dying. Second, it can also reduce your likelihood of getting sick from the flu at all."
The CDC recommends that all adults – as well as children more than six months old – receive their flu vaccines this fall.
CORONAVIRUS: FACT vs FICTION