The Omicron strand of the SARS-CoV-2 family tree has some stealthy new offspring. The host of new sublineages – offshoots of BA.2, BA.4 and BA.5 – are quickly outpacing their predecessors and look set to drive another winter surge in infections.
Last week, the US Centers for Disease Control and Prevention (CDC) released new estimates that showed the Omicron BA.5 subvariant was no longer the dominant cause of Covid-19 infections in the United States. Instead, it's been overtaken by Omicron offshoots.
The prevalence of two variants, BQ.1 and BQ.1.1, is growing especially fast. While each accounted for just around 1% of new infections in the US at the beginning of October, they have been roughly doubling in prevalence each week. Together, they now account for more than one in four new infections in the US, according to the latest CDC data.
The new variants descend from slightly different branches of the Omicron family, but have evolved to share some of the same changes in their genomes that help them slip past our immunity against the virus – an adaptation that has given rise to concern among experts.
CDC director Dr. Rochelle Walensky has warned that some antibody therapies no longer work against some of the new strains, including BQ.1 and BQ.1.1, while stressing that the best way to gain protection against them is to get the bivalent vaccine.
"If you were to get one of the viruses that are circulating right now, there may be a chance that some of our therapeutics may not work as well, including our monoclonal antibodies. This is where it becomes really important to seek out medical attention and really to consider whether Paxlovid… would be right for you," Walensky told business leaders during a US Chamber of Commerce virtual event Tuesday.
Walensky herself just took the antiviral drug Paxlovid for a case of Covid-19. In a news release, the CDC said her symptoms had returned Sunday after she initially tested negative while taking Paxlovid, suggesting that she had a rebound case.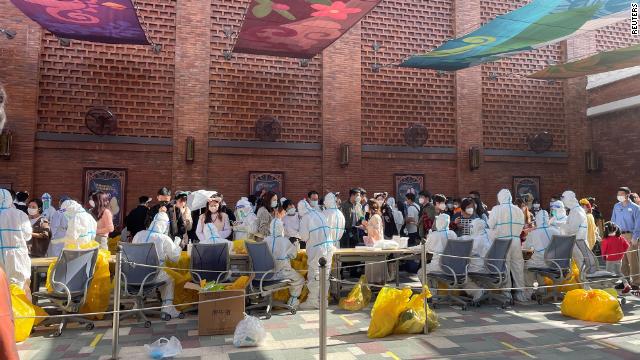 Visitors received Covid tests after Shanhai's Disney Resort was locked down on Monday.
Meanwhile, in China, authorities are holding little back in their attempts to blunt Covid-19 outbreaks in cities and provinces across the country, as cases rise ahead of the winter. The mounting cases are putting increasing pressure on the country's controversial zero-Covid policy, which has hurt the economy and brought citizens to the brink.
Foxconn, one of Apple's largest suppliers, is racing to control a Covid outbreak at its biggest iPhone assembly factory in the central Chinese city of Zhengzhou, as anxious workers reportedly flee the locked-down facility, according to social media videos. On Wednesday, authorities imposed a seven-day lockdown on the area that houses the Foxconn plant, an order that could hit the iPhone assembler's production and shipments ahead of the busy holiday shopping season.
On Monday, Shanghai's Disney Resort abruptly suspended operations to comply with Covid prevention measures. All visitors were ordered to stay in the theme park until they return a negative test for the virus. However, the resort continued to operate rides for visitors trapped in the park, social media users reported.
IN OTHER NEWS

People of color – especially Black and Hispanic people – were less likely to receive Paxlovid and other Covid treatments, according to a CDC study published Thursday. Throughout the pandemic, Black and Hispanic people in the United States have been about two times more likely than White people to be hospitalized or die from Covid. The new study showed that nearly one in three White patients were prescribed Paxlovid – compared to about one in five Black and Hispanic patients and about one in four Asian and American Indian patients.


The United Kingdom's Covid-19 Inquiry continued this week, outlining the scope of its investigation. Hugo Keith, the lead council for the inquiry, said Monday his team had asked to see the WhatsApp messages sent by former Prime Minister Boris Johnson and his advisers, as it attempts to evaluate decision-making during the country's pandemic response.
Global Cases

631,035,881

 

Global Deaths

6,593,290

 

US Cases

97,533,235

 

US Deaths

1,070,818
Source: Johns Hopkins University
Q
What is Paxlovid?
A
Paxlovid is an oral antiviral drug, authorized for the treatment of mild and moderate Covid illness. Patients take a combination of pills twice a day for five days, according to CDC guidance. The drug should be administered as soon as possible once symptoms appear, and is available in the US for people aged 12 and older who are at risk of getting severely ill from Covid.
It is thought to be very effective – especially for older people. Observational data found a five-day Paxlovid treatment course resulted in a 67% reduction in hospitalizations and 81% reduction in deaths compared to the untreated for patients over 65.
But it comes with caveats. Paxlovid can have dangerous interactions with some of the most common medications for cardiovascular disease, according to a study from the Journal of the American College of Cardiology.
Send your questions here. Are you a health care worker fighting Covid-19? Message us on WhatsApp about the challenges you're facing: +1 347-322-0415.

Getting boosted this fall is still an important way to renew protection, even among people who were previously infected or vaccinated. And yet only about 24 million Americans have gotten an updated Covid-19 booster -- just a fraction of the eligible population – according to the CDC.
"We still believe that vaccination is important and that getting vaccinated – especially with the bivalent vaccine – will lead to better protection, a lot more protection against severe disease and death," CDC director Walensky said, adding that it was even more important in the face of new variants, as many antiviral therapies prove to be of limited use against them.
The updated Covid-19 booster shots appear to work about as well against the BA.4 and BA.5 Omicron subvariants as the original boosters they replaced, according to two new studies from research teams at Harvard and Columbia universities. The research suggests that our bodies have been well-trained to fight the original virus, which emerged from Wuhan, China, and that boosters mostly reinforce that response.
CORONAVIRUS: FACT vs FICTION