President Xi Jinping offered zero ways out of China's zero-Covid policy, in his highly anticipated speech at the Communist party congress on Sunday.
The confidence of Xi's tone disguised the anxiety in China's economy, which is beset by problems ranging from a real estate crisis to youth unemployment following two-and-a-half years of Xi's unflinching coronavirus restrictions.
In his two-hour opening speech to the week-long congress – where Xi is expected to secure an unprecedented third term in power – he did not proffer any plans to put the country's economy back on track.
"Yesterday's speech confirms what many China watchers have long suspected — Xi has no intention of embracing market liberalization or relaxing China's zero-Covid policies, at least not anytime soon," said Craig Singleton, senior China fellow at the Foundation for Defense of Democracies, a DC-based think tank. "Instead, he intends to double down on policies geared towards security and self-reliance at the expense of China's long-term economic growth."
As Xi told the congress that the government's adherence had "achieved significant positive results," tens of millions of people across China remain in lockdown– with many struggling to secure basic necessities.
While other countries in Asia have opened their borders, some Chinese citizens can only open the windows to their balcony and cry out in desperation at the harsh travel restrictions – as one distressing video showed.
Tensions were high in Beijing before Xi's speech, where online photos posted Thursday showed an exceptionally rare protest against Xi.
"Say no to Covid test, yes to food. No to lockdown, yes to freedom. No to lies, yes to dignity. No to cultural revolution, yes to reform. No to great leader, yes to vote. Don't be a slave, be a citizen," read one banner hung over an overpass in China's capital.
China's response was severe. Numerous accounts on Weibo and WeChat, the super-app essential for daily life in the country, have been banned after commenting on – or even alluding to – the protest.
It is a sign of the population's growing refusal to tolerate the zero-Covid policy that many chose this time of heightened security around the congress to criticize Xi's government.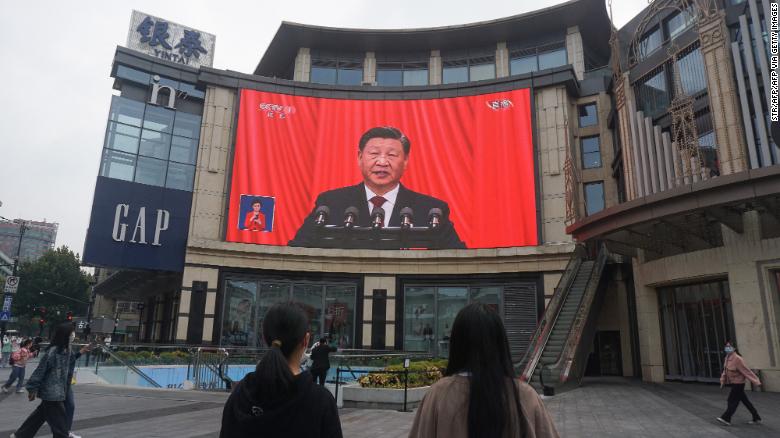 Xi's speech is screened in China's Zhejiang province. (AFP/Getty Images)
Meanwhile, more evidence emerged in the United States of the negative effects of the country's pandemic response on young people.
The US high school graduating class of 2022 had the lowest average ACT score in more than three decades, according to the test's organizers, noting the class had endured the effects of the pandemic for three academic years.
"The magnitude of the declines this year is particularly alarming, as we see rapidly growing numbers of seniors leaving high school without meeting the college-readiness benchmark in any of the subjects we measure," ACT CEO Janet Godwin said in a statement.
American students' mental health also appears to be declining with educational attainment. Major disruptions to school and social life since early 2020 have exacerbated existing negative trends, according to a new study from the US Centers for Disease Control and Prevention.
IN OTHER NEWS

Global Cases

625,797,965

 

Global Deaths

6,570,892

 

US Cases

97,023,298

 

US Deaths

1,065,841
Source: Johns Hopkins University
Q
What Covid protections should I take for international travel?
A
Last week, the CDC announced it would no longer maintain a country-by-country travel advisory of Covid risk. The CDC will now only post notices when there are new variants or other situations that would change its travel recommendations.
But what does this change mean and how should we assess the risk of international travel? What precautions should we take? CNN's Medical Analyst Dr. Leana Wen said: "The key question is to ask whether you are up to date on the Covid-19 vaccine, meaning that you have received the new bivalent booster. If so, you are very well-protected from severe illness due to Covid-19."
"Your age and presence of underlying medical conditions are also factors," said Wen, providing guidance on how to account for this in your travel plans. Read Wen's full advice here.
Send your questions here. Are you a health care worker fighting Covid-19? Message us on WhatsApp about the challenges you're facing: +1 347-322-0415.

If you've noticed that your coffee tastes weak, your food bland and your perfume smells like air, you might be one of the millions of people worldwide living with a damaged sense of taste and smell – a long term effect of Covid infection.
Unfortunately, there are only a few specialist clinics in the US to help with this – and many of them now run six-month waiting lists.
But now, Dr. Zara Patel, a professor of otolaryngology at Stanford University School of Medicine, has tried to address the issue.
She gathered 50 experts to create a 600-plus-page consensus recommending medical best practices and treatments for smell loss.
"It's the first peer-reviewed compendium of its kind on olfaction," Patel said. "And it's open access – not just for physicians, but for patients, for anyone to read."
CORONAVIRUS: FACT vs FICTION