Getting an updated Covid-19 boosters is the "most important thing" people can do for their health today, according to White House Covid-19 Response Coordinator Dr. Ashish Jha.
The US Food and Drug Association has approved updated booster shots made by Pfizer and Moderna in August. They are bivalent, meaning they target the original coronavirus strain as well as the more infectious Omicron subvariants.
"Our message is very simple: Don't wait. Get vaccinated. Go get vaccinated now; get it before Halloween so you are ready before Thanksgiving and Christmas and the holidays," Jha said.
His warning comes after reports this week that the US does not have an "adequate" number of Covid tests for this winter, because of lack of congressional funding. Jha said the Biden administration had to "pull resources to make sure we had enough vaccines."
But booster take-up so far has been sluggish. Only about 11.5 million people in the US have gotten an updated Covid booster, according to data from the US Centers for Disease Control and Prevention (CDC).


The Commonwealth Fund in New York has warned that if booster uptake continues to rise at its current low rate, thousands of lives may be lost this fall and winter.
According to the fund, about 90,000 Covid deaths could be prevented over the next six months if 80% of those eligible actually get their booster shots.
More than 936,000 hospitalizations would be prevented and $56 billion in medical costs avoided compared to the baseline scenario in which vaccinations rise at their current rate, the fund added.
"We rank very poorly in our acceptance of vaccines," Dr. Anthony Fauci, director of the National Institute of Allergy and Infectious Diseases, said Tuesday during a webinar.
"Somehow we've got to get down to the root cause of that, and I know it's going to be very complicated because a lot of it is because of political divisiveness," Fauci said.
Europe's booster campaign has also gotten off to a stuttering start. Infection rates have risen across the continent as temperatures fall and people spend more time inside.
Public health experts warn that vaccine fatigue and confusion over the types of shots available will likely limit booster uptake.
The European Union recorded 1.5 million cases last week, up 8% from the previous week, according to data from the World Health Organization. And that's despite low testing rates that may make many cases go unreported.
The number of people hospitalized with Covid in the 27-nation bloc has also risen in recent weeks. But the new Covid-19 wave has not been met with clear public health messaging.
Omicron-adapted vaccines were launched in Europe in September, with two updated booster shots made available alongside existing first-generation vaccines. But experts fear some people in Europe may be confused about which vaccine to get – particularly those returning for their fourth or fifth shots.
"The messaging that it is all over coupled with the lack of any major publicity campaign is likely to reduce uptake," Martin McKee, professor of European public health at the London School of Hygiene and Tropical Medicine, told Reuters.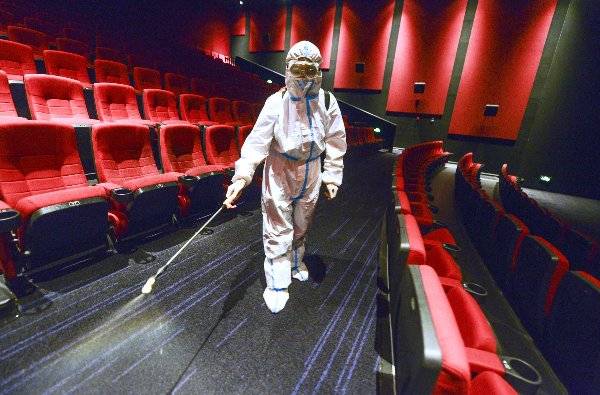 A staff member disinfects a cinema on August 9, 2022 in Urumqi, Xinjiang Uygur Autonomous Region of China.
(Photo: Liu Xin/China News Service via Getty Images)
Meanwhile, China continues to deliver its clear message: Its zero-Covid policy is here to stay. On Tuesday China banned residents from leaving Xinjiang, just weeks after the far-western region began tentatively relaxing restrictions following a stringent extended lockdown.
The region -- home to 22 million people, many of them from ethnic minorities -- reported 38 new asymptomatic Covid cases on Tuesday. This number was sufficiently alarming to officials, who imposed another lockdown despite widespread public frustration among those scarred by food shortages.
 
As China doubles down on its Covid lockdowns, a very different scene is unfolding in Hong Kong.
Hong Kong reopened its borders to international travelers, removing the stringent quarantine rules that had caused tourists and businesses to turn away from the city.
But adjusting to life after "zero-Covid" has proven difficult: Hong Kong's flagship airline Cathay Pacific is facing "unprecedented" staff shortages as it struggles to cope with a surge in demand.
Global Cases

622,738,437


 

Global Deaths

6,560,898


 

US Cases

96,772,781

 

US Deaths

1,063,338
Source: Johns Hopkins University
Q
Who can get the updated boosters in the US?
A
The CDC has updated its guidance for different age groups after the approval of the new bivalent booster shots.
According to the current rules, children as young as six months are eligible for their first doses of the Pfizer/BioNTech vaccines -- but only those aged 12 years and older are eligible for Pfizer's updated bivalent booster.
Moderna's bivalent booster has so far only been approved for those aged 18 and older.
Send your questions here. Are you a health care worker fighting Covid-19? Message us on WhatsApp about the challenges you're facing: +1 347-322-0415.

Although updated bivalent boosters have been approved by the European Medicines Agency, as well as by the UK's Medicines and Healthcare products Regulatory Agency, they are not yet as widely available in Europe as in the US.

EU countries and the UK are offering the updated boosters to groups most vulnerable to Covid infection. If you are reading this in Europe, and are around 50 years and older, or are immunocompromised, you will likely be offered an updated booster by the end of the year.
So our top tip this week is to look out for an offer from your government -- it will help keep you safe this winter.
CORONAVIRUS: FACT vs FICTION