BQ.1, BF.7, BA.4.6, BA.2.75, XXB – these are just some of the new Covid variants gaining traction globally, raising fears of a winter surge.
Such is the flurry of letters that experts are calling these "Scrabble" variants, after the word-building board game.
Two-and-a-half years into the pandemic, life in many countries has returned to something close to "normal." Restaurants and borders are open, mask mandates have been dropped, people have stopped baking sourdough.
But the virus has been busy. Every interaction creates a chance for new infections, and every infection creates a chance for new mutations. While vaccines have prevented billions of people from becoming severely ill – saving millions of lives – they cannot prevent infection.
And so the "Scrabble" variants continue to multiply. Lumped together, they accounted for almost one in three new Covid infections in the United States last week, according to the latest estimates from the US Centers for Disease Control and Prevention (CDC). The Omicron subvariant BA.5 still holds the top spot in the US, but the potentially immunity-evading BQ variants are beginning to compete with it.
"What is likely to happen is that we have several co-circulating, semi-dominant lineages going into the winter season," said Nathan Grubaugh, an associate professor of epidemiology at the Yale School of Public Health.
"This is what predominantly happens for most pathogens, such as the flu," Grubaugh told CNN in an email. "Now that the virus has adapted pretty well to human transmission, most of what is circulating has high fitness – meaning it is able to reproduce itself."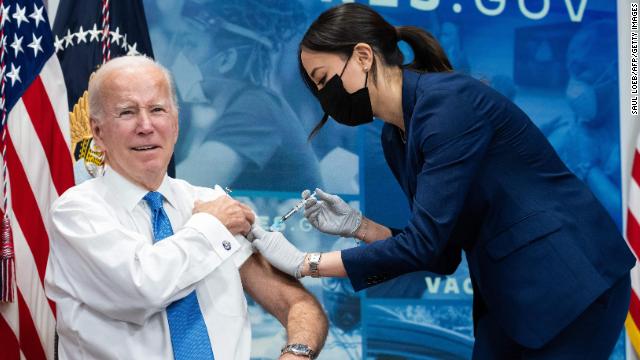 US President Joe Biden received the latest Covid-19 booster shot on Tuesday.
But the need for the development of new vaccines has met the familiar hurdle of politics in America. With the US midterms only a couple of weeks away, Republican candidates have whipped up anger within their base over pandemic response measures. Their biggest villain? Vaccines.
Republican Senate candidates like Adam Laxalt of Nevada and Blake Masters of Arizona, as well as others in states across the country, have revolted against the latest expansion by the US Food and Drug Administration (FDA) of the authorizations for Covid vaccines to include children as young as six months. They argue Democratic government overreach is robbing parents of their prerogative.
"There's been a lot of misinformation over the past couple of years – not from foreigners, or from Twitter anons, but from our own government, the media, and from so-called experts," Masters said in a Twitter video slamming the FDA's recommendations, even though it does not necessarily change vaccine policy.
Florida Governor Ron DeSantis has also weighed in. "As long as I'm around, as long as I'm kicking and screaming, there will be no Covid shot mandates for your kids," he said Thursday to a gathering of reporters awaiting an update on Hurricane Ian recovery efforts. In June, Florida was the only state that declined to work with the federal government to distribute vaccines for children after the FDA authorized emergency use.
Currently, only California and the District of Columbia have indicated that Covid shots will be mandated for school children – but this was not implemented this academic year.
The outrage toward Covid vaccines in schools may be causing a decline among other vaccines – such as for measles, mumps and rubella (MMR) and tetanus. Uptake for these vaccines, mandated by schools long before Covid, fell during the pandemic. In the 2020-21 school year, kindergarten vaccination rates for these diseases fell below the overall target of 95% set by the US Department for Health and Human Services.
And vaccine takeup may soon be suppressed by another factor: money. Pfizer said Friday that as government contracts come to an end, possibly by early next year, its Covid vaccine will be sold for $110 to $130 per dose. The US government is attempting to shrink its bloated deficit, and getting any new Covid funding through Congress may prove difficult.
With America's booster campaign already off to a stuttering start, shifting the price from the state to consumers may hamper it even further – even if medical insurance picks up some of the cost. 
IN OTHER NEWS

Global Cases

628,754,742

 

Global Deaths

6,582,308

 

US Cases

97,279,349

 

US Deaths

1,068,433
Source: Johns Hopkins University
Q
What Covid protections should I take for international travel?
A
Last week, the CDC issued guidance recommending the updated booster for children aged 5 to 11. If you're still weighing up whether your child should get a shot, CNN Medical Analyst Dr. Leana Wen has some advice.
"Essentially, everyone 5 and above can receive the new bivalent Covid-19 booster, as long as they have completed their primary vaccine series. It doesn't matter how many boosters they may have had," said Wen.
There are a couple of things Wen thinks you should consider: "First, is your child at high risk for severe illness due to Covid-19? Second, is it very important for you to avoid Covid-19 infection in your children?"
Read Wen's full advice here – including how her family is responding to the guidance.
Send your questions here. Are you a health care worker fighting Covid-19? Message us on WhatsApp about the challenges you're facing: +1 347-322-0415.

As Covid restrictions ease, many are starting to socialize in-person again – but plenty of people need support reconnecting with friends, family and colleagues, according to a study by analytics firm Gallup and Facebook's parent company, Meta.
The report explored how connected people feel and how they connect with others – and showed that the factors that drive feelings of connection vary by country.
"Social connection is like a muscle that we have to flex," said Marisa G. Franco, a psychologist who has written a book based on her research on friendship.
"You have to be open to new people because you're not guaranteed to have the same people in your life all the time," Franco told CNN.
Take a look at why in-person connection is so important for your health and well-being, and how best to build back relationships that may have suffered during the social isolation of the pandemic.
CORONAVIRUS: FACT vs FICTION