Hi besties! It's Allison again, here for one night before I head out on a vacation. I'll bring you all back a Hard Rock Cafe T-shirt.
All right, let's get into it.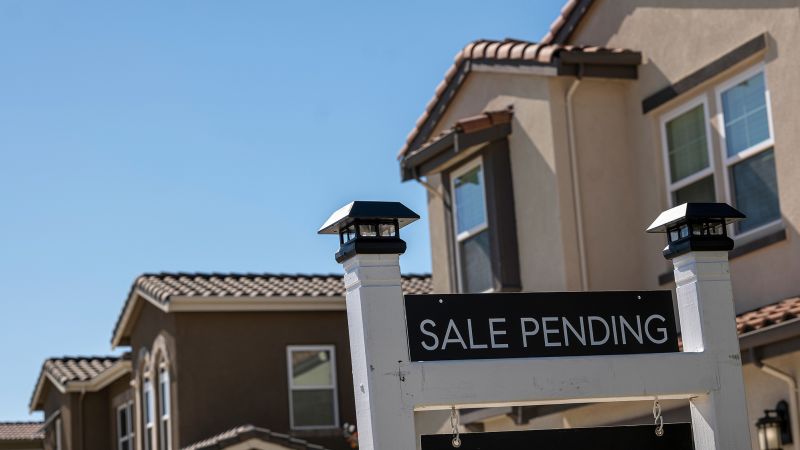 So, is it a buyer's market or a seller's market? The answer: No.
Whether you're looking to buy a home or sell one, now is just a crummy time. Sales of existing homes in the US have now fallen for eight months in a row — a painful hangover from the heyday of the pandemic-era buying frenzy.
Here's the deal: Buyers are getting pushed out of the market because of surging mortgage rates and high inflation. And sellers are far less confident now that they can secure the kinds of sale prices they watched their neighbors lock in a year ago, so they're holding off, too. That's making the long-running inventory problem even more stark. 
Two key data points released Thursday underscore the grim mood:
Sales of existing homes fell nearly 24% in September from a year ago, and were down 1.5% from August.
Mortgage rates aren't letting up. The average 30-year fixed-rate mortgage was just a hair shy of 7% this week. A year ago, it was just over 3%. 
Put another way: One year ago, you could drop 20% down on a $390,000 home, and finance the rest with a typical mortgage, for a monthly outlay of about $1,331.
That exact same house, purchased today, would cost you $2,063 a month — $732 more — each month.
Seven hundred and thirty-two bucks! 
And of course, on top of all of that, the cost of everyday necessities like food have also shot up more than 8%, making everything else less affordable too.  
*cue the clip of Jay Powell demonically uttering "some pain" on a loop...
That's right, we're bringing it all back to the Federal Reserve here. Because what was once seen as an unimaginably aggressive monetary policy has now become the status quo at our nation's central bank.
The Fed doesn't directly control mortgage rates, but its actions affect the yield on the 10-year US bond, which tends to move in lock step with mortgage rates. On Thursday, the 10-year yield rose to 4.23% — its highest level since 2008.
And because the Fed is widely expected to keep up its rate hikes for at least the rest of this year, we don't expect mortgage pressure to ease anytime soon.
I hate to be so depressing, so here's where I'll just remind folks that the job market is still super strong, and gas prices aren't as bad as they were this summer. That's gotta count for something. 
Liz Truss spent only six weeks (!) as Britain's prime minister before being forced to resign over her own disastrous economic plans that crashed the nation's currency and nearly collapsed the bond market. 
It was the shortest and most chaotic tenure of any British prime minister ever.
Honestly it's kind of impressive how catastrophic Truss managed to be in such a short time. Like, imagine being so bad at your job that your co-workers actually long for the steady cool-headed leadership of Boris Johnson. Take a bow, Liz! 
Even the uber-rich are on edge about the economy now.
are both signaling some tension about a looming recession. 
Elon Musk and Jeff Bezos, two of the wealthiest people on the planet (who generally don't agree on much of anything),
Bezos earlier this week commented that it's time to "batten down the hatches," in a tweet that included a video of Goldman Sachs' CEO saying there was a good chance of a recession on the horizon. 
Musk, for his part, was a little more sanguine as he sought (unsuccessfully, in the end) to ease Wall Street's concerns about Tesla's growth prospects. On a call with analysts Wednesday night, Musk struck a confident tone, saying the company has "excellent" demand for the next quarter and that factories are running at full speed.
But he admitted demand was "a little harder" to come by, and noted that Europe and China are experiencing a "recession of sorts." Musk also warned that Tesla would fall short of its sales growth target. 
Shares fell more than 6% Thursday, even though Tesla reported near-record profit in the third quarter. That's because analysts are increasingly worried about Tesla's ability to sustain its growth in the face of logistical problems and rising inflation.
The comments from Musk and Bezos add to a chorus of powerful figures fretting that the economy is going to take a turn for the worse. Earlier this month, Jamie Dimon, the billionaire head of JPMorgan Chase, spooked the whole stock market by saying a recession could hit the US in as little as six to nine months.
Even non-billionaire-but-still-rich person Gwyneth Paltrow is losing sleep over it.
"The economy sucks," she told the Hollywood Reporter this week. "I'm just worried about next year and how bad the recession's gonna be."
We feel ya, Gwyn.