An exclusive inside look with your free CNN account
'I've never experienced anything like this as a journalist'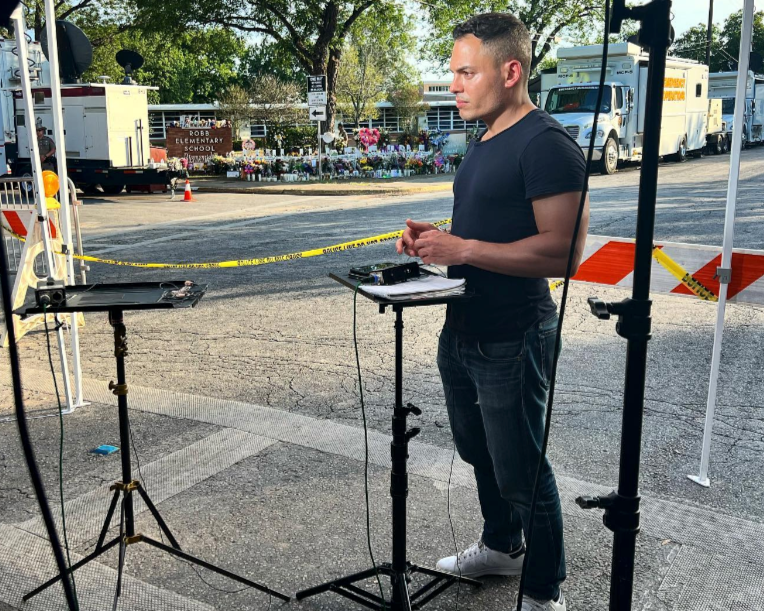 As CNN's crime and justice correspondent, Shimon Prokupecz is laser-focused on the criminal investigations into major news events, using his journalistic skills and instincts — as well as his prior legal training — to uncover the truth. That's what he's doing now as part of the CNN reporting team focusing on how authorities in Uvalde, Texas, responded to the May 24 mass shooting at Robb Elementary School that left 19 children and two teachers dead.
Prokupecz's reporting in Uvalde, which has been widely cited, has led to more accountability from authorities.
Just hours after the tragedy, Prokupecz and his team — field producer Matt Friedman and photojournalist Leonel Mendez — were dispatched to Uvalde as the details of what exactly happened were still unfolding. 
Authorities, including Texas Gov. Greg Abbott, initially portrayed the police response as quick and heroic. In a news conference a day after the massacre, Abbott said law enforcement "showed amazing courage by running toward gunfire for the singular purpose of trying to save lives." (Abbott has since said he was "misled" about the circumstances.)
But as Prokupecz started digging into the details, things just weren't adding up.
"We weren't getting accurate information from authorities and … at one point, they just stopped giving information," Prokupecz said last week, just a few days after returning to his home base of New York. "One of the issues that I had almost immediately, that I couldn't understand, was why the gunman was in the school for so long. This goes against everything in terms of active shooter situations, so no one can really answer that question of why he was in there for so long."
Prokupecz quickly realized that the survivors and the families of the children and teachers who were inside the school that day were going to be crucial to finding out what really happened.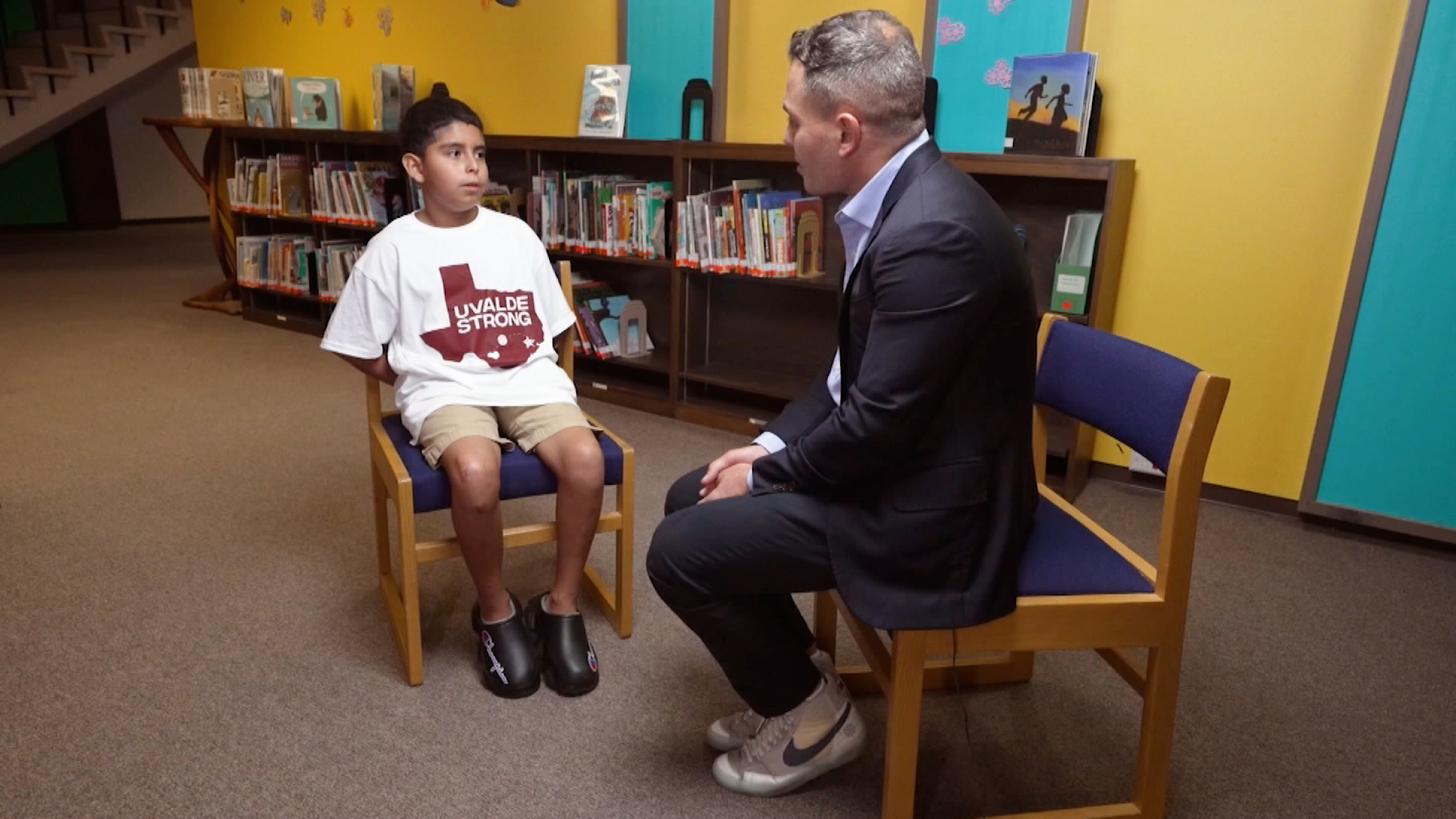 Prokupecz interviews 10-year-old Jaydien Canizales, who wanted to tell his harrowing story of survival inside Robb Elementary School.
'At some point, the media will leave'
Talking to those so close to the tragedy, so soon after it happened, would not be easy. 
"The authorities (in Uvalde) were waiting on us to leave," said Prokupecz, who spent over two months reporting from Uvalde, traveling home only on his off days. "They sort of know how this goes and they were like, 'OK, well, at some point the media will leave … and there won't be any accountability.'
"And there was a decision very early on that we were going to stay on the story because it was important (to find out) what was going on."
One Saturday, Prokupecz and Friedman left their cameras and microphones behind and went out to meet and talk to the people in Uvalde "as humans, not as journalists."
"We felt we needed to gain this community's trust, and the only way to do that would be to go just (say), 'Hey, we feel there's something going on here, there's something deeper, and we need a better understanding,' " Prokupecz said. "We were able to gain the trust of the community (and) so many of the families because not everything was about us getting information from them."
A few weeks later, the family members of the shooting victims organized a meeting — and they invited Prokupecz, Friedman and Mendez to attend.
"It was overwhelming — almost every family member was there," Prokupecz said. The room was filled with about 60 to 80 people, he recalled. Prokupecz, Friedman and Mendez interviewed several people on camera, including the family of one of the teachers who was killed. It was the first time the family had spoken to the media. 
"We also interviewed the father of a little girl who died — they all sat together and we interviewed them in a room filled filled with parents, family members and survivors. … We wanted to interview more people that day and we wanted to (talk to) survivors, but it was too overwhelming." 
Turning the cameras off
Prokupecz and his team decided at that point to turn the cameras off, but they stayed.
"We just sat with them for about an hour and we listened to the stories from the parents of the survivors," he recalled. "It was the most emotional hour of my life, just hearing their stories and hearing what their kids had to go through, but also hearing how they were just completely disrespected by the authorities and the community and not giving information. Still to this day, they are fighting for information." 
During the days that followed, more families started reaching out to Prokupecz, wanting to share their stories. In an emotional interview with Prokupecz, 10-year-old Jaydien Canizales shared how he hid under a table in room 112 and "tried not to move" during the shooting. In his report on CNN.com, Prokupecz wrote:
AJ hid under backpacks. Jaydien and a friend took cover under a table with a curtain and tried to get others to join them as they closed their eyes and covered their ears against the horror. Ten-year-old Noah Orona feared he was too tall to get under the table with Jaydien. He was shot in the back and fell to the floor of Classroom 112, his mother, Jessica Orona, said. For 77 minutes that's where they had to stay, until law enforcement officers opened the door to the connecting Classroom 111 and confronted the gunman, killing him.
By sharing the stories of those closest to the tragedy,  "people in the community and government started understanding deeper what was going on and were more sympathetic to the families," Prokupecz said.
"I've never experienced anything like this as a journalist where you feel the difference, the pressure on the officials who are in turn responding." 
As an example, Prokupecz noted that Uvalde Mayor Don McLaughlin was pushing for the release of the officers' bodycam footage from inside the school.  The Uvalde County district attorney was against releasing the footage, citing the ongoing investigation.
"I sat with (McLaughlin) and I said: 'Why not just release it? Just because the DA is telling you you can't do something?' " Prokupecz said. "And eventually he did."
CNN was the first network to get access to that video. 
"We were first to get it for a reason," Prokupecz said. "I just think us being there and having the presence that we've had and pushing for this to be released, I think (it) helped."
Back in New York, Prokupecz is still digging on the details of what happened in Uvalde, awaiting records and reports from authorities. He is staying in touch with the families and anticipates he'll return to Texas soon.
"That was really the whole point of it all — just to try and help them and try and make a difference," he said. "And my team and I, we really feel like by doing these interviews and doing them the way we did them really helped these families."
💳  CNN insider rec of the week
Brought to you by Vault by CNN, a new way to own pivotal moments in history and reflect together on what they mean to us.
This week's drop is from February 11, 1990, when Nelson Mandela was officially released from prison after 27 years of incarceration. Mandela's path from prisoner to President in just four years, coupled with his sacrifice and perseverance, not only advanced democracy within South Africa, but forever altered the political and social landscape of the nation. Join us in commemorating Mandela's legacy with these limited-edition NFTs.
Is there something or someone at CNN you'd like to see spotlighted next? Send your thoughts to insidecnn@cnn.com. 
- Written and edited by Kyle Almond, Tricia Escobedo and Jessica Sooknanan
INSIDE CNN
An exclusive inside look with your free CNN account