An exclusive inside look with your free CNN account
🌍 Meet the host of CNN International's newest show
The premiere week of 'Isa Soares Tonight' coincided with breaking news in the UK
Isa Soares has come a long way since her intern days at CNN's London bureau nearly 20 years ago. 
She spent years working behind the scenes at CNN before transitioning to on-air reporting and anchoring. Now, she has her own show, "Isa Soares Tonight," on CNN International.  It's the network's prime-time news program in London (airing 7 p.m. BST/2 p.m. ET) and other parts of Europe, and it airs across the world.
"It's amazing having my name on that show and being in the prime-time slot," Soares said. "I feel incredibly humbled by it."
We talked to Soares a few weeks after the eventful premiere of her show in July. Below is a portion of our conversation, edited for length and clarity: 
I understand the premiere of "Isa Soares Tonight" didn't quite go as planned. Tell us what happened.
We had breaking news for the whole week of the show's premiere. British ministers began resigning early in the week, leading up to Prime Minister Boris Johnson's resignation on Thursday, July 7. I think it was on day three, we ended up anchoring from outside the Houses of Parliament something like eight hours nonstop. It was intense.  
It wasn't until the next week we actually ran the full (show) animation. We were like, "Oh, there it is, it finally feels like a show launch!"
It's a fantastic slot. As European prime time, it's a great time to interview European leaders on air. It's really targeted to very much a European audience, which sits perfectly well with me. … I was brought up in Portugal, I've lived in Spain, so my house, my family, is quite international.
I like to see it as a no bells and whistles kind of show. … Let's just report the news with the best voices we have, which I think is what viewers want.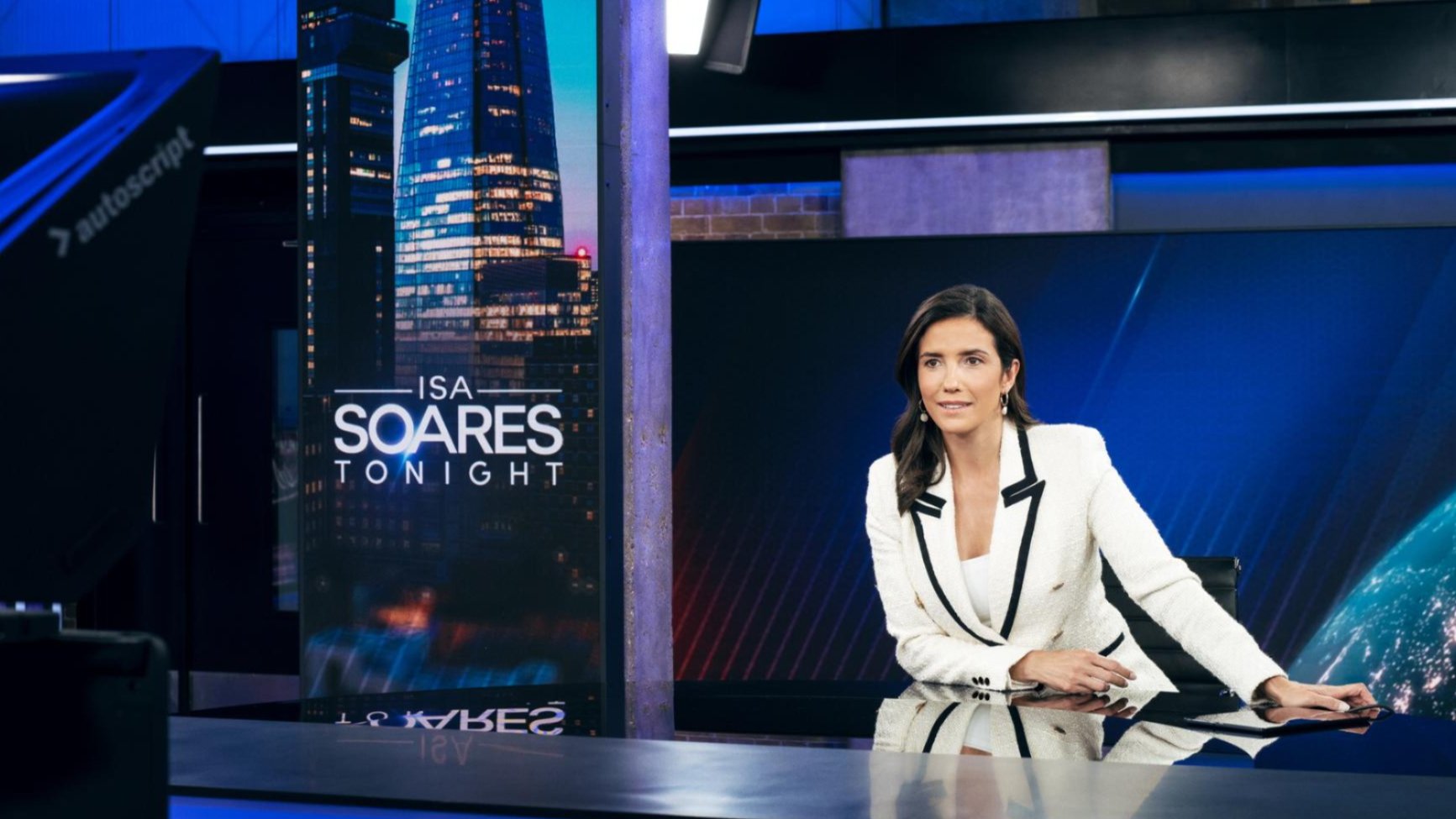 Soares on the set of her new show in London. 
You started as an intern: How did your on-air career begin at CNN?
I was writing my thesis for my master's in international relations and economics. I didn't even want to be a journalist. I wanted to be a diplomat … to travel the world and try and solve problems. 
I applied for (and got) an internship with CNN public relations in London and, at the end of the internship, they asked me if I could stay on for two months because there was a European football championship taking place in Portugal and they needed a Portuguese speaker. 
So I told them I would do it. Then one day as I was leaving the office, I got a call from HR and I was told that I had a job interview. I said, "Well, you must be mistaken because I haven't applied for a job."
It's really such a cliché, being in the right place at the right time. I still do not know who put my name forward for that job. I would love to know. 
Later on, I was asked to travel to Lisbon to coordinate CNN's coverage of President Obama's visit to Portugal in 2010 during the economic crisis. The head of the business news team in London called me and said, "We want to talk about the economic crisis in Portugal for the Richard Quest show," so I said, "Great, I'll get you a guest." And she said, "No, Richard wants you to do it." I knew it was very much a sink-or-swim moment. That was my first time on air, talking about the state of the economy and the mood in the country, live from Lisbon. And that's really how my career got started at CNN.
Tell us about going undercover in Venezuela during the Covid-19 pandemic.
We went to Venezuela to get a sense of what was happening there. I had done some initial reporting from London, trying to get a sense from authorities what that number was in terms of cases, and it just did not look real. So I made some calls to some doctors in Venezuela and they said, "No, this is not the real number."
I hadn't seen what the state of Venezuela's hospitals and economy was like previously, so we thought, "Let's go there." It was risky doing this undercover, but we already had strong contacts on the ground.
I can get away with being inside a hospital in Venezuela because of I'm fluent in Spanish and I didn't stand out too much. Also, having a face mask helped. My producer, Vasco (Cotovio), is Portuguese and blond and blue-eyed, so just to be safe, we told him to stay in the car. He joined us inside the hospital later.
Once we were inside, I was left speechless by the stories that I heard. The conditions were so dire in these hospitals that Venezuelans were deciding to stay at home, figuring they had a better chance of survival at home. As I walked through hospitals, there was no medication, the drawers were completely empty. 
I got many messages from Venezuelans who were incredibly grateful that we were showing the world Venezuela for what it was. We were worried, to be honest. Can they arrest us? This is a huge concern. But we took the risk.
The people we talked to were incredibly scared by the brutality of the regime. We spoke to more than two dozen health care professionals and aid workers, and all asked us not to reveal their identity for fear of reprisal from the Venezuelan government.
You have to respect that because at the end of the day, you get on a plane and you leave and your life goes on and these people stay behind. You've given them your word, so you need to keep that. That is so important.
What do you think Americans should be paying more attention to? 
Everything we report on in Latin America seems to be through the lens of migrants arriving in the United States, but we don't always focus on the deeper layers. Let's take a few steps back and understand why they are arriving here, what conditions are like for them to come to the US.
There are so many other threads, including the rise of the left in Latin America, the influence of Iran, the influence of Russia, of China, in America's backyard. 
I'm hoping to go to Brazil in October for the elections there. Poverty is through the roof, political divisions are strong right now, and that's why we're seeing the comeback of Lula (Brazil's leftist former President Luiz Inácio Lula da Silva) because Brazilians long for that time — that golden age, so to speak — when they were making a lot of money. 
For me South America is one of the regions and stories we ought to be paying closer attention to, because what happens there has implications not just in the US but beyond.
💳  CNN insider rec of the week
Brought to you by CNN Underscored
We spent a long weekend playing with the Amazon Fire 7 tablet, and it's a great and affordable option for kids or anyone who just wants a basic device for reading books and watching their favorite shows.
📱 Watch:  This week marks one year since the Taliban reclaimed control in Afghanistan as the US military withdrew from the country. CNN's Chief International Correspondent Clarissa Ward returned to Kabul with this look at what life is like there today.
💸  Listen:  Being single can add up: there's no one to split rent or utilities, and you might even pay more in taxes. Delyanne Barros breaks down the financial and societal hurdles that single people face — and how to address them — on this week's episode of CNN's "Diversifying" podcast.
🔍  Explore:  CNN's climate and weather team reports on a new study that revealed a megaflood is coming to California — and it could be the most expensive natural disaster in history.
Is there something or someone at CNN you'd like to see spotlighted next? Send your thoughts to insidecnn@cnn.com. 
- Written and edited by Kyle Almond, Tricia Escobedo and Jessica Sooknanan
INSIDE CNN
An exclusive inside look with your free CNN account