An exclusive inside look with your free CNN account
🍃 breathing through the trauma of war
Tara John is based in CNN's London bureau. (Photo credit: Toby Hancock/CNN)
Three times a day, the air raid sirens would go off during Tara John's deployment in Lviv, Ukraine. She had never been to a war zone before, but she knew how to handle it: deep breaths. 
John, a CNN Digital producer based in London, started working with a therapist well before the war even began.
"I think this all started around Covid. You kind of sat at home, incredibly traumatized by what you're seeing, what you're hearing," John said of when she first sought out mental health support. 
When one of the regular company emails outlining the mental health resources available to CNN journalists landed in her inbox, John took action. She was able to shop around for a therapist who understood the work she does. 
"She has been extraordinarily helpful," John said of her therapist. "For Ukraine, she was teaching me a lot of grounding exercises and breathwork to really calm myself down." 
'The precipice of darkness'
A friend of John's once worried that the CNN producer was "constantly looking into the precipice of darkness," and she agrees. 
Before her two-week deployment to Ukraine, John was part of a team covering the start of the war from the CNN London bureau. 
"It felt very existential," John said. "You just can't help but feel a little depressed by it."
While in Ukraine, John was faced with some of the most brutal weeks of the war when reports of war crimes started to emerge during the Russian pullback from northern Ukraine.
There's really no way she could have fully prepared herself for what she saw and reported in Ukraine, but John used dissociation to help her cope with the day-to-day trauma.  
Once the 10 p.m. curfew had set in, John would turn to her favorite reality television show for a little escapism. 
"I'd watch 'Below Deck,' and it was glorious because it was just silly managerial problems on a cruise ship in the Mediterranean," John said. "It was very far away from where I was, and it was perfect." 
John also picked up a few tips from her colleagues on how to cope with the war while in the thick of it. 
A few days after her arrival, a small group of Ukrainian and foreign journalists took John to a nearby music store where they sat down and just listened to records. 
"It sounds a bit incongruous. We're in a country at war listening to records, but sometimes you just have to do these little things," John said.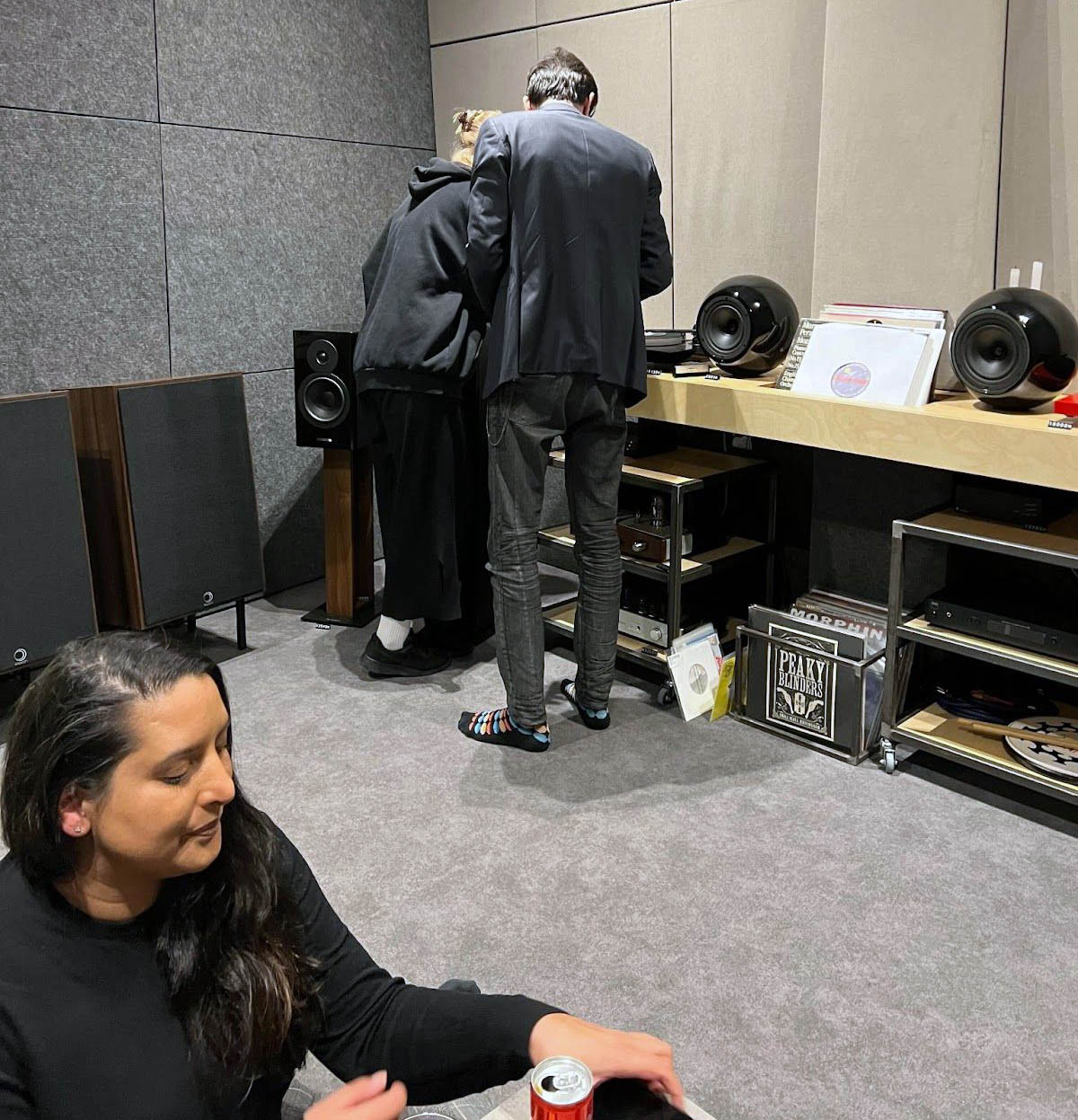 Journalists gather inside a record store in Lviv. (Photo credit: Tara John/CNN)
Sharing resources 
CNN and its parent company, Warner Bros. Discovery, offer all employees mental health resources. Yet Doug Maxfield, director of the company's health and wellness team, notes that "as it relates directly to journalists, there's an extra connection to national and world events that could really take a toll." 
"A journalist in the field can be exposed to really traumatic situations that many of us can't even imagine," Maxfield said. "Because of this, we arrange some special assistance for our news division."  
There are counselors, available across the globe for CNN employees, who have experience in treating these difficult mental traumas.
When John arrived in Ukraine, she noticed these resources weren't reaching the Ukrainian freelancers who had become an integral part of CNN's reporting. 
"You're seeing images of children, of parents, of grandparents just being killed," John said. "I was fresh to it and I found it really traumatizing. It's another level when you're Ukrainian. It's your country." 
John flagged the oversight to her team leaders back in London. They were able to coordinate a translator so the Ukrainian journalists could use CNN's London-based mental health resources. 
Team leaders for CNN in Ukraine also started organizing in-person sessions too, like a team trip to the record store.
"It's very powerful to talk to people and colleagues about your experiences," John said.
After Ukraine 
Back home in London, John had a few weeks off, per protocol for CNN journalists who return from a war zone. During that time, she struggled with being unable to "switch off" from the story. 
"I thought I was fine, and then I talked to my therapist and I was a complete mess. She was like: 'This is completely fine. It's normal for you to feel this way,' " John said. "I was just devastated and incredibly saddened by what I saw and experienced."
John described the intense guilt she felt leaving the community of local and foreign journalists who had welcomed her during her deployment. 
"You get very, very close quite quickly. So leaving them feels almost like a cop out," she said. "I did not feel well. I couldn't unwind for the first time." 
John confided in her father-in-law, a former foreign correspondent, about the guilt she carried home with her from Ukraine. 
"Even though you're relieved to be home, you feel like you have a duty to finish the story or to stick with the story," John said. "It's quite hard to detach yourself from that." 
In an effort to detach during her post-deployment time off, John took a holiday, read a lot of fiction and, of course, kept up with her breathwork.
That's the one thing she keeps coming back to no matter the assignment. 
🦜 Explore:  Filmed over a year, the visually stunning new docuseries "Patagonia: Life on the Edge of the World" captures life in this southern region of South America, including animals that have never been seen on camera. Check out the series premiere on CNN Sunday at 9 p.m. ET.

💫 Mark your calendars: The James Webb Space Telescope will release its first high-resolution color images on Tuesday. One of those images is expected to be the deepest image of our universe that has ever been taken. Keep up with all the latest discoveries in space and science by subscribing to CNN's "The Wonder Theory" newsletter right here. 

⛱️ Test yourself: Summer is the season for blockbuster movies, a dip in the pool and other fun outdoor activities. Take CNN's Summer Quiz and find out how well you know all the summertime traditions.
Who or what would you like to see spotlighted next? Send your thoughts to insidecnn@cnn.com. We look forward to hearing from you.
 If the links in this newsletter have recently been sending you to an unexpected page, you may need to update the CNN app on your iPhone. See our newsletter FAQ here for instructions.
- Written and edited by Beryl Adcock, Kyle Almond, Tricia Escobedo, Erica Hernandez and Jessica Sooknanan
INSIDE CNN
An exclusive inside look with your free CNN account