Good morning! In today's newsletter: Student loan repayments are starting again with big economic implications. Plus, turmoil in the Middle East causes oil prices to surge.
US stock futures are pointing lower after sliding overnight on news of war in Israel. Markets in Europe are mixed. In Asia, China's Shanghai Composite slipped as trading resumed following the Golden Week holiday that failed to deliver a boom in consumer spending.
▸ Forwarded this newsletter? Want global markets news and analysis from CNN Business reporters every morning? You can sign up here.
Student loan repayments are back. Here's what that means
This month marks the first time in more than three years that most federal student loan borrowers will be required to make monthly repayments. 
The Trump and Biden administrations enacted and then expanded a pandemic-related pause for about 44 million borrowers by freezing their accounts and restricting interest accumulation. But Congress ruled, as part of the debt ceiling package that it passed in June, that the relief program can no longer be extended. Payments resumed on October 1 for the first time since March 2020.
Before the pandemic, the federal government was collecting about $5.8 billion in payments each month. A recent report from the Wall Street Journal estimated that the restart could pull more than $100 billion from consumers' wallets this year alone.
Before the Bell spoke with Betsy Mayotte, president and founder of The Institute of Student Loan Advisors, to talk about what that could mean for the economy.
This interview has been lightly edited for length and clarity.
Before the Bell: When exactly do student loan payments resume?
Betsy Mayotte: Not everybody has the same due date of the month. Some people have to pay their loans back on the first of the month and some people have to pay on the 12th. So whenever your actual due date is, it will be when your first payment is due in October. Some people have already had payments due.
So how many Americans will have to resume these monthly payments by the end of October?
The last time I checked, there were more than 40 million federal student loan borrowers. A small percentage of those weren't eligible for the Covid waiver. But for everybody else, unless they're currently in school, here we go. All good things must come to an end.
What kind of impact does this have on the health of the American consumer?
People are watching this for sure. If someone's monthly payment was affordable before Covid, it might not be anymore. Things are more expensive than they were. Housing, cars, even lettuce all cost more than they did the last time payments were due.
On the flip side, the White House introduced a new payment plan called SAVE which stands to reduce a lot of borrowers' payments. That could wash out the difference in the cost of goods versus being able to get a lower monthly payment. But I have heard from borrowers that say, 'well, there goes my Netflix subscription' or 'there goes my weekly movie date.' It's definitely going to impact some consumer spending. But it's going to be a long time until we actually see what the impact is.
What else have you heard about the potential economic impact of loans resuming?
The primary sentiment I'm hearing is that people feel overwhelmed and anxious. About 80% of the questions we've been getting from student loan borrowers over the last couple of months are about figuring out which payment plan works best. With federal student loans, we almost have an embarrassment of riches when it comes to the sheer number of different repayment plans there are.
Borrowers feel overwhelmed trying to make sure they pick the right one. This is money we're talking about and it's a debt that could potentially have a long-term effect on their finances. It's just, 'My God, what plan do I pick?'
I'm also hearing from people who have done the math and use the tools that are out there and looked at what their payment options are and still find that it's not affordable for them, especially people that live in high cost-of-living areas like California, New York and Massachusetts. I hear a lot from them saying that they still can't afford the lowest payment because their rent is too high or because they also have private student loans which don't have lower payment options.
They can't afford the loans and don't know what to do.
The cost of college has risen dramatically, and can now be $95,000 a year. Does something have to change or will debt levels keep rising?
You hit the nail on the head. I've been in this industry for over 25 years, and this administration has arguably done more for these especially vulnerable borrowers than any other has done, but it doesn't fix the problem. Because the problem is the cost of higher education. What makes me a little nuts is that with all this discussion about whether there should be student loan forgiveness or whether this new lower payment option is too generous and not fair to the US taxpayer, there hasn't been any discussion about the cost of education.
That's the policy discussion that has to be had in order to permanently fix the student debt crisis. And I'll take that a step further: If we could get the states to reinvest in higher education, that would lower the price of state schools which are what economists might consider the anchor price schools. If you can bring the price of the state schools down, the other schools are going to have to follow, just from a competition standpoint.
If a private nonprofit university costs $70,000 a year and a state school is $10,000 a year, it becomes harder for a private university's tuition to pass the laugh test. But if a state school is above $30,000 that private tuition doesn't seem so outrageous.
Here's one other thing that's going to get me taken off of the Christmas card list: I think it's time for schools to have some skin in the game. When it comes to student debt, if they're producing degrees that don't have the return on investment to pay back the debt that the students have to take on, the burden shouldn't fall 100% on US taxpayers and on the borrowers. The schools should have to pay as well.
The future of the auto industry will have an outsized impact on Black America
"As the overall auto sector has shrunk, that has been one source of clear economic distress for Black workers because it was of such importance to them."
JOSH BIVENS, CHIEF ECONOMIST, THE ECONOMIC POLICY INSTITUTE
Read more from CNN Business
Oil rises on turmoil in the Middle East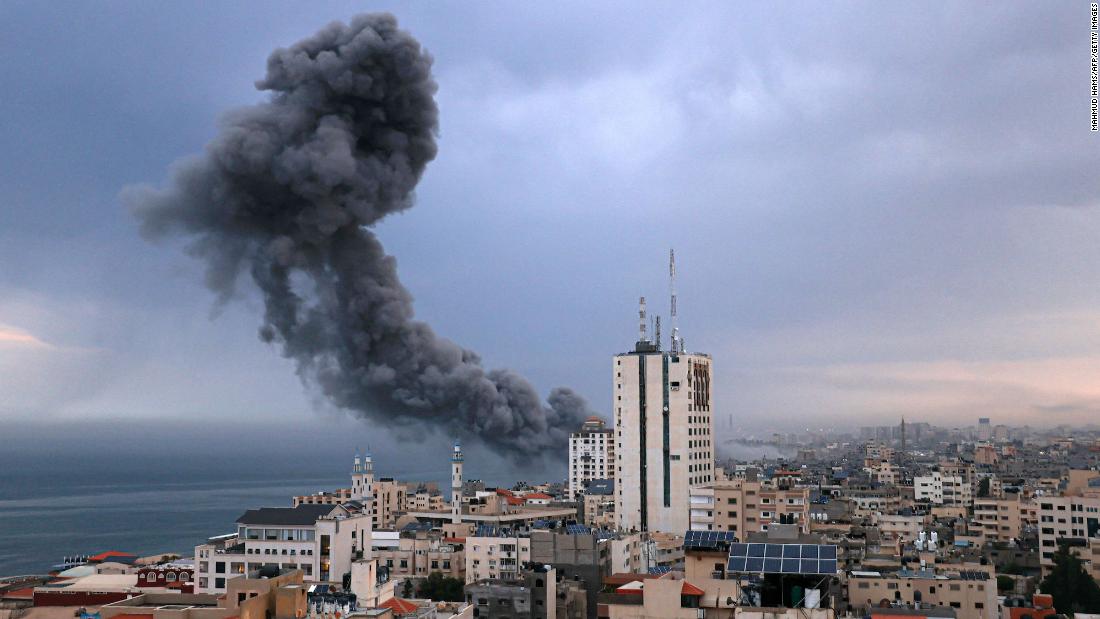 Oil prices surged overnight as markets reacted to Israel's war with Hamas, report my colleagues David Goldman and Michelle Toh.
Although Israel is not a major oil producer, escalating tensions in the oil-rich Middle East spooked investors who have already been selling off oil in recent weeks.
Inflation, fear of a global economic downturn and a correction to prices that were surging in recent months have sent US oil prices down from around $95 a few weeks ago to just above $80 last week.
By Monday morning, US oil prices traded 3.7% higher above $85 a barrel, after trimming overnight gains. Brent crude, the global benchmark, was also up 3.5%, trading over $87 a barrel.
Israel formally declared war on Hamas on Sunday after the Islamist militant group launched its deadly surprise assault on Saturday.
More than 700 people have been killed in Israel, while more than 400 Palestinians have been killed, according to authorities.
"With the Israeli government warning of a long and difficult war, there are concerns that deep and incessant retaliative strikes on Gaza could potentially bring Iran into the conflict and have an impact on the flow of energy in the region," Susannah Streeter, head of money and markets at Hargreaves Landsdown, wrote in a note. 
The Federal Reserve's Vice Chair for Supervision, Michael Barr, is expected to speak in Nashville, TN at 9:15 a.m. ET.
Plus, Federal Reserve Vice Chair Philip Jefferson will speak from Dallas, Texas at 1:30 p.m. ET.
WHAT WE'RE READING AND WATCHING
▸ UAW workers will strike after rejecting deal with Mack Trucks (CNN)
▸ The free-money experiment is over (Bloomberg)
▸ Climate change the 'most common' reason for portfolio exclusion (FT)
▸ Why your mortgage rate is probably different from the 'average' (CNN)
▸ What they don't tell you about getting old (NYT)
▸ Harvard's Claudia Goldin wins Nobel Prize in economics (CNN)
Walgreens walkouts could begin today
Pharmacy staff at some Walgreens stores across the country say they will lock their gates and walk out Monday, citing harsh working conditions that make it difficult to safely fill prescriptions.
Pharmacists, technicians and support staff are planning walkouts from Monday through Wednesday, an organizer who asked to remain anonymous out of fear of retribution, confirmed to CNN. Employees at more than 500 of America's approximately 9,000 Walgreens stores across the United States have expressed interest and solidarity, the organizer said.
The planned action comes after pharmacy employees walked off the job at multiple CVS stores in the Kansas City area last week.
"We're going to do way more harm to people in 10 more years of operating like this than we would with a three-day walkout," an employee told CNN. "It's time to try something different. Every year we get the same promises and every year we get the same Band-Aid on the problem."
In a statement to CNN, Walgreens acknowledged that pharmacy employees were overworked.
"The last few years have required an unprecedented effort from our team members, and we share their pride in this work — while recognizing it has been a very challenging time," said Fraser Engerman, a communications director at Walgreens. "We also understand the immense pressures felt across the US in retail pharmacy right now. We are engaged and listening to the concerns raised by some of our team members."