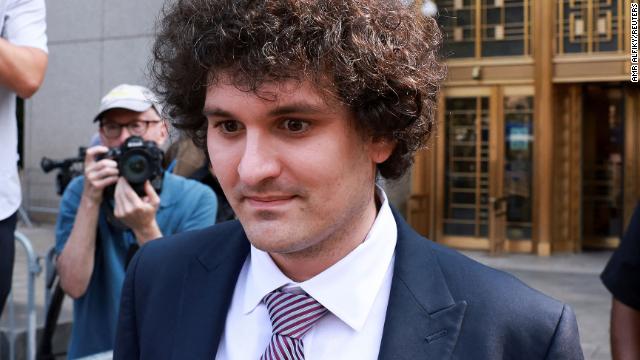 Eleven months ago, Sam Bankman-Fried was living in the Bahamas as a crypto superstar, running a celebrity-backed startup, surrounded by fans and friends who believed he was the real deal: An MIT math whiz. A visionary who ditched the Wall Street track to chart his own course. A philanthropist building a fortune which, he repeatedly said, he intended to give away entirely.
he's on trial for what federal prosecutors have called one of the biggest frauds in US history.
Now,
The 31-year-old Bankman-Fried, known as SBF, has pleaded not guilty to seven counts of fraud and conspiracy in connection with the collapse of FTX, his crypto-trading platform. If convicted and sentenced to the maximum punishment, he could spend the rest of his life in prison.
Here are the key things to know about the case, and what we might see over the next several weeks at the trial.
What are the charges?
SBF faces seven counts, including wire fraud and securities fraud.
Prosecutors alleged that SBF stole billions of dollars from FTX customer funds for his own personal use and to cover huge losses incurred by Alameda Research, a crypto hedge fund he also controlled. They also say SBF defrauded investors in FTX by covering up the scheme.
Prosecutors opted in June to sever five other charges that were brought after Bankman-Fried's extradition from the Bahamas, where FTX was based. A separate trial on those charges, which he also pleaded not guilty to, is scheduled to begin in March.
What happened to FTX?
The firm, founded in 2019, marketed itself as an easy-to-use, safe portal into cryptocurrency trading. It made money by collecting fees on customers' trades, much like a typical brokerage.
As digital asset valuations shot up in 2021, so did FTX's profile. At its peak, the company fetched a private valuation of more than $30 billion. It plastered its name across a Miami basketball arena and won celebrity endorsements from Tom Brady and Larry David.
But crypto market turmoil took root in the spring of 2022, gutting the entire industry's value down to $1 trillion from $3 trillion.
By November, cracks in FTX's foundation were beginning to show, and it took just over a week for it all to come crashing down.
Investors and customers began to panic in response to a report from crypto news site Coindesk that raised serious questions about the financial links between FTX and Alameda, two ostensibly separate businesses founded by Bankman-Fried. Based on a document obtained by Coindesk, it appeared that much of Alameda's assets consisted of FTT, a digital token created by FTX that was rapidly losing value, putting Alameda on shaky financial footing.
Customers rushed to withdraw their funds from FTX, exposing an $8 billion shortfall. FTX filed for bankruptcy on November 11, and Bankman-Fried resigned as CEO.
He was arrested in December in the Bahamas on charges including fraud and conspiracy and extradited to the United States in January.
What will the defense be?
Since his arrest, SBF has repeatedly spoken and written about his view of the case: He was an inexperienced businessman who got out over his skis, and he never knowingly committed fraud. 
His lawyers have hinted in court documents that they will invoke an "advice of counsel" defense. In other words, SBF didn't know that his actions were illegal and he was following guidance from FTX's lawyers.  
In personal writings by Bankman-Fried published by the New York Times, he put the blame for Alameda's losses on its CEO, Caroline Ellison, who is also his ex-girlfriend. 
Ellison, along with three other former high-level associates, has pleaded guilty in cooperation with prosecutors.
"SBF's biggest challenge is going to be that his former colleagues are going to testify against him," said Howard Fischer, a partner with Moses Singer and a former senior trial lawyer at the Securities and Exchange Commission. On top of that, FTX's new management, led by a restructuring expert who oversaw the liquidation of Enron, have been openly hostile toward Bankman-Fried.
"This kind of cooperation is a godsend for the prosecution," said Fischer. Another issue, Fischer said, is that SBF, in his long-winded blog posts, tweet threads, TV media appearances and alleged document leaks, "has consistently failed to demonstrate an awareness of how serious his situation is."
"Juries tend not to like know-it-alls who lack respect for the process ... While a defendant in a case like this is well advised not to take the stand, it is possible that SBF's apparently unwavering self-confidence will lead him to take that risk."
How long will the trial last?
Jury selection begins on Tuesday, October 3, in Manhattan federal court. The trial is expected to last up to six weeks.
During that time SBF will remain in the Metropolitan Detention Center in Brooklyn, where he has been since Judge Lewis Kaplan revoked his bail on August 11 over SBF's efforts to intimidate witnesses. 
What will happen if he's convicted?
If he's found guilty of all seven criminal counts and is given the maximum sentence, SBF would face the prospect of 110 years in prison.
That's where the Powerball jackpot currently stands. 
A winner could be announced after tonight's drawing. They'd have the option of a lump sum payment of $478.2 million — before taxes, of course.
The massive prize is the second-largest jackpot this year and the fourth-largest in the lottery's history, Powerball said.
🏥 THE NEW STRIKERS IN TOWN
There's talk on the street / it sounds so familiar. Great expectations / everybody's watching you.
For those of you who don't listen to dad rock music, those two lines are lyrics from the Eagles' song, "New Kid in Town," describing how exciting it is for everyone to have a new face to meet.
But I'd like to propose an alternate version titled "New Strikers in Town."
It seems like new strikes are popping up every day. From autoworkers to actors to hospitality workers, waiters and bartenders few industries are immune to the threat of strikes. 
And on Wednesday there's likely going to be new strikers in town: 75,000 Kaiser Permanente health care workers. That would be the largest health care strike to take place in the US.
The back story
A contract between a coalition of eight unions representing 75,000 Kaiser Permanente workers at hundreds of hospitals and medical offices in California, Oregon, Colorado, Virginia, Washington and Washington, DC, and Kaiser Permanente expired over the weekend. 
In a statement a few hours before the contract ran out, Kaiser Permanente said that it will continue negotiating "in good faith," and that operations will continue normally until the planned strike happens on Wednesday, my colleague Eva Rothenberg reported. 
The strike involving nursing staff, therapists, technicians, dietary services, maintenance and janitorial staff is set to last three days. Kaiser said it has contingency plans in place to continue to provide care to patients during a strike.
What is the union fighting for?
A national health care worker shortage that came after Covid caused many to leave the profession, means the workers that stayed have had to pull more than just their weight. That's resulted in higher rates of burnout.
The Coalition of Kaiser Permanente Unions, an umbrella group that represents the eight unions, is asking for across-the-board pay raises to address the increased cost of living, my colleague Sam Delouya reported. 
The coalition is also demanding protections against outsourcing and subcontracted workers, updates to employees' retiree medical benefits and more notice when people working remotely are asked to return to the office.
How bad could this strike get?
Like most of the strikes taking place, the answer to that question depends on how long it lasts.
If the coalition reaches an agreement with Kaiser after the planned three-day strike the impact patients feel could be relatively small. It's worth noting doctors and registered nurses won't be part of the strike. Although a spokesman for Kaiser told CNN the pending strike could still be "extremely disruptive."
But if a deal isn't reached after the three-day strike, the Service Employees International Union-United Healthcare Workers West union (SEIU-UHW), the union most striking Kaiser workers are part of, said its members are prepared for another "longer, stronger" strike in November. 
Last updated October 2 at 4:00 PM ET