🚨 Just in: Ford and the United Auto Workers union reached a tentative labor deal, according to a person familiar with the matter. More on that breakthrough here.
In other news: SBF is going to take the stand. Let's get into it.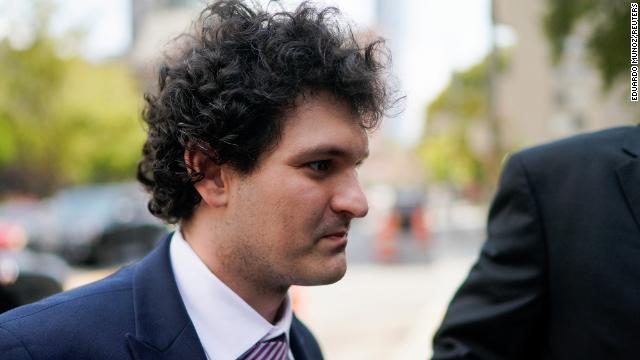 Sam Bankman-Fried made a career out risky bets that, for a while, paid off. Now, he's about to make the riskiest bet of his life.  
After three weeks of damning testimony portraying him as a criminal mastermind, the former crypto billionaire is taking the stand to try to convince jurors that, far from a fraud, he is just a clumsy startup founder who got out over his skis. 
It's not something you see every day in a criminal trial.
Typically, defense attorneys advise their clients not to testify because it leaves them vulnerable to grilling by the prosecution. Stumbling on the stand, the thinking goes, is worse than saying nothing at all. 
But at this point, Bankman-Fried doesn't have much of a choice, legal experts say. Prosecutors have made a compelling case that's been difficult for the defense to chip away at. 
Normally, you might expect the defense to lean on witnesses who can offer a favorable counterpoint. But Bankman-Fried, who has pleaded not guilty to seven criminal counts of fraud and conspiracy, doesn't appear to have any allies left who can dispute what members of his inner circle have already said under oath.  
"This is the one last final desperate throw of the dice for him," said Howard Fischer, a partner at Moses Singer and a former SEC attorney. "I don't know how many other options he has."
What to expect
Bankman-Fried's testimony could come as early as Thursday morning, after prosecutors call their final witness and rest their case, his attorneys said  Wednesday. 
They have a monumentally difficult job ahead. 
"They need to make him sympathetic," Fischer said. "Obviously, the facts are important. But people make decisions about people, in some part at least, based on whether they like them or not."
Bankman-Fried has to not only be likable, "he also has to convince the jury that, to the extent that there was wrongdoing, other people are responsible for it, not him," Fischer added. 
That's one area where Bankman-Fried may have an edge.
Before his world came undone last year, Bankman-Fried was a rising star, even outside the insular world of crypto. With his wild hair and schlubby T-shirt-and-shorts uniform, he managed to charm an array of deep-pocketed investors, A-list celebrities, journalists and members of Congress. (In one memorable exchange on the Hill, Senator Cory Booker quipped to Bankman-Fried that he was offended that the young entrepreneur had "a much more glorious afro than I once had.")
That image may have been part of a carefully crafted PR play for FTX, according to Caroline Ellison, the prosecution's star witness and Bankman-Fried's ex-girlfriend. It nonetheless helped propel his star power and a $32 billion valuation for FTX.
Bottom line: SBF needs a Hail Mary to have any chance of winning over the jury. His decision to testify is an almost poetic plot twist for a man whose seemingly insatiable appetite for risk — not to mention an insatiable need to broadcast his story to anyone who'll listen — landed him in federal court in the first place. 
The new Air Force One jets are a huge drag for Boeing, which just reported another $482 million in red ink on its contract to retrofit two 747s that are made to shuttle the president around the world.
All told, Boeing has lost more than $1 billion on each of the two jets. This has been going on for years, and even CEO Dave Calhoun admitted last year that the company should never have signed the contract with the Air Force.
"Air Force One, I'm just going to call a very unique moment ... a very unique set of risks that Boeing probably shouldn't have taken," he said in April 2022. "But we are where we are."
Who's hungry? Let's dig in...
🥄 Big spoon
McDonald's is getting rid of the McFlurry spoon, one of the more distinctive and kinda confusing utensils in fast-food land. That clear plastic spoon with the hollow stem apparently doubled as a spindle that connected to the McFlurry machine to mix in the toppings into the ice cream.
The McFlurry will now be served with a smaller spoon that uses less plastic. (I'll believe it when I see it, which is likely never, because the McFlurry machine is always out of order. Or so we're told.)
🍻 Match made in heaven
Bud Light is becoming the official sponsor of mixed martial arts league UFC, just in case anyone got any ideas about Bud Light going soft.
The partnership is part of a makeover to revive Bud Light sales following a sales dip that the company blamed on an anti-trans backlash (though it's worth noting beer in general has been losing market share to spirits and seltzer for years). 
Anyway, the idea, I suppose, is that when you think about pummeling someone in a cage fight, you think of Bud Light. 
🌮 Trademark tussle
Taco Bell's fight over the words "Taco Tuesday" is finally over after a lone New Jersey holdout gave up its trademark after four decades. 
Gregory's Restaurant and Bar, in Somers Point, NJ, forfeited its claim to the phrase this week. Taco Bell didn't say whether a financial settlement was involved. Said Gregory himself: "'Taco Tuesday' brought a lot of pride over the past 40 years. Relinquishing the trademark registration doesn't change that."
Last updated October 25 at 4:00 PM ET