Tonight: McDonald's and Wendy's burgers can continue to look better in ads than they do in real life. Plus: Conflicting jobs data. Let's get into it.
🍔 AN END TO SOME OF THE BEEF WITH BEEF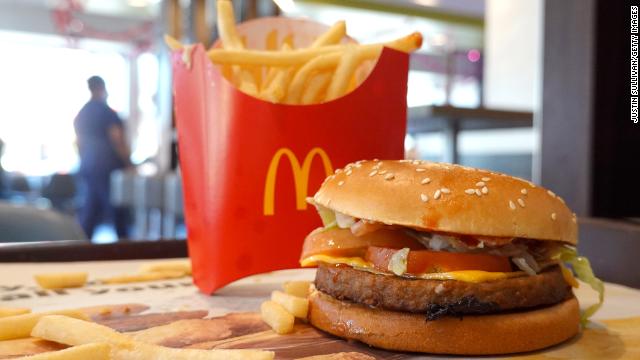 Anyone who has gone on dates with people who they matched with on a dating app could probably tell you about at least one time their date didn't quite line up to what they put in their profile.
Whatever it may be, I think it's safe to say people — for the most part — craft dating profiles based on what they think portrays the best version of themselves. And that makes it almost unreasonable to think that everyone on dating apps will look like they do in their profiles, especially if they use tech to alter their images. 
Along those lines, it seems perfectly reasonable that ads cast products and services in — often quite literally — the best possible light, with the caveat that they can't flat out lie.
Unlike with people on datings apps that generously round up their heights, there are legal remedies for consumers who've been misled by deceptive or false advertising. 
But it's not so simple to prove, especially when it comes to food. 
People are having more beef with beef
Lawyers James Kelly and Anthony Russo, in particular, have been leading the charges against fast food companies, bringing cases against Taco Bell, Wendy's, McDonald's, Burger King and Arby's, my colleague Danielle Wiener-Bronner reported. These companies use ads that don't match up with their actual food, the suits allege.
As evidence, the complaints feature images of food marketing alongside shots of their real-life counterparts. In the ads, burgers look tall, heaped with meat and cheese, topped with golden, rounded buns. But in the photos of burgers bought from a real fast food location, they're flat, with meat and cheese barely peeking out of limp, white buns.
For a judge or jury to side with the plaintiffs in false advertising claims, lawyers have to successfully make the case that the ads would trick a "reasonable consumer," Tommy Tobin, a lawyer at Perkins Coie and Lecturer at UCLA Law, told Wiener-Bronner.
But Burger King claimed in a recent filing against it that "reasonable consumers" know that food in ads "has been styled to make it look as appetizing as possible."
That said, you'd think a reasonable consumer would recognize that drinking Red Bull won't actually give you wings. Yet the energy drink maker agreed to pay $13 million to settle a false advertising action suit brought against it over its slogan nearly a decade ago.
Now Red Bull doesn't give you wings. It does, however, give you wiiings.
A verdict is in 
On Wednesday, a US District Judge dismissed a lawsuit that was filed against Wendy's and McDonald's food images saying they "are no different than other companies' use of visually appealing images to foster positive associations with their products."
My two cents 
It's frustrating when you buy something because it looked enticing in an ad and you come to find out it's not exactly what it was made out to be. Feel free air your grievances out on social media, to you mother, your dog or anyone who might be willing to listen. 
You can always file a lawsuit too, but just don't expect it to be a get-rich-quick scheme.
That's how much the United Auto Workers union strike has cost General Motors since it began two weeks ago.
Relatively speaking, that's a drop in the bucket for GM considering the automaker earned a record $11 billion inflation-adjusted profit last year. But the losses will get even steeper the longer the strike goes on. 
Almost any economist will tell you they don't have a crystal ball. But using all kinds of fancy (and sometimes not so fancy) models, they make predictions about forthcoming economic data. And oftentimes, economists' consensus forecasts are spot on.
That wasn't the case with today's ADP private sector jobs data report.
The nation's largest private payroll processor reported US employers added an estimated 89,000 private-sector jobs in September. Economists thought there'd be 153,000 new hires.
Behind the headline number
The leisure and hospitality sector continued to lead job growth, with an estimated 92,000 positions added during the month, my colleague Alicia Wallace reported. The largest declines were in professional and business services; trade, transportation and utilities; and manufacturing, according to ADP.
Large businesses with 500 or more employees drove the decline, losing 83,000 jobs.
Zooming out 
ADP's latest report certainly gives the impression that the labor market is cooling as fewer people are getting hired.
But data from the Bureau of Labor Statistics' Job Openings and Labor Turnover Survey report for August showed the opposite with the number of available jobs unexpectedly bolting higher.
So how can the labor market be both cooling down and heating up at the same time? The same way a glass can be half empty or half full.
That is to say there are multiple different ways of looking at the labor market. And that's why economists at the Federal Reserve take into account multiple different reports on the state of the labor market.
Speaking of which... 
The BLS is set to release the all-important monthly jobs report for September at 8:30am ET on Friday. Economists are expecting a net gain of 170,000 jobs, according to a consensus estimate of economists polled by Refinitiv.
Last updated October 4 at 7:00 PM ET