Jobs in the auto industry are actually booming. The problem for the UAW is that most of them are opening in the union-averse American South. Let's get into it.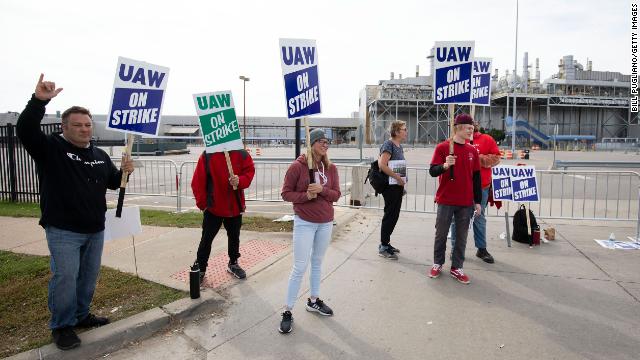 The United Auto Workers, in some key aspects, have the wind at their back in their negotiations with the Big Three, thanks to a historically tight labor market and record corporate profits. 
But a long-term challenge hangs over the unionized workforce that has historically shaped the American auto industry: The union-averse South is open for business.
For decades, foreign automakers including Volvo, Mercedes-Benz, BMW, Toyota and Hyundai have been ramping up production in the American South, where wages are lower and labor support is scant, my colleague Nathaniel Meyersohn writes.
That migration has made the UAW ranks a minority. And even though all of the Detroit Big Three's plants are unionized, not a single plant in the South is. 
See here: Over the past three decades, the South's share of auto jobs has doubled, from 15% to 30%, according to S&P Global Market Intelligence. 
The Midwest's share fell from 60% to 45%, over the same period.
Foreign automakers have been particularly keen on the South, where tax incentives, cheaper land and anti-union politics are a draw. 
As foreign companies moved in, the UAW initially encouraged it, thinking it could get a foothold at southern-based plants run by Nissan, Volkswagen and others. But the UAW repeatedly ran into opposition from Republicans bent on disrupting labor organizers, as well as so-called right-to-work laws, which undermine collective bargaining efforts. 
The shift to electric vehicles is only accelerating the migration.

Since 2015, automakers have announced plans for $83 billion in EV investments and 95,000 jobs in five southern states: Georgia, Tennessee, South Carolina, Kentucky and North Carolina, according to a recent report by the Environmental Defense Fund. 
Even the Big Three are funneling investments to the South with joint-venture agreements with foreign EV battery makers. Those jobs, of course, are not covered by UAW contracts and pay far less.

That has been a major sticking point in the latest negotiations. 
The companies are benefiting from huge government loans and subsidies to build these plants in the South, and the UAW wants the Biden administration and federal agencies to impose stipulations on those loans that would make it easier to unionize the plants.
The union, which represents 400,000 members, has a fair bit of political leverage on that front. So far, the UAW has declined to endorse Biden's re-election as it pushes for a "just transition" to EVs.

"The EV transition must include strong union partnerships with the high pay and safety standards that generations of UAW members have fought for and won," UAW President Shawn Fain said.
READ MORE
Stellantis and GM furloughed dozens of workers and warned that hundreds more could come as strike continues.
The UK government said it would delay a ban on the sale of new gas and diesel cars by five years, angering carmakers who warned the move would undermine the industry's efforts to switch to electric vehicles.
I don't think he meant what he said, and I don't think he's a bad person.
That's Adidas CEO Bjørn Gulden, commenting on Kanye West's blatantly anti-Jewish tirade from last year that prompted the company to end its partnership with the rapper. 
In a podcast interview, Gulden even complimented West, calling him "one of the most creative people in the world." 
"I don't think he meant what he said, and I don't think he's a bad person. It just came across that way ... That meant we lost that business, one of the most successful collabs in the history … very sad."
Adidas told CNN its position has "not changed" and that "ending the partnership was appropriate." Read more.
Amazon rolled out a sweeping update for its virtual voice assistant that aims to make Alexa's disembodied robot voice a little less ... robotic. 
Using generative AI — a type of artificial intelligence that can create new content in response to user prompts — Alexa will soon be able to pick up old conversations, respond more quickly, learn user preferences, field follow-up questions and change its tone based on the topic, my colleague Samantha Murphy Kelly writes. Alexa will even offer "opinions," such as which movies should have won an Oscar but didn't. (I put opinions in quotation marks there because I want to be very clear that what Alexa is doing should not be confused for independent thought — it is just aggregating words from the internet and spitting them back out in a new order.)
One of the new features is a human-like grasp of tone. For example: You can tell Alexa that your favorite football team is the Kansas City Chiefs, and the AI will remember that fact. Later, if you ask Alexa how the Chiefs played on Sunday, Alexa will respond joyfully if the team won. If they lost, Alexa sounds a bit more mellow. 
Why it matters
Amazon, as dominant as it is in online retail and web services, is trying to keep up in a heated AI arms race that is reshaping our expectations for tech products.
At the same time, the company appears to be struggling with its hardware department, which hasn't had a hit in years. On Tuesday, Reuters reported that morale on the team — responsible for devices like the Kindle and Echo — has suffered because of staffing cutbacks and lack of optimism about the devices that are in development. 
People who spoke to Reuters anonymously referenced the "Astro" home monitoring robot — a niche (and rather creepy) flop. Other recent devices, including a voice-assistant-powered clock, the Fire smartphone and a camera that doubles as a personal stylist, have also gone largely unnoticed. 
The bottom line, per Sam:
While Wednesday's Alexa demo wasn't without some hiccups, it offered a compelling case for how generative AI can be woven into our day-to-day home lives.
David Limp, Amazon's senior VP of devices and services, assured people in the audience that despite the staffing cuts, innovation around Alexa has not stalled.
"We're not done, and won't be done until Alexa is as good or better than the 'Star Trek' computer," he said. "And to be able to do that, it has to be conversational. It has to know all. It has to be the true source of knowledge for everything."
RELATED
Last updated September 20 at 4:00 PM ET