Days before Sam Bankman-Fried goes on trial, his parents are being sued over millions of dollars they allegedly received from FTX before it collapsed. Let's get into it.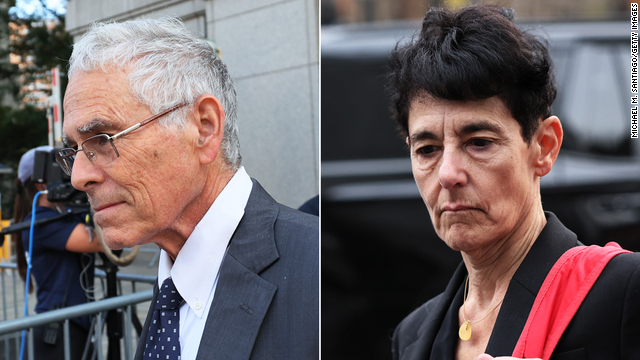 Over the past 10 months, Sam Bankman-Fried has lost a lot of friends. His crypto empire has vanished, along with his billions in personal wealth. His closest business partners, with whom he lived in a luxury condo in the Bahamas, now plan to testify that he orchestrated a multibillion-dollar conspiracy. 
His parents are just about the only allies he has left. But now, even they could be in serious legal trouble. 
Here's the deal: FTX, the crypto firm Bankman-Fried founded and drove into bankruptcy, is accusing his parents of siphoning millions of dollars in company funds to enrich themselves and their "pet causes."
The lawsuit, filed in a Delaware bankruptcy court, aims to recover funds that the company claims were "fraudulently transferred and misappropriated" by Joe Bankman and Barbara Fried (pictured above). 
The couple, both tenured Stanford law professors, either knew "or ignored bright red flags" that indicated their son and his business partners were "orchestrating a vast fraudulent scheme," according to the lawsuit.
The couple allegedly received a $10 million cash gift from their son, along with a $16.4 million home in the Bahamas that was purchased by FTX. 
Attorneys representing Bankman and Fried issued a statement calling the lawsuit's claims "completely false" and "a dangerous attempt to intimidate Joe and Barbara and undermine the jury process" ahead of their son's trial on October 3. (He has pleaded not guilty to multiple counts of fraud and conspiracy.) 
Neither Bankman nor Fried has been criminally charged. But the FTX lawsuit raises serious questions about the roles they played in their son's business dealings. 
In short: Lawyers for the bankrupt company allege that Bankman, a renowned tax attorney, in particular, was deeply involved in FTX as both an informal adviser and later as a paid employee.
Fried, who is known in legal circles as an authority on ethics, never held a formal position at FTX but was an active adviser, particularly when it came to Bankman-Fried's copious political contributions. (She described herself as her son's "partner in crime of the noncriminal sort," the lawsuit claims.)
Why it matters
The parent question has been swirling ever since the FTX saga began nearly a year ago. They are Stanford lawyers. Educated at Harvard and Yale. Widely respected members of their community. Beloved by their students. Like ... what? How could they not see the red flags?
We still don't know the answer. 
Bankman and Fried, who put up their Palo Alto home as collateral to secure SBF's $250 million bond, have not spoken publicly about their son's case.
But, as Bloomberg's Max Chafkin and Hannah Miller wrote in their deeply reported story about the couple, Bankman and Fried are bound to come up during the trial next month. Their son's defense is expected to hinge, at least partly, on advice he received from lawyers, including mom and dad. 
The American IPO rebound got another boost Tuesday as Instacart debuted on the Nasdaq. 
The grocery delivery service began trading at $42 a share, giving it a market value of just over $11 billion. While that's down sharply from the company's earlier private valuation of $39 billion, it is still one of the largest US initial public offerings of the year.
The Instacart deal comes just a week after British chip designer Arm Holdings became the largest IPO in two years.
It's that time again, folks.
Time for market analysts, traders, economists, and all of us nerds on the econ beat to hunker down and wait for Jay Powell to deliver his sermon. 
Here's what we can say ahead of yet another closely watched, all-important Fed meeting:
Steady Feddy: The central bank is widely expected to hold its benchmark lending rate steady. The thinking goes, the Fed needs more monthly data (jobs, inflation, et al) to come in before it can get a clear picture of the economy's health.
The dot plot: We'll also get a fresh set of projections showing where each member of the Federal Open Market Committee expects rates to be in the future. This could be an especially interesting chart to watch, as some analysts say the bankers may not be aligned, and potentially evenly split. 

An end in sight?

Investors will be tuned into every word coming out of Jay-Pow's mouth. The central bank chief is very unlikely to say with certainty whether or when another rate hike may be coming. He and his fellow central bankers will be "data-dependent," as ever. 

Inflation nation: Powell will likely stress that inflation remains too high, leaving the door open for another rate hike at the bank's November meeting. 
Why the pause?
The last time central bank officials decided to hold rates steady was in June, when it wasn't clear whether the spring banking crisis was contained. 

These days, there's even more uncertainty for the Fed to chew on.
Consider the wild cards:
1. We're staring down the barrel of a government shutdown. Among other things, a government shutdown would prevent the Bureau of Labor statistics from releasing key reports on inflation and employment that the Fed relies on to make policy decisions. 
2. Oil prices are spiking. In theory, elevated energy prices could feed into core inflation — which Fed officials are more focused on — if gas prices stay elevated and result in higher prices for airfare and freight. 

3. It's strike season. Writers, actors, auto workers, oh my! Strike season is still simmering, and that's important for the Fed mostly because of what it says about the labor market. Strikes are a sign of strength, which is generally a good thing, but could mean the "slack" the Fed is hoping to see hasn't arrived. 
My colleague Bryan Mena has more. 
Last updated September 19 at 4:00 PM ET