Tonight: A last-minute Monday Night Football deal sets an awkward but effective precedent for the media industry. Plus: An auto workers strike looks increasingly likely. Let's get into it.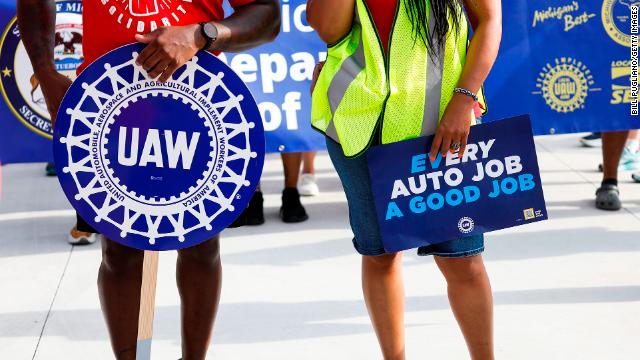 The clock is ticking on negotiations between the United Auto Workers and the Big Three Detroit carmakers. 
The union stands ready to go on strike this Friday. And right now, you could park an F-150 in the gulf between workers and management. 

The contracts with the three automakers — Ford, GM and Stellantis (the conglomerate that produces Chrysler, Dodge, Ram and Jeep in the US) — all run out at 11:59 pm Thursday.

UAW President Shawn Fain will be the first to say the union's goals are "ambitious," but he insists they're justified, given the automakers' strong profits in recent years. The automakers have balked at most of the union's demands, according to the UAW. 

Here's where things stand:
💰 Easy money
What the union wants: An immediate 20% raise, and then four additional raises of 5% each. (All together, a 46% increase over the four-year life of the contract.) 
What's on offer so far: GM and Ford proposed 10% increases over the next four years, the UAW said Friday. Stellantis is offering 14.5%. Fain called those offers "insulting." 
Context: The union has a lot of leverage here. Demand for cars and trucks has been (and remains) strong, pushing prices for new vehicles near record highs. That's goosed earnings for the companies. GM even notched a record profit last year.

💰 Pensions
What the union wants: A return of traditional pension payment plans and retiree health care for all UAW members. The union may have a harder time with this one...
Only workers hired before 2007 still have those benefits, which the union sacrificed during the financial crisis, when GM and Chrysler were hurtling toward bankruptcy and federal bailouts.
Context: Across the private sector, defined-benefit pensions — in which employers largely fund and manage retirement accounts for their workers — are on the way out. (For Millennials and younger, you're almost certainly never going to get one of those, so start maxing out your 401(k)s early and often!) 
But hey, you never go into a negotiation asking for the bare minimum...
🗓 Four-day workweek
Now you're speaking my language, auto workers of America!
The union wants limits placed on the use of temporary workers and forced overtime, as well as more time off — specifically, a four-day workweek. 

Why four days? 
It's no longer as radical as it might have seemed. Recent high-profile pilots have shown four-day weeks to coincide with workers feeling happier, less stressed and more productive. 
Fain laid it out in a Facebook Live speech, per NPR: 
"Our members are working 60, 70, even 80 hours a week just to make ends meet.. We need to get back fighting for a vision of society in which everyone earns family-sustaining wages, and everyone has enough free time to enjoy their lives and see their kids grow up and their parents grow old."
🔌 A 'just' transition
Adding to the complexity of these negotiations, the auto industry is in the middle of its biggest makeover in a century. 

The three automakers plan to spend tens of billions of dollars on transitioning to electric vehicles, and they have a long, long way to go. None of their EVs make up more than a sliver of their current sales. 

EVs are also, according to some industry estimates, easier and cheaper to build than gas-powered cars.  Fain and other union leaders say they're not opposed to EVs but that it must be a "just transition," in which traditional jobs may be transferred to EV production.  
What's next?
The two sides will keep talking, because no one wants a strike. But labor experts aren't holding their breath for a quick resolution, my colleague Chris Isidore reports.
"I think there's a 99% chance of a strike," said Art Wheaton, director of labor studies at Cornell University's School of Industrial and Labor Relations.
Tesla shares, which have already doubled this year, jumped 10% Monday in response to a rather rosy report from analysts at Morgan Stanley about the potential behind the carmaker's Dojo supercomputer. 
In short, the analysts said that Tesla could add $500 billion in market value through Dojo, an in-house supercomputer designed to train AI systems to complete complex tasks like assisting Tesla's driver-assistance systems.
As of Monday, Tesla had a market cap of about $839 billion.
Disney and Charter Communications struck a "transformative agreement" to end a weeklong blackout and restore access to channels like ESPN and ABC to the cable provider's nearly 15 million subscribers. Just in time for Monday Night Football...
Here's the deal: Over Labor Day weekend, a distribution dispute between Disney and Charter resulted in Disney-owned channels being yanked off the air for Charter customers, who were, naturally, not thrilled about it.
The feud became a kind of microcosm for the TV industry, as content creators (like Disney) have been at odds with cable providers (like Charter) as the rise of Netflix and other streamers upended their business models.
The beef centered on Charter wanting Disney to offer greater bundling flexibility and provide its subscribers access to its direct-to-consumer services such as Disney+. The cable company, which does most of its business offering broadband internet, had threatened to exit the television business altogether if such a deal could not be struck. (My God, the drama of all this...) 

In the end, a deal emerged just hours before 15 million people were going to be frantically Googling ways to stream Monday Night Football, which airs on ESPN.
Charter agreed to pay Disney more money to carry its channels, and in exchange Disney will give certain Charter customers access to ad-supported versions of Disney+ and ESPN+.
BIG PICTURE
There was plenty of talk Monday about whether the Disney-Charter deal would become a blueprint for the industry. They are both huge players, after all, and their very public dispute laid bare a ton of long-simmering tensions between the two sides. 
And maybe it is a good blueprint. But it also seems a bit like a band-aid-on-a-bullet-wound moment. Sure, Disney can wring some extra revenue from its fast-dying linear business, and Charter gets to offer its customers a little something extra with access to Disney's original programming (not to mention the universes of Marvel and Star Wars). 
But how long does that last? Charter is delivering its customers into the arms of streamers. And Disney may have just given its streaming rivals a tactic to win over folks who still have cable. 
Slate's Alex Kirchner called the deal "an admission of doom" because it "crystallizes Disney's lack of confidence that streaming can stand on its own."
Last updated September 11 at 4:00 PM ET