Good morning! In today's newsletter: Coal, a large contributor to climate change, is making a comeback. Plus, US stocks are having a very bad September. 
US stock futures are pointing higher. Markets in Europe are mostly narrowly lower. In Asia, major indexes ended the day with gains. 
▸ Forwarded this newsletter? Want global markets news and analysis from CNN Business reporters every morning? You can sign up here.
Coal makes a quiet resurgence in the clean energy era
As momentum shifts toward clean energy, coal has had some unexpected staying power.
What's happening: Big banks like Goldman Sachs have pledged to divest from the dirty energy source, but reports that coal power is dying appear to be premature.
Smaller funds like Javelin Global Commodities (created by two ex-Goldman traders) have popped up to fill the opening in coal investing. In the eight years since its founding, the fund has soared in value to over $1 billion and become the leading US coal exporter.
The firm benefited handsomely, bringing in record profits last year after Russia's invasion of Ukraine, as Europe scrambled to find energy that was sourced elsewhere, according to a recent Bloomberg report.
A new report by the International Energy Agency found that global coal demand hit an all-time high in 2022 amid the energy crisis, eclipsing the previous record set in 2013.
While the IEA believes that coal consumption may soon hit its peak, along with demand for oil and gas, trends so far this year tell a different story. United States thermal coal exports reached their highest levels since 2018 in the first eight months of 2023, according to new data. Exports soared by 20% over the same period last year as Asian countries increased their demand for coal.
The green transition in US manufacturing also presents a bit of a paradox. For example, Panasonic built a new electric vehicle plant in Kansas to aid its transition to clean energy. But the factory's vast energy needs have led the county where the factory is located to extend the life of a local coal plant.
Even as green initiatives flourish, coal remains a vital part of our energy mix.
Why it matters: Coal, the highest carbon emitting and dirtiest energy source, is the single biggest contributor to human-created climate change.
Large companies and banks have pledged to phase out investments in the fuel, but these efforts are often riddled with loopholes.
Banks can restrict financing for specific projects involving coal, for example, but won't rule out general purpose loans or deals for a whole company.
Some banks won't finance a company that derives more than 25% of its revenue or output from coal, but some of the largest coal developers in the world are massive, diversified organizations. Glencore, one of the world's largest producers and exporters of coal, which has been financed by nearly every large bank in the US, made just 24% of its industrial revenue from the fossil fuel in 2021. The rest came from copper, zinc and other metal mining and marketing.
At the same time, the corporate world's commitment to strengthening ESG — environmental, social and governance factors — could be waning. Mentions of "ESG" peaked in the fourth quarter of 2021, when about 160 companies listed on the S&P 500 index brought up the term in their earnings calls. Since then, mentions have declined in four of the past five quarters.
JPMorgan CEO Jamie Dimon warns the world isn't ready for 7% interest rate
"I ask people in business, 'Are you prepared for something like 7%?' The worst case is 7% with stagflation. If they are going to have lower volumes and higher rates, there will be stress in the system. We urge our clients to be prepared for that kind of stress."
JAMIE DIMON, CEO, JPMORGAN CHASE
Read more from CNN Business
Dow notches biggest one-day drop since March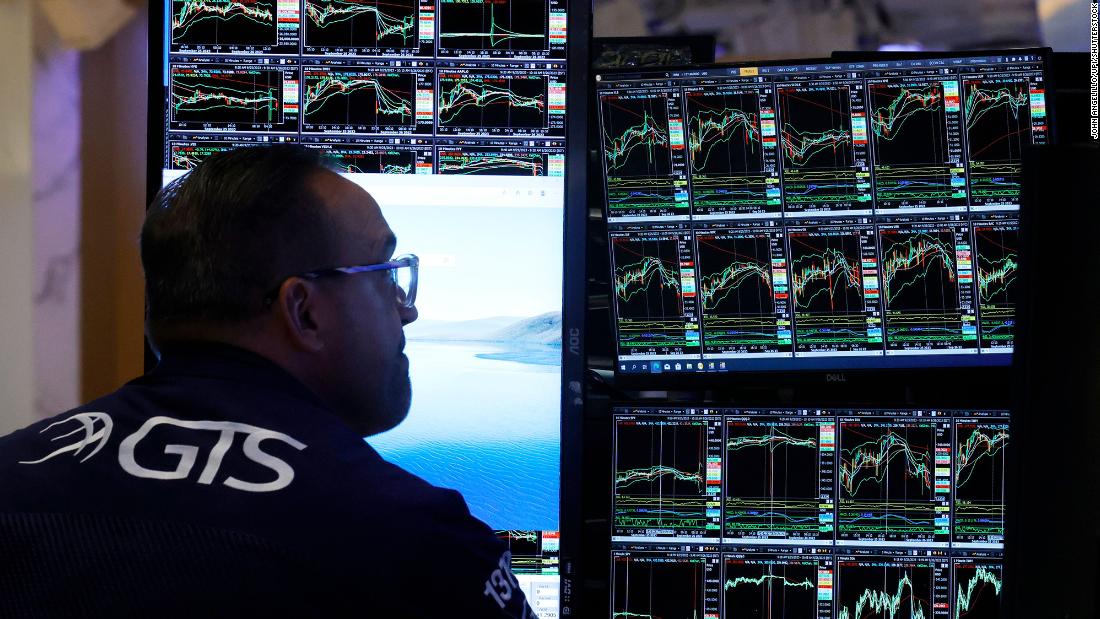 It's been a bad week and a bad month for stocks. Yesterday was no different.
Stocks tumbled Tuesday after a slew of economic data stoked fears about the US economy's cloudy outlook and further interest rate hikes from the Federal Reserve, reports my colleague Krystal Hur.
The benchmark S&P 500 index slid 1.5%, logging its lowest close since June. The Dow Jones Industrial Average fell 388 points, or 1.1%, its biggest one-day decline since March. The Nasdaq Composite lost 1.6%.
The S&P 500 is now below the threshold that it passed to enter bull market territory earlier this summer, which represents a climb of more than 20% off its most recent low last October. The stock market remains in a bull market, however — it would need to fall 20% from its peak to enter bear territory.
Why it's happening: Investors have been on edge since the Fed last week indicated it could hike interest rates once more this year and roll out rate cuts later than expected. That sent yields soaring to their highest level in decades, as investors recalibrate their expectations as to how much longer rates will stay higher.
CNN's Fear & Greed Index, which uses seven market indicators, sank to a "Fear" reading of 26, just above "Extreme Fear." That marks the index's lowest level since March, when the collapses of regional lenders Silicon Valley Bank and Signature Bank roiled financial markets.
Housing data released Tuesday morning also showed that new home sales fell 8.7% in August from July, as mortgage rates edged above 7% to the highest levels in decades.
At the same time, US home prices climbed to a record high in July, marking the sixth straight month of increases as a tight supply of homes continues to drive up prices, according to the latest Case-Shiller home prices index.
"The Fed will see the reacceleration of house prices as a reason to keep interest rates higher for longer," said Bill Adams, chief economist at Comerica Bank. "The Fed cannot afford to look past house prices' influence on the cost of living."
Government shutdown: The possibility of a government shutdown also looms over Wall Street as the fiscal year's end on September 30 fast approaches without any spending deal.
Moody's warned Monday that such an event could be negative for America's credit rating, which already saw a downgrade from Fitch earlier this year after the federal government narrowly avoided breaching the debt ceiling.
US Core Durable Goods Orders for August are expected at 8:30 a.m. ET.
WHAT WE'RE READING AND WATCHING
▸ Panera jumps on a TikTok trend, adds 'Roman Empire' inspired menu (CNN)
▸ Why America has a long-term labor crisis, in six charts (WSJ)
▸ FCC to reintroduce rules protecting net neutrality (CNN)
▸ US government and 17 states sue Amazon in monopoly case (CNN)
▸ Greece, battered a decade ago, is booming (NYT)
▸ McKinsey agrees to pay $230 million to settle opioid suits (Bloomberg)
The Hollywood writers' strike is over
The Hollywood writers strike is finally over after 148 days.
Leaders of the Writers Guild of America have unanimously voted to authorize its members to return to work following the tentative agreement reached Sunday between union negotiators and Hollywood's studios and streaming services, effectively ending a strike that has paralyzed the industry for months.
The tentative agreement, reached earlier this week, marks a turning point for Hollywood's film and TV studios after both the WGA and SAG-AFTRA, the union that represents actors, went on strike this summer to fight for higher pay and protections against artificial intelligence.
The contract, which will expire in May 2026, includes pay increases, better benefits, protections against the studios' use of artificial intelligence, guarantees for streaming compensation, longer-duration employment terms and other perks.
The WGA officially began striking on May 2, making the strike one of the longest in its history. The current record was in 1988 when the WGA struck for 154 days.
The Hollywood strikes have been costly, with a nationwide economic impact of more than $5 billion, according to economists. The pain has been felt by more than just Hollywood insiders; restaurants and businesses that cater to the entertainment industry, like makeup and custodial work, have experienced a downturn, as well.