Tonight: Subway just found itself a sandwich-loving buyer. Plus: "Barbie" smashed another record, and we clarify a few points about the economy that the GOP candidates missed last night. Let's get into it.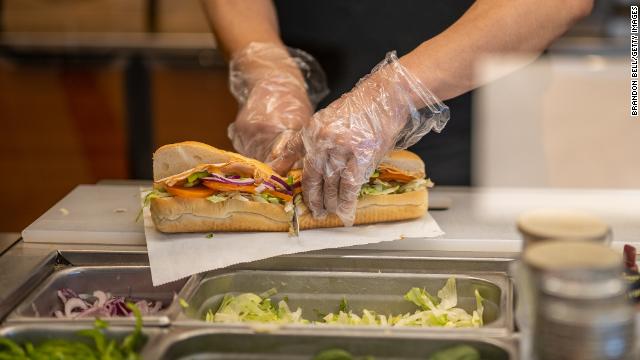 After nearly six decades of family ownership, and six months of shopping for a buyer, Subway is being sold to a private equity firm with a penchant for fast food.
The acquisition by Atlanta-based Roark Capital is one of the biggest in fast food history and caps a heated battle for the sprawling chain. 
While terms of the deal weren't disclosed, the Wall Street Journal reported its value at around $9.6 billion, slightly under Subway's $10 billion asking price. 
Why it matters
In the US, Subway has even more locations (20,500+) than McDonald's (13,500+). It's also one of the biggest restaurant chains globally, with some 37,000 stores total. 

Despite its scale, Subway has had to play catch-up to compete with rivals. As the pandemic set in, Subway's lack of drive-throughs hurt sales even further.   

Its investment in new menus and store renovations is paying off, even as the brand has had to fight some bizarre PR battles over things like how real its tuna is and whether its bread counts as cake. 

In July, the company announced its 10th consecutive quarter of positive sales at stores open at least a year, including a 9.5% increase at its North America locations (it didn't reveal specific numbers).




But annual sales at Subway's US restaurants are still much lower compared compared with its sandwich-making rivals such as Jersey Mike's, Firehouse Subs and Jimmy John's.

BIG PICTURE
Subway's journey has been a roller coaster since its founder, Fred DeLuca, died in 2015.
Back then, the WSJ's Spencer Jakab writes, Subway had about 44,000 restaurants and plans to reach 50,000 by 2017. That same year, the chain cut ties with its longtime pitchman, Jared Fogle, who was convicted on child pornography charges. Then, DeLuca's sister took over as chief executive in 2015, but sales continued to slump and franchisees became increasingly frustrated with her leadership. By 2019, Subway had replaced her with John Chidsey in an effort to right the ship. 
The sale to Roark, Chidsey said Thursday, "reflects Subway's long-term growth potential," adding that the brand has "a bright future with Roark." 
Given Roark's extensive fast-food portfolio, analysts were optimistic about the sale. "Roark has inherited a solid and sizeable business in Subway but needs to make changes to improve both sales and profitability," wrote Neil Saunders, managing director of GlobalData. "This includes enhancing efficiency by trying to consolidate the number of franchisees, looking at ways to increase its share of meal occasions in a very competitive market, and engaging consumers more with menu innovations."
My colleague Jordan Valinsky has more.
"Barbie" is now the highest-grossing movie at the domestic box office this year, taking the crown away from "Super Mario Bros."
According to studio estimates, "Barbie" has made $575.4 million at the American box office as of Thursday, edging past Mario's domestic haul of $574.2 million.
"Barbie" also got there faster. It took the Greta Gerwig film just 34 days to top the record. It took Mario, Luigi and the gang 138 days to cross the $574.2 million benchmark in the United States, according to Deadline.
If you tuned into the Republican presidential debate last night, you might have come away thinking the US economy was in a deep recession, with growth being choked off by "Bidenomics." 
The reality, of course, is decidedly less bleak — and far more nuanced. 

In fact, the US economy is growing, fast. For most workers, the past two years have been especially favorable, with roughly two positions available for every job seeker. Inflation, while still painfully high, is cooling. Real wages, adjusted for inflation, are finally on the rise.

As much as Biden can't claim credit for all that good economic news, Republicans can't, in good faith, blame Biden for all of the bad news, either. 

The GOP candidates slamming Biden's economic agenda last night know all of this, but hey, politics is politics. They are seizing on a very real issue of voter frustration, but the frustration is based more on ~vibes~ than facts.
In short: The economy is doing well, but people don't feel good about it. 

Earlier this month, a CNN poll showed that a majority of Americans feel the economy is actually getting worse. 

The biggest reason for that disconnect? Inflation.
Soaring prices, and the Federal Reserve's campaign to fight them, have dealt a one-two punch, making everything from groceries to housing less affordable. 
Even though inflation has come down significantly, from 9.1% last summer to 3.2% now, prices overall are about 18% higher today than they were in late 2019, just before the pandemic, according to the Bureau of Labor Statistics.
There's no sugarcoating that — it sucks.
But it's important to note the complex global forces — it's hardly just an American problem — that drove inflation higher in the first place:
The pandemic scrambled global supply chains and drastically altered consumer behavior, leaving the world with too much demand and too little supply.

The Federal Reserve, led by Trump appointee Jerome Powell, essentially turned on a money spigot to keep financial markets from collapsing in the early days of the pandemic, then kept the spigot on (arguably for too long, though that debate is one for economic historians).

Stimulus payments passed by both the Trump and Biden administrations fed demand for goods, though they also kept millions of Americans from going hungry and fueled a powerful economic rebound.

Corporations kept prices inflated even after supply chains began to unwind from the pandemic-induced kinks.

Russia's invasion of Ukraine in early 2022 created new shocks to global supply chains, driving prices for energy and food higher. 
Bottom line: Neither Biden nor Trump had any control over the catastrophic impact of the pandemic. And the legislation behind "Bidenomics" didn't pass the Senate until late 2021, long after inflationary forces had taken root, and well before any federal spending could have any real impact on the economy.

It's also worth noting that as painful as inflation feels in America, other parts of the world have it worse. British inflation remains at 6.8%, Germany's is 6.2% and Egypt's is north of 36%.
For more, you can check out my story here.
Last updated August 24 at 4:00 PM ET