An exclusive inside look with your free CNN account
✨ CNN's Samira Jafari talks about work, life — and what inspires her
By Leighton Rowell Lima
Richard Roth and Samira Jafari reunite in New York in June 2022.
As deputy managing editor for the CNN Investigates team, Samira Jafari works every day on stories that have the potential to change people's lives.
But she never could have predicted that she would find herself in the position to actually save someone else's life. That all changed in 2021 when Jafari — and over 4,000 of her colleagues — received an email from senior UN correspondent Richard Roth.
"I need your help. Urgently. To save my life. Please help me," Roth had written. He was in desperate search of a kidney donor.
In all of her years at CNN, Jafari and Roth had never met. But she didn't hesitate to respond.
"Let's discuss next steps," she wrote back. "Maybe I'm the one who's the right fit."
As it turned out, Jafari was Roth's match — and in April 2022, she became a living organ donor. The two finally met in Roth's recovery room after their successful surgeries. Once strangers to each other, Jafari says Roth is "like family now."
Jafari has since been recognized during "CNN Heroes: An All-Star Tribute." We recently caught up with her to learn more about her journey at CNN. The following is an edited version of our conversation.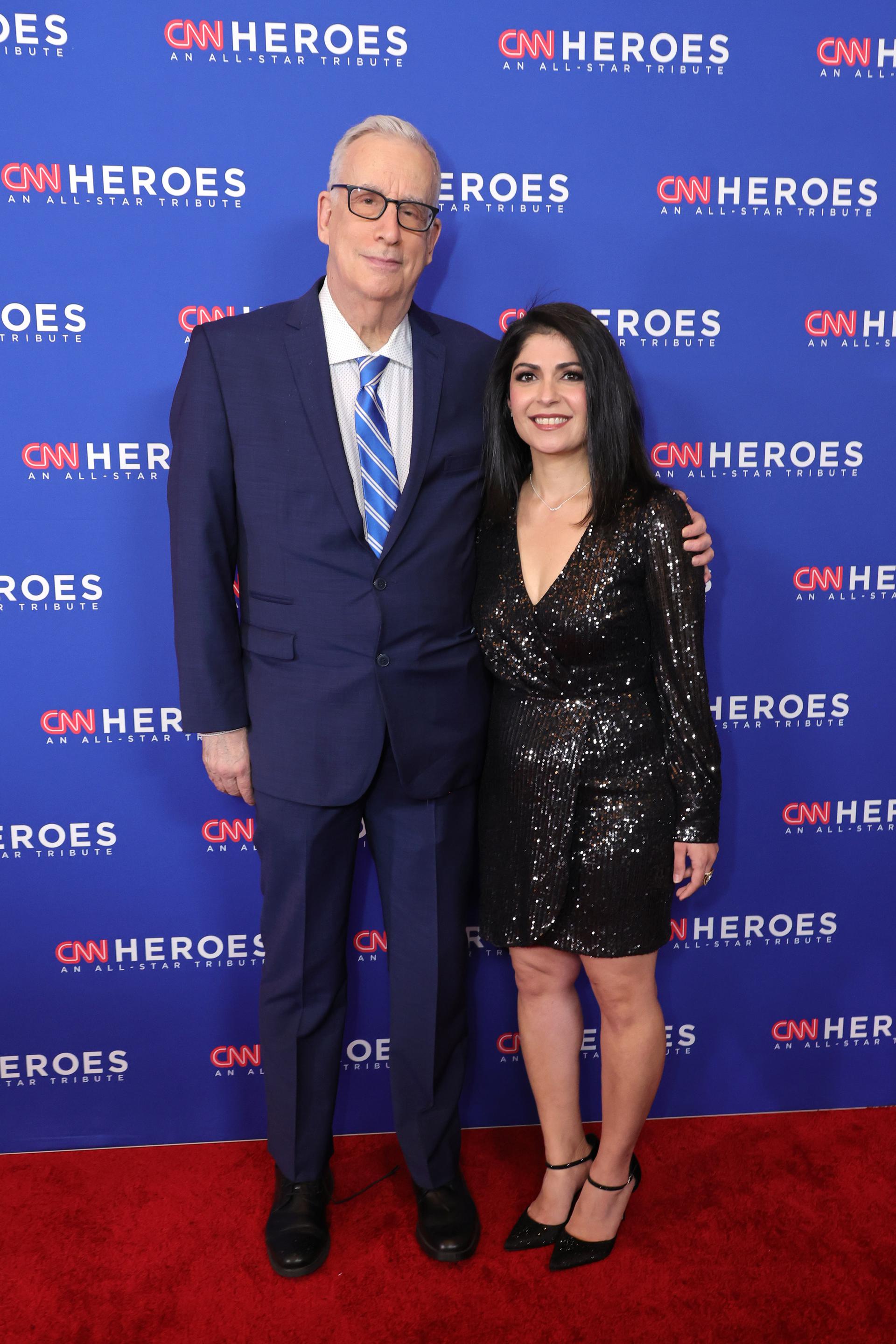 Roth and Jafari attend the 16th annual CNN Heroes tribute show in December. (Randy Brooke/Getty Images)
What first drew you to journalism?
I come from a family that follows the news. I was born in Iran, and I immigrated with my parents here. For us, and a lot of immigrants, news is an incredibly important thing — especially if where you're from doesn't have a free press or access to information. I can't remember a night that I had dinner with my parents and Peter Jennings or CNN wasn't on. We were always concerned about what was going on abroad, so for me, news has always been in the backdrop of my life.
I wasn't even seeking it professionally. It was my first day going to orientation at the University of Georgia, where I picked up The Red & Black student newspaper. I was blown away. I couldn't believe that students were producing a daily newspaper that was holding power to account. There was a story about university administration spending, crime stories, stories about the local economy and what was going on at city hall. I found it so impressive that people so young were doing such high-impact work. A few weeks later, I just walked in and I asked to be able to be a part of it. When I got my first byline, my roommate cut it out and put it on our dorm door. I loved the experience of seeing people the next day open up the paper and look at my story while I sat on the bus. I just had a kind of natural curiosity and drive for it. The rest is history.
How did your parents feel when you decided to become a journalist?
I didn't know until very recently how proud yet worried for me my parents were. We cover things that can be risky and dangerous. When you call power to account — when you call anyone to account — you're opening yourself up to criticism, scrutiny and anger. I think my parents have always been proud, but we didn't have any experience with this kind of exposure. I had an extremely humble upbringing with a very low profile, so I think that made them nervous for me, but I was an adult with two grown children before that was even expressed to me. 
Before you joined the CNN Investigates team, you were executive editor of The Row. Can you walk me through those parts of your journey at CNN?
The Row is the editorial clearinghouse for CNN. My favorite part was getting to work with virtually every unit, every journalist at CNN. To be able to offer them guidance and help them make their stories the best that they could be was such a privilege. What brought me to CNN Investigates was that I missed being part of the initial launch of the story. When on The Row, you're getting the story when it's basically finished. You review it and make sure it's sound and ready to go. I wanted to experience the part of a story where you have that great nugget of an idea that could make an impact or even change lives. To be part of that from the front end, and to get a chance to grow a story and work with reporters who are digging deep and investing time into high-impact journalism, was just too appealing. As much as I loved The Row, I couldn't resist the opportunity to join the investigative team.
What kinds of stories do you get really excited about working on?
It's hard to choose. The things that I'm most proud of are holding power to account and giving a voice to the voiceless. 
One of the projects I'm glad to have worked on as an editor was investigative reporter Majlie de Puy Kamp's story on how marginalized communities in the South are paying the price for "green energy" in Europe. Bottom line, the EU was able to claim carbon neutrality because they weren't cutting trees in Europe — but they were cutting trees in Black communities in South Carolina. That story was underreported. That was a community that was not given proper attention. Majlie's story truly drew attention to the issue and called into question these moments we celebrate in climate change. Is this a moment for celebration when, behind the scenes, someone is suffering to allow you to celebrate? That was one of the most compelling stories I've ever had the privilege of working on.
I was also extremely proud of our Emmy-nominated project about the riot at the US Capitol on January 6, 2021. We decided to tell the story through the journeys of the people who showed up at the Capitol, which was such an extreme act, to understand how that happened. What we found was very surprising. 
"It felt really nice to try to help someone fix a really important problem."

- Samira Jafari, deputy managing editor for CNN Investigates
What made you answer Richard Roth's email on September 8, 2021?
I don't like feeling helpless. I like to fix problems that are in front of me if I can. There are a lot of things in the world right now that you just can't fix, but this was right in front of me and I thought: "I can do this. What are we going to do, not help him?" He needed a kidney, and I was very healthy. You never know, but you can always try. It felt really nice to try to help someone fix a really important problem. I always joke that, yes, he physically needed this kidney, but I needed to do something like that — to feel like there's still a lot of good we can do and a lot of different ways we can contribute. What I didn't expect is what a bond that gives you — because, we didn't really know each other, and he's like family now. It was really a rewarding experience.
Looking back now, how did saving a life change your own?
Day to day, it hasn't. I still come to work every day, raise my kids, play with my dogs and travel. However, it does give me a perspective when things get challenging. At the end of the day, you get this one life — and that gives me a little sense of calm. Do you really need to fight that battle or do you really need to worry about this? Life is short, and I'm really glad that Richard got an extension on his.
➡️ Learn how to become a living organ donor
Recently, he was telling me that he was taking his first vacation in several
years. I'm so glad he's taking some well-deserved time off. If I had any part in that, it was worth it. My scars have all but faded, and I actually forget about it most days — in a good way!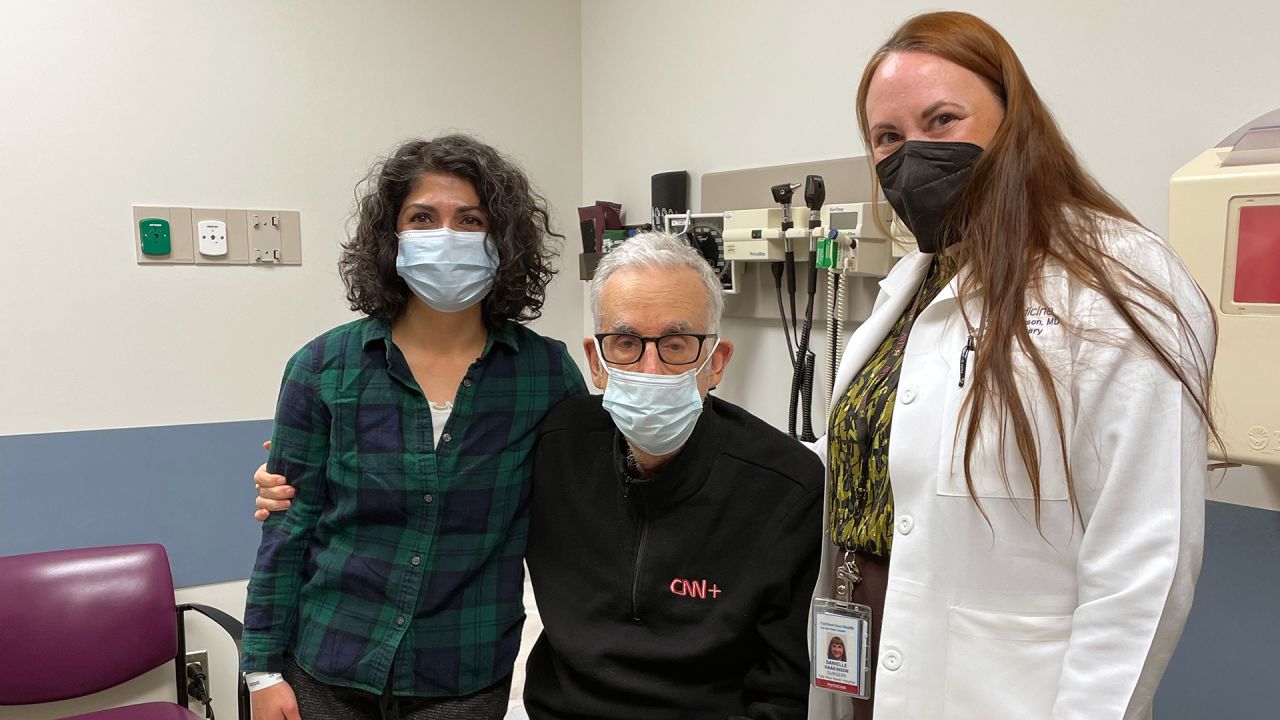 Jafari and Roth pose with a member of their transplant team, Dr. Danielle Haakinson.
What are you enjoying working on right now?
Besides getting to help shepherd stories that hopefully make change and make impact, I really love to think about how we can tell stories in different ways. The way we consume news is changing, and it doesn't have to be a scary time. It can be a really exciting time. We have such amazing stories, and the audience engagement aspect is not an afterthought for me. It's very much a relevant part of the journalistic experience right now — not just thinking about what story to tell, but how you tell it and how you have your audience consume that information in a meaningful way. I'm always trying to think of different ways we can reach audiences with our reporting. I'm so passionate about it that I'm actually going to graduate school at the University of Georgia in the Emerging Media program. I want to learn more about the innovation and the future of digital storytelling, so I'm always trying to think of ways to do that in approachable and engaging new ways, and experimenting and taking risks with that.
Do you have a favorite memory from working at CNN?
My dad is a huge Wolf Blitzer fan, and there was a time pretty early in my career when he was actually in the Atlanta newsroom. I don't typically take photos with the anchor talent around here — we try to treat them respectfully as colleagues — but my dad's a big fan. He never misses "The Situation Room." I was so shy, but eventually a colleague went up and tapped Wolf on the shoulder and just told him, "Samira really wants a photo of you so she can show her dad." He stopped and he took multiple shots to make sure we got the best one for me to pass along. I thought that was such a great CNN moment, because while we have some of these world-renowned people on air who are hugely talented and extremely busy, you can still have those humbling family moments where they'll stop and help out a fan.
💳   CNN insider rec of the week
Brought to you by CNN Underscored
Samsung's new flip phone is seriously impressive — and we got to try it. The Galaxy Z Flip 5 improves on our favorite foldable phone with a larger cover screen, a faster processor and improved durability. Read our full review.
💳  Sponsor Content by CompareCards
✍️ we want to hear from you
Got an idea for this newsletter? Let us know what you'd like to read about or what you've enjoyed so far. You can reach the team at insidecnn@cnn.com. We look forward to hearing from you. 
- Edited and produced by Kyle Almond, Tricia Escobedo and Kimberly Richardson
INSIDE CNN
An exclusive inside look with your free CNN account