Tonight: The Ozempic craze is having a macroeconomic effect. Plus: Economists are betting on a government shutdown this year, and Americans are demanding higher wages than ever. Let's get into it.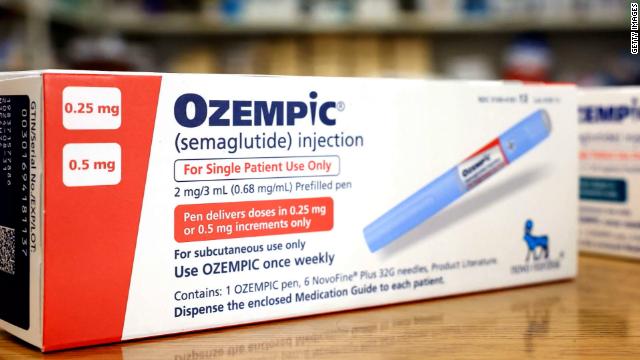 Ozempic and Wegovy are such blockbuster drugs, they're actually lowering interest rates in Denmark. 
Here's the deal: Novo Nordisk, the pharmaceutical company behind the diabetes and weight-loss medications, has raked in about $7 billion in profit in just the first six months of this year, up 32% from the same period in 2022.
That's 49 billion Danish kroner flowing into the economy of Novo Nordisk's homeland, Denmark, pushing up the value of its currency, my colleague Anna Cooban reports. 
In response, Denmark's central bank has kept interest rates below those set by the European Central Bank to keep the krone stable against the euro. 
The result: Some homeowners in Denmark are paying lower rates on their mortgages than their peers elsewhere in Europe.
"It's extraordinary that one company is driving such a big part of growth and the trade surplus in Denmark," Jens Naervig Pedersen, a director at Danske Bank, told CNN. "We've had other big companies over the years but not one that's able to make such a big positive influence on the economy."
BIG PICTURE
Wegovy and Ozempic are basically the same drug — semaglutide — with different branding. (Ozempic was developed to treat diabetes but is often prescribed off-label for weight loss. Wegovy is approved specifically for weight loss). And even though the drugs cost about a grand a month out-of-pocket, Americans can't seem to get enough of them. 
That is propelling Novo Noridsk to new heights. The company's shares have soared 34% since the start of 2023, giving it a market capitalization of $322 billion. It's now the third most valuable company in Europe. 
And the boom times may be just getting started. Novo Nordisk now expects profits to grow by as much as 37% this year, much higher than the 19% rise it forecast in February.
In other pharma news:
American workers have a message for employers: Pay up.
A new Federal Reserve Bank of New York survey shows that job seekers' average "reservation wage" — the lowest pay they'd be willing to take for a new job — climbed to a record high of $78,645 in July, up nearly 8% from July of last year. 
"It largely explains what we've been seeing during this summer of strikes and unions pushing for higher wages," said Julia Pollak, chief economist for online job marketplace ZipRecruiter. "And, of course, wages follow inflation, and part of the reason that workers are expecting higher wages is because prices have risen 17.5% since the pandemic."
While reservation wages rose for workers across the board, some groups' demands are significantly higher than others, my colleague Alicia Wallace writes. 
College graduates won't budge for less than $98,644. Men in general want $91,048.
Women's reservation wages set a record as well, but at $66,068 — $12,500 below the average and nearly $25,000 below men's expectations. Ladies! What's going on?
Here's Pollak: "The fact that women are earning 84% of what men earn but expect only 73% suggests that perhaps the media narrative makes women expect even less and that perhaps we are not preparing young women for the workforce adequately. Perhaps we're sort of worrying women into thinking they'll automatically make less, when that's just not true anymore."
Just months after narrowly skirting default, lawmakers in Washington are once again drawing battle lines over the budget.
Tl;dr: Goldman Sachs economists say a government shutdown this year looks "more likely than not." And hardline House Republicans are already warning they won't back a short-term spending bill unless they get major concessions that have zero chance of passing the Senate.
"The ingredients for a shutdown — a thin House majority, a dispute on spending levels and potential complications from various political issues — are present," they wrote in a report Sunday. 
Congress isn't scheduled to return to Washington in full until the middle of next month. Government funding is slated to expire September 30. That's not a lot of time to hammer out a continuing resolution to keep the lights on.
To be sure, a government shutdown is a picnic compared with the financial armageddon that's expected if the US were to default on its debt. In a shutdown, federal workers would be furloughed, but the government would keep paying benefits like Social Security and, critically, interest and principal on US debt.
A shutdown would be "much more manageable from a macroeconomic perspective," the Goldman economists write. 
That's good news and bad, my colleague Matt Egan writes.
The bad news is that because the economy can handle a shutdown, there's less pressure on politicians to reach a compromise.
BOTTOM LINE
A shutdown is largely an annoyance, but it's a symptom of deeper dysfunction that allowed the US to once again flirt with default earlier this year. The chaos wrought by GOP hardliners in the debt-ceiling fight was part of the reason Fitch Ratings decided to downgrade US debt earlier this month.
It's a messy unforced error at the heart of the US government. 
And while financial markets were largely unfazed by the last federal shutdown in 2019, real people — including roughly 800,000 federal workers — missed a month's worth of pay. 
📉 China surprised investors by deciding not to cut an important interest rate that influences mortgages, in a move that economists say will make it tough to revive confidence in the country's troubled real estate sector.
📈 Shares of Zoom jumped in after-hours trading after the company said it expects to rake in stronger-than-expected earnings in the rest of this fiscal year.
🛋 Ikea is opening a new store in downtown San Francisco, bucking the trend of retailers closing in the city.
🤖 California authorities asked General Motors to immediately take some of its Cruse robotaxis off the road after autonomous vehicles were involved in two collisions last week in San Francisco.
Last updated August 21 at 7:00 PM ET