Tonight: Gina Raimondo's tightrope walk through China. Plus: American Airlines just got slapped with a fee for leaving passengers on the tarmac too long, and Rite Aid is on the bankruptcy watch list. Let's get into it.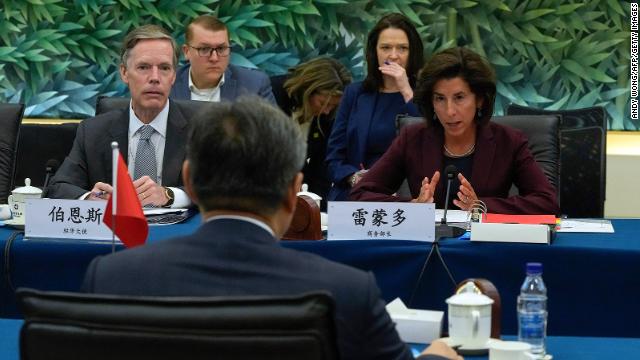 Gina Raimondo has an impressive résumé. Lawyer. Rhodes scholar. Venture capitalist. The first female governor of Rhode Island. And now, as US Commerce Secretary, she is getting thrown into the deep end of high-level global diplomacy. 
Here's the deal: Raimondo arrived in China on Sunday for the start of a four-day marathon of meetings with both American business leaders and Chinese government officials. While she's the fourth Biden administration official to visit China in the past few months — Secretary of State Antony Blinken, Treasury Secretary Janet Yellen and climate envoy John Kerry also made trips — her mission is an especially complex one. 
Raimondo is trying to pull off two somewhat contradictory missions:
1️⃣ Strengthen US business ties with China, a vital market that has become increasingly hostile toward foreign corporations operating within its borders.
2️⃣ Defend her department's strict trade restrictions aimed at protecting US national security, which Beijing happens to be really ticked off about at the moment. 
So far, at least, there are some signs of progress.
Raimondo said Monday that she and her counterpart, Commerce Minister Wang Wentao, had four hours of "very open" discussions and came away with an agreement to create a "commercial issues working group" — basically a twice-a-year gab sesh among American and Chinese officials to try to work through their issues.
That may seem small, but agreeing to talk more openly is a huge step in the context of US-China diplomacy at the moment.
Some background: The US-China relationship was already tense when, in October last year, Washington banned Chinese companies from buying certain American-made semiconductors and chip-making equipment, citing national security concerns. Those chips, which can't be obtained elsewhere, are crucial for advanced weapons systems that Washington doesn't want in the hands of the Chinese military. The US then persuaded European and Japanese chipmakers to impose similar curbs.
And thennnnnn in February the US shot down a suspected Chinese spy balloon off the coast of South Carolina, ushering in a full-blown diplomatic crisis. And despite all the visits from Biden's Cabinet members, there hasn't been much thawing of those frozen ties. 
What now?
Raimondo has some extra leverage right now because of the dire state of China's economy, and she can use that to secure better market access for American companies. She's also expected to get an earful from Beijing reps over her department's export controls, my colleague Laura He writes.
"Beijing's principle objective will be securing a reprieve, however temporary, from the onslaught of US export controls and other restrictions being levied on China's economy," said Craig Singleton, senior fellow at the Foundation for Defense of Democracies, a Washington think tank. 
Ultimately, the US wants a stable Chinese economy almost as much as Beijing does. American companies have huge manufacturing networks in China, and they rely on sales to Chinese consumers. The US imports more from China than any other country. Last year, even with a lingering trade war, trade in goods between the two countries hit an all-time high of $691 billion.
READ MORE:
📉 Shares of Evergrande Group, the deeply indebted Chinese real estate developer, plunged more than 70% Monday when it resumed trading following a 17-month suspension.


💸 China announced a series of moves to restore investor confidence, including cutting a tax on stock trading for the first time since 2008. The news briefly jolted Chinese stocks, but it wasn't enough to shake investors' concerns about the country's real estate crisis and slowing growth. 
The Department of Transportation slapped its largest-ever fine — $4.1 million — on American Airlines for keeping passengers waiting on the tarmac for hours.
Between 2018 and 2021, 43 flights experienced hourslong delays that impacted more than 5,800 passengers, according to the department. The worst of those was an August 2020 flight in Texas, in which 105 passengers waited on the tarmac at Dallas-Fort Worth for six hours and three minutes. (Federal rules put the maximum time passengers can be held without the opportunity to get off the plane at three hours for domestic flights and four hours for international flights.)
Rite Aid shares have been swinging wildly on reports of its impending bankruptcy. The stock fell more than 50% on Friday, then soared as much as 23% midday Monday. At the closing bell, shares were up 8% — `still down more than 75% for the year.
Here's the deal: The stock hit an all-time low of 71 cents on Friday after The Wall Street Journal and Bloomberg News reported that Rite Aid was preparing to file for bankruptcy in order to hit pause on a wave of lawsuits over its alleged mishandling of opioid sales.
Rite Aid faces more than 1,000 state and federal lawsuits that allege it contributed to the US opioid epidemic, which has killed at least 760,000 in the last 24 years. 
The Department of Justice sued Rite Aid in March, claiming that the pharmacy knowingly processed "unlawful prescriptions for controlled substances." The company has denied the allegations and asked a court to dismiss the DOJ lawsuit.
Filing for bankruptcy would allow Rite Aid to essentially hit pause on all of those lawsuits and give it a path to restructure its $3.3 billion debt, including any legal liabilities. 
Rite Aid said Friday that it "does not comment on rumors and speculation."
BIG PICTURE
Rite Aid would hardly be the first company to be bankrupted by litigation relating to the opioid epidemic. 
Purdue Pharma, the Sackler family-owned company behind OxyContin, filed for bankruptcy in 2019. Another drugmaker, Endo International, filed for bankruptcy last year. And just today, Bloomberg reported that drugmaker Mallinckrodt declared bankruptcy for the second time in three years.
Purdue, Mallinckrodt and Endo each reached settlements of their opioid claims in bankruptcy, worth an aggregate total of more than $8 billion, that allocated more to opioid plaintiffs than to other unsecured creditors.
Much of that money, however, hasn't been paid as the companies work through legal and financial challenges using chapter 11. 
Last updated August 28 at 7:00 PM ET