Tonight: A look at Maui's devastated economy. Plus: Inflation continues its cooldown, and AI is still a big messy copyright infringement tool. Let's get into it.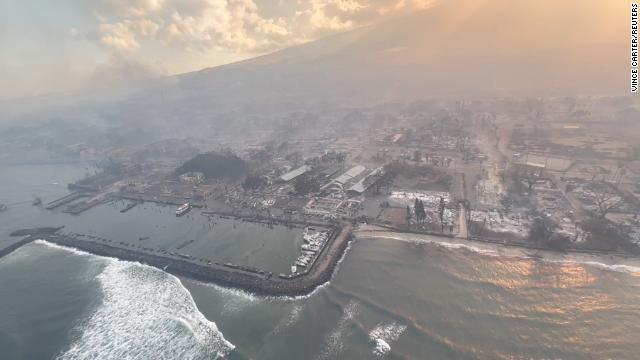 At least 36 people have died in the Maui wildfires. Homes and businesses have been wiped out, and thousands of people are still without power and cellphone service. (My CNN colleagues are chronicling all the latest developments here. If you're looking for ways to help with relief efforts, CNN has information here.)
While it could take months to assess the economic impact of the fires, the devastation is hitting Maui at an especially difficult time. Maui, the state's second-most visited island after Oahu, was just beginning to see its tourism numbers bounce back from the pandemic-era drop-off, my colleagues Nathaniel Meyersohn and Ellie Stevens write. 
See here: 
About 80% of Maui's economy is composed of tourist spending. That means $4 of every $5 the island generates comes directly or indirectly from tourism, according to the Maui Economic Development Board.

Tourism accounts for 75% of all private-sector jobs on the island. 

Maui charges some of the highest hotel and resort rates in Hawaii, and local governments count on taxes on those hotels to reinvest in the community. 
Maui's tourism and spending numbers this year had just started trending above its pre-pandemic levels.
In 2019, 3.1 million people visited Maui. But that figure fell to 793,000 in 2020. A year later, 2.3 million people visited. Last year, the number reached 2.9 million.
Tourists had also been spending more money than before. For the first half of 2023, total visitor spending was $3.5 billion, a 33% increase from 2019.
As of this week, all of that is grinding to a halt. Authorities have urged tourists to leave and advised anyone traveling in the next few weeks to reschedule.
RELATED:
Despite a slight uptick in the headline reading of the Consumer Price Index, core inflation continued its cooling streak last month, cementing expectations that the Fed will hit pause on interest rates. 
Prices overall rose 3.2% on an annualized basis, up from June's 3% annual increase. But economists cautioned that the headline figure is measured against July 2022, when inflation turned negative. 
"Don't be fooled by the uptick," said Julia Pollak, chief economist with employment site ZipRecruiter. "Inflation is slowing and doing so across a broader range of goods and services."
Core CPI, which excludes the more volatile food and energy prices, increased 0.2% between June and July. Annual core inflation ticked down to 4.7% in July from 4.8% in June — the fourth consecutive month that annual core CPI has eased.
Also notable: The rising cost of shelter represented 90% of last month's inflation
As a person who ultimately hates doing tasks, I really want AI to work. I want AI to relieve me of the monotony of emails and Slacks and folding laundry so that I may instead spend my time swimming in lakes and reading novels. 
But as a writer who values her work, I am also terrified of AI, for all the reasons laid out by my colleague Clare Duffy's story about the author Jane Friedman. 
Here's the situation: Friedman says that one of her fans found several books on Amazon that appeared to be written by Friedman. They had similar titles and subjects. But they read like crappy imitations. 

"It was just obvious to me that it had been mostly, if not entirely, AI-generated," she said. 

Artificial intelligence tools like ChatGPT are essentially big content vacuums that suck up text from the internet and then, when prompted, regurgitate that information in way that is eerily convincing. In theory, you could ask a bot to write a love story in the style of Allison Morrow's Nightcap newsletter and it'd probably do a decent job imitating me. (Side note: please don't report me to the bots, I really need this gig.) 
And sure, often you can squint and see that the AI version has gotten a fact or two wrong, or made a leap in logic. But those bugs are getting worked out, and soon even the telltale AI quirks may impossible to spot. 
Amazon removed the fakes posing as Friedman's and said the incident is under investigation. So that's something.
But I, like Friedman, worry about a whack-a-mole approach that relies on writers to report their own impostors. 
"What's frightening is that this can happen to anyone with a name that has reputation, status, demand that someone sees a way to profit off of," she said.  
Read Clare's full story for more on what authors are doing to protect their work. 
📝 After a 100-day strike, the Writers Guild of America and Hollywood studios have agreed to resume negotiations. 
👛 Tapestry, which owns Kate Spade and Coach, is acquiring Capri Holdings, the parent company of Michael Kors and Versace, in an $8.5 billion deal.
📱Linda Yaccarino, the CEO of X (formerly Twitter), said the company is keeping an eye on new competitor Threads, despite the sharply slowing growth of the rival app from Meta.
🇷🇺 The founder and former CEO of Russia's largest internet company, Arkady Volozh, slammed Vladimir Putin's "barbaric" war in Ukraine, becoming one of the most prominent Russian businessmen to express criticism of what Russia still calls a "special military operation."
Last updated August 10 at 7:00 PM ET