Tonight: The Bob Iger sequel is off to a rocky start. Let's get into it.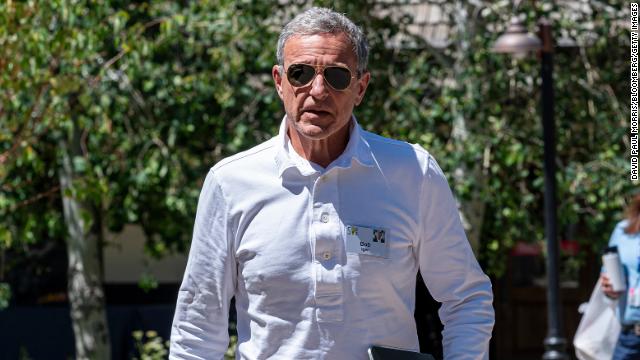 When Bob Iger returned to the helm of Disney nine months ago, after a brief retirement, the company and its shareholders seemed to breathe a collective sigh of relief.
Finally, Dad was back to get everything in order. He signed on for a two-year contract — plenty of time to execute on his two-prong mission of shoring up Disney's stock price and lining up a new successor.
It's not going quite as planned.
"In some ways, the challenges are greater than I anticipated," Iger told CNBC in a revealing interview last month.
His two-year turnaround timeline has been extended to four (at least), a recognition by the board that even Iger — a veteran Hollywood power player who orchestrated modern-day Disney's biggest successes — won't be able to Mary Poppins his way out of this mess.
Disney's stock is flat for the year, and is off more than 55% from its 2021 peak. Rivals Comcast and Warner Bros. Discovery (CNN's parent company) are up 30% and 50%, respectively, this year. When Disney reports earnings tomorrow, analysts expect tepid top-line growth, with revenue coming in just 3% higher for the third quarter.
Trouble in the House of Mouse
Many of Disney's problems come with the territory of running a sprawling media conglomerate in 2023: The once-lucrative tent pole of linear TV is rapidly crumbling, while its theoretical replacement, streaming, is burning through cash. Interest rates are taking their toll. Audiences are growing bored with the same mix of superheroes, spinoffs and sequels. 
But under Iger 2.0, Disney has cultivated even more headaches for itself, including a morale crisis sparked by one surprisingly candid interview with CNBC on July 13.
Iger was already getting called out for attending the Sun Valley conference, a confab known as the "summer camp for billionaires," after laying off some 7,000 people across the company to save money. But instead of lying low, Iger went on TV and, against the backdrop Idaho mountains under a pink sky, absolutely wrecked his comms team's week.
In the interview, Iger told journalist David Faber that Disney's non-ESPN linear assets, which include ABC, the Disney Channel, FX and National Geographic, "may not be core," and that the traditional TV business model was "broken."
Translation: We might be looking to sell our linear assets.
Naturally, the comments set off alarms within Disney General Entertainment Content, the division that operates Disney's broadcast and cable networks.
A few days after the Faber interview, Iger tried to smooth things over at an off-site meeting with senior managers. It wasn't a slam dunk. As one Disney insider told CNN's Oliver Darcy, Iger gave "the usual jewel in the crown stuff — except now we know that he's selling the jewel."
In the same CNBC interview, he also made some enemies within the ranks of the 160,000 Hollywood writers and actors who are now on strike, calling their actions "frankly, very disruptive."
If Iger can't, who can?
Disney, the home of countless trademarked tales of superheroes saving the day, tapped Iger for a second term because of his stellar track record. It was Iger who scooped up Lucasfilm, Marvel Entertainment and Pixar Studios — Disney's three most important content engines.
If the Iger magic worked before, surely it'll work again, right?
The trouble is, the media landscape of 2023 is nothing like the one he left when he handed the CEO reins to his successor, Bob Chapek, in early 2020.
Weeks after Chapek took over, the Covid-19 pandemic forced Disney to shut down its theme parks around the world. Its cruise ships docked. Movie production halted. Its only life raft during the pandemic was its Disney+ service, which rapidly added subscribers as people were locked down at home. Chapek bet on low subscription prices to accelerate sign-ups, but he burned through cash in the process. While Disney has narrowed losses on streaming, the business remains unprofitable and faces serious competition from rivals.
Iger's mandate to "set the strategic direction for renewed growth" while grooming a successor was a tall order from the outset. Extending the deadline signals the board still clearly believes in the power of Iger.
No one was expecting Iger to solve everything all at once. But Disney appears to be all-in on the boss, even though the sequel almost never lives up to the original.
Americans' credit card debt levels have just notched a milestone. But not one to celebrate.
For the first time ever, the total figure surpassed $1 trillion, according to data from the Federal Reserve Bank of New York. The reasons aren't terribly surprising: Inflation and interest rates have been, and remain, painfully high. 
"Unfortunately, it's only going to go up from here," said Matt Schulz, chief credit analyst for LendingTree.
Regulators just slapped a bunch of Wall Streets firms with the most easily avoidable fees ever.
Here's the deal: The Securities and Exchange Commission said it uncovered "pervasive and longstanding 'off-channel' communications" at Wells Fargo, BNP Paribas, SG Americas, BMO Capital Markets, Mizuho Securities, Houlihan Lokey, Moelis, Wedbush and SMBC Nikko Securities America.
The cost of a bunch of bankers talking shop over WhatsApp: $289 million.
Which is just a reminder: Try not to fall asleep during the compliance overview at orientation. Those SEC violations really add up! 
According to the SEC, those firms admitted that from at least 2019, employees often communicated about business through WhatsApp, iMessage, Signal and other messaging platforms on their personal devices, my colleague Matt Egan writes. 
The SEC said the firms violated federal securities laws by failing to maintain or preserve the "substantial majority" of these communications.
The settlement is the latest in a broader crackdown by regulators into how the industry failed to maintain and preserve electronic communications by using personal devices.
Last updated August 8 at 7:00 PM ET