Tonight: China's dip into deflation territory has economists and investors on edge. Plus: Jersey is now officially the only state that won't let you pump your own gas and the reason why is, well, very silly. Let's get into it.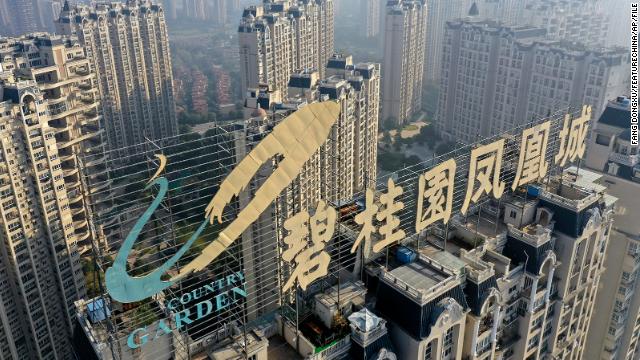 Around the world, especially in the West, the economic headache of the past two years has been inflation — the broad surge in prices of consumer goods and services. 
But in China, where Covid lockdowns were much longer and more intense, the opposite problem — deflation — has emerged, my colleague Laura He reports. 
Here's the deal: Chinese consumer prices, which have been largely flat for the past several months, fell for the first time in more than two years. Consumer prices, after rising only mildly in recent months, fell 0.3% in July.
In short, people aren't buying things, and businesses aren't expanding. That is a red flag for a country whose pandemic recovery just got started this year.  
Most developed economies in the West emerged from Covid lockdowns with a bang — people had money they were eager to spend after being cooped up for months. Americans basically kept the economy humming with revenge spending on flights, concert tickets and restaurant splurges.
Of course, higher demand means higher prices, and, as we know all too well, that created its own problems.
But inflation ultimately reflects a strong economy with lots of demand.
A deflationary spiral, like the one Japan suffered in the 1990s, makes it harder for borrowers to pay down debt. (Inflation, of course, has the opposite benefit of making it easier to pay down debt.) When prices on assets like housing fall across the board, people tend to hoard cash. Banks also lose when the value of the collateral backing loans falls, and that can lead to a credit crunch. That depresses growth further, dragging down demand, weighing on prices, and so on. 
Why deflation is especially bad news for China
The property market has for decades been China's most important economic engine, accounting for as much as 30% of the country's GDP.
But many major developers have racked up huge debts, sparking a wave of defaults across the industry. Two years ago, the real estate giant Evergrande sent global markets falling over fears it would default on its mountain of debt. Now, another major developer is in trouble. 
Shares of Country Garden, once China's largest developer, have plunged 60% this year, and worries about its solvency began spiking this week after it reportedly missed interest payments on two US dollar-denominated bonds.
Although Country Garden still has a 30-day grace period before it can be labeled as a defaulter, the collapse in market confidence shows investors are worried about the company's future. 
"If Country Garden, the biggest privately owned developer in China goes down, that could trigger a crisis in confidence for the property sector," said Edward Moya, a senior market analyst for Oanda.
See Laura's full report for more. 
RELATED:
Americans are tapping their 401(k) accounts because of financial distress at an alarming rate. 
According to Bank of America data released Tuesday, the number of people who made a hardship withdrawal during the second quarter surged to 15,950 in the second quarter — a 36% jump from the second quarter of 2022.
That's a troubling sign.
However, overall employee contributions continued to hold steady for the first half of the year, and a greater share of participants increased their contribution rate than decreased it.
"The data from our report tells two stories — one of balance growth, optimism from younger employees and maintaining contributions, contrasted with a trend of increased plan withdrawals," said Lorna Sabbia, head of retirement and personal wealth solutions at Bank of America. "This year, more employees are understandably prioritizing short-term expenses over long-term saving." 
There's a dread that grips me every time I find myself driving with less than half a tank of gas through (rarely to) the Garden State. 
Don't run out of gas, don't run out of gas, please please please. 
For the uninitiated: The State of New Jersey doesn't let you pump your own gas. Like, it is illegal and gas stations can incur fines if they're caught letting people do it. I mean can you imagine — drivers getting out of their vehicles putting gasoline in their own tanks? What is this, every other state in America? And most places around the world? 
And now, Jersey is officially the only state in the union to have this rule, since Oregon joined the 21st century and lifted its ban on self-service stations last week.
Now, you might be thinking the good people of New Jersey have some reason for this, like, I dunno, it benefits workers or the gas station industry in some way. But you'd be wrong. 
The industry actually hates it, especially in the past few years when hiring gas station attendants has been difficult. Industry groups regularly lobby for it to be repealed. 
So if it's not for workers, who's it for, exactly?
The answer is a broken people.
As my colleague Nathaniel Meyersohn writes: "New Jersey's self-service ban, along with the state's reputation for lower gas prices than its neighbors, is part of its culture." 
Yes, Jersey culture is why I sometimes have to pull into a gas station, roll down my window, hand my credit card to a nice attendant who always smiles at my dog, and suffer the indignity of having someone put fuel in my gas tank. (Honestly: Is the process unpleasant? No, not usually. But stick with me...)
"Jersey Girls Don't Pump Gas," proclaims a popular bumper sticker in the state. (Because when your only other cultural touchstones are Mike "The Situation" Sorrentino and highways with dumb little loop-de-loops designed to flummox outsiders, you brag about gas station service.)

The ban on self-service dates to 1949, a time when gas stations used to make their money by offering more complex services such as oil and battery checks and basic repairs. As self-service took off across America, full-service station owners began playing up safety hazards, arguing that untrained drivers would overfill their tanks and start a fire. By 1968, putting fuel in your own car was banned in 23 states.
Of course, times and technologies changed, and by the early 90s, most gas stations were self-service. We've all agreed as a society not to smoke cigarettes or leave our engines running while we do this, and it's been going pretty well. 
But the Jerz is holding out, and it's not likely to change anytime soon.
The state's governor, Phil Murphy, actually called the self-service question "sort of a political third rail in New Jersey." And a Monmouth University poll last year showed that 60% of New Jersey residents oppose a policy that would allow stations to go fully self-service. 

"Being the last full-service-only state in the country seems to be a source of pride for many New Jerseyans," said Patrick Murray, director of Monmouth's polling institute. 
Ah, Jersey. Bless your weird little heart. 
Last updated August 9 at 4:00 PM ET