Tonight: China is pulling from a risky playbook when it comes to bad econ data. Plus, the 'Big Short' investor whose portfolio shakeup has everyone talking. Let's get into it.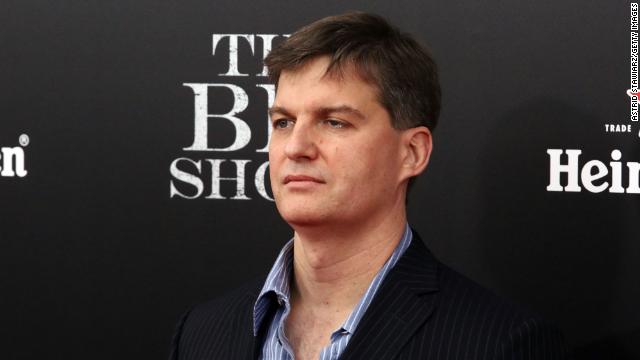 There aren't many names from the world of Wall Street that reach mainstream fame, but there are a handful of prominent investors who can command a room, or a news cycle, whenever they take a big risk. You've got your Warren Buffetts, your Bills Gross and Ackman, your Carl Icahns. And, for the past decade or so, your Michael Burrys.
For the uninitiated: Burry is famous for shorting the housing market before the 2008 crash — a wild wager on a collapse that few saw coming. 
Burry (played by Christian Bale in the 2015 movie "The Big Short") minted a cool $100 million for himself and $700 million for his hedge fund. 
So it shouldn't be a surprise that when The Michael Burry bets big against the stock market, folks on Wall Street (along with Burry's many social media fans) pay close attention. 
Here's the deal: Burry revealed in regulatory filings Monday that he has placed a $1.6 billion bet on a Wall Street crash, my colleague Nicole Goodkind reports.
Burry's fund, Scion Asset Management, bought $866 million in "put" options — that's the right to sell an asset at a particular price — against a fund that tracks the S&P 500, and another $739 million against a fund that tracks the Nasdaq 100.  All told, Burry is using more than 90% of his portfolio to bet on a market downturn. 
To be clear, the $1.6 billion figure represents how much it would cost to exercise those options — not what Burry spent on them. The nuance has to do with the way the SEC requires options to be reported, using the notional value of the underlying shares rather than the value of the contracts. For more on that, here's a helpful X thread.) 
Put simply: We don't know from the SEC filings what Burry spent on the options, but it was less than $1.6 billion. 
Nuance aside, it's still a big, breaking-with-the-herd wager that sparked a lot of chatter this week. 
Considering that the S&P 500 and Nasdaq 100 have both been on a tear this year, it may seem like a head-scratcher. The S&P 500 is up 16% and the Nasdaq has surged nearly 40% this year. 
Not everyone is sold on Burry's prescience, of course. 
"Michael Burry has predicted 72 of the last 5 recessions," quipped one user on X. 
To wit: Back in January, as inflation was trending down, Burry forecast another spike in consumer prices and said he believed the US was already in a recession — neither of which turned out to be accurate. At the time, he tweeted a single word — "sell" — to his 1.4 million followers. A few months later, he backtracked, writing: "I was wrong to say sell." 
Also notable from Scion's disclosure: The fund dumped shares of US regional banks, including First Republic, PacWest and Western Alliance. Burry also reversed course on Chinese stocks, selling his shares of JD.com and Alibaba, just months after doubling down on them.
While one big payoff doesn't guarantee future returns, Burry does have a strong investment record. Traders following the investments disclosed by Scion over the past three years would have made annualized returns of 56%, according to an analysis by Sure Dividend. Over the same period, the S&P 500 had annualized returns of about 12%.
Hawaiian Electric Industries' stock plummeted another 30% Tuesday after S&P Global downgraded the company's credit rating to junk. Since August 8, when Maui's devastating wildfires began, the utility's shares have fallen nearly 60% since the wildfires broke out on August 8. 
The rating agency knocked the utility's grade down to BB- in response to a class action lawsuit that blames its energized power lines for causing the fires. S&P Global said the wildfires have placed the company at a higher risk, and that there is a potential for further credit downgrades.
See also: My colleague Catherine Thorbecke has a heartbreaking story about the agony wrought by the wildfires in her mother's hometown of Lahaina: "We just went through a nightmare, and we're about to go through another nightmare trying to, basically, not stay homeless."
China's central government is tired of getting bad economic news. Its solution: Just ignore it. 
Here's the deal: Beijing was supposed to release its monthly data on joblessness among young people on Tuesday. No one expected good news, as youth unemployment in China has been hitting consecutive record highs in recent months, adding to a litany of bad news for the world's second-largest economy. 
Instead, authorities just skipped it. 

The National Bureau of Statistics said it wouldn't release the July data because the methodologies "need to be improved," my colleague Laura He reports. A spokesperson said people have different views on "whether the students looking for jobs before graduation should be included" in the data. 
The NBS will now conduct "in-depth research" and release the data ... sometime. The spokesperson didn't give a time frame. 
"What they really meant to say is, the current data is too ugly, let's not look at it for now," wrote one commenter on Chinese social media. 
Key context: The jobless rate for 16- to 24-year-olds reached 20.4% in April, 20.8% in May and 21.3% in June. It doesn't take an economist to guess what July might have looked like...

BIG PICTURE
Hiding bad news is hardly a new tactic for Beijing. In October last year, the NBS abruptly halted the release of gross domestic product figures just hours before they were due out. No explanation. Similarly, the customs authority postponed the release of monthly trade data ahead of the all-important National People's Congress, China's annual legislative session. 
But investors famously hate surprises, almost as much as they dislike being kept in the dark. US stocks fell Tuesday as Wall Street weighed concerns about China's economy. 
"We all know predictions are hard, particularly of the future. They're even harder if you're less sure what's going on in the present," David Loevinger, managing director for emerging markets at asset manager TCW Group, told the Wall Street Journal.
China's central bank did try to give the economy some gas on Tuesday, announcing it would cut its medium-term lending facility by 15 basis points to 2.5% — a move one researcher called "somewhat helpful" but "not a game changer."
Last updated August 15 at 7:00 PM ET