Tonight: A nerdy deep dive into the absolutely bonkers accounting practices at Hollywood's biggest studios. Let's get into it.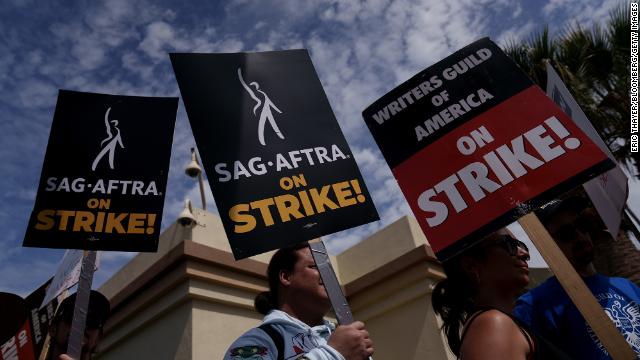 Hollywood is a place for creative types. Actors. Writers. Designers. And accountants, apparently. 

Here's the deal: At the heart of the biggest TV and film industry strike in more than 60 years is a dispute over how people should be paid. But the unique accounting standards that the industry has long relied on to make those calculations is anything but straightforward.

"Hollywood accounting," as a concept, is so specific to the entertainment business it has its own Wikipedia page. Accountants talk about it like a kind of wayward cousin, partly because it diverges from the United States' generally accepted accounting principles, or GAAP — the standard bookkeeping that most US companies adhere to. 

And while experts say this kind of creative accounting is perfectly legal, the tactics involve some of the most fantastical fictions ever devised in Tinseltown.

"There are a lot of different tricks," said Stephen Glaeser, an associate professor of accounting at the University of North Carolina at Chapel Hill. But the most basic version of Hollywood accounting goes like this: 
A studio sets up a subsidiary for each movie it wants to make, and agrees to pay the actors based on that subsidiary's profits.

To actually make the movie, the subsidiary inevitably takes on expenses — crew wages, craft services, set design, props etc.

When the movie comes out, the subsidiary brings in revenue from ticket sales.

Like in any business, the studio takes the revenue, subtracts the costs, et voilà, there's your profit (or loss).  

This is where it gets weird. 

If the movie-making subsidiary makes a profit, the studio then charges the subsidiary — as in, the little company the big company owns, operates, and entirely controls — fees for distribution, advertising, and whatever else, Glaeser told me. And, of course, the subsidiary "agrees" to the new fees. Because it must.

The profits then go straight to the studio in the form of fee payments, so that, on paper, the subsidiary never makes any profit. 

But that feels a little absurd, doesn't it? Why would a red-blooded American corporation not be interested in making a profit? ...

Because actors and other creatives involved in making it have profit-sharing deals in their contracts. If there's no profit, the studios don't have to pay them out. 

"This is why the advice is 'take the gross,'" Glaeser said, echoing what any decent entertainment lawyer tells their client before signing on to a movie or series. 

In other words, it's on actors and writers to make sure any profit-sharing deals are tied to revenue or ticket sales, rather than net profit. No matter how successful the movie is, net profit may, by design, never exist. 

Again, that's all legal. 

Where Hollywood accounting distinguishes itself from the kind of financial record-keeping most businesses engage in is the studios' "overhead allocations," or general operating expenses, said Bridget Stomberg, an accounting professor at Indiana University Bloomington. "Some people suspect the overhead allocations to any one movie can be arbitrary and excessive with the goal of making movies look unprofitable," she said. 

But is it ethical?

"'Ethical' is not the word I would use," Glaeser said. "I think studios that use these tricks are acting unethically, and maybe even foolishly. It seems like squeezing some extra profit out of one movie is not worth alienating some of your most important employees and contractors."

Here come the Men in Black...
Another oft-cited example is the 1997 hit "Men In Black," starring Tommy Lee Jones and Will Smith. The movie grossed nearly $600 million on a budget of just $90 million. It was such a box-office winner, the movie spawned three sequels. 

And yet Sony Pictures, the studio behind it, claims the film has never broken even. 

The movie's screenwriter, Ed Solomon, has spoken out about the accounting shenanigans that make that possible. 

"The studios ARE losing money, just as they say," he said recently in a deeply sarcastic tweet. "My recent Men in Black profit statement proves that the film, though having generated over $595 million in revenue, has actually *cost* Sony over $598 million. SO close, too: off by just .02%/yr." 

Sony, Solomon says, is artificially keeping the movie in the red to avoid big payouts.

"I think the profit statement is actually better science fiction than the film itself," he joked in a 2019 tweet. 

Sony didn't immediately respond to a request for comment. 

I asked Stomberg whether studios would have reasons for keeping their overhead costs inflated other than avoiding paying actors and writers.

"I can't think of any other motivation," she said in an email. "If these subsidiaries are US incorporated and are 100%-owned by the same company, there wouldn't generally be any tax savings." 

Transactions between the studio and its subsidiary, she said, are generally eliminated when companies consolidate their earnings. That means all of these "creative" expense allocations shouldn't affect what net profits the studio's shareholders see.
RELATED: 
Netflix's crackdown on password-sharing appears to be paying off. When the streaming giant reported earnings after the bell Wednesday, it said it added nearly 6 million paid subscribers in the second quarter, bringing its total to more than 238 million globally.
Despite the positive subscriber news, Netflix's earnings missed analysts' forecasts, and its stock slumped in late trading. 
It's hot. Like, really hot. There were 20 record high temperatures recorded across the United States yesterday. And the forecast isn't great, either. Some places could see extreme heat drag into August.  
Unsurprisingly, the heat is altering consumer behavior in a big way, my colleague Nathaniel Meyersohn writes. 
On Amazon, sales of air conditioners shot up nearly 250% in the 30 days ending July 14.

Sales of fans grew 60%.

Searches on Amazon for "single room AC units" and "portable misting fans" also spiked triple digits.

On Wednesday morning, a sun shade for car windshields was listed as the best-selling product on Amazon's automotive page.
Lightweight and cooling bed sheets were the best sellers for Amazon's home and kitchen department.
A hammock pool float topped the charts on Amazon's toys and games page.
These are just the latest examples of how climate change and extreme weather patterns affect the way we shop. It's becoming a somewhat frequent panic-buying situation. 
In June, sales of air purifiers increased 96% compared with the same month a year earlier, spurred by some of the worst air quality levels on record on the East Coast. In the Northeast, where wildfire smoke from Canada was especially bad, air purifier sales jumped 119% in June.
All of this increases the financial burden on households. Energy bills this summer are expected to rise nearly 12% to an average of $578, up from $517 last summer, according to the National Energy Assistance Directors Association. In areas like Texas and Louisiana, the tab is projected to hit $706, up 10% from last year.
Meanwhile, the heat outside is firing up shares of companies that make or sell home-cooling products. Carrier Global shares have jumped 10.6% this month, Whirlpool rose 4.8% and Aaon added 8.3%. Those gains have outperformed the S&P 500, which has risen 2.7% in the same time frame, my colleague Krystal Hur writes.
🧵 The frenzy around Threads, Meta's rival to Twitter, is coming down to Earth. Threads' daily active users fell from nearly 50 million to about 24 million between its launch on July 5 and Friday. 
🚗 Tesla reported a bigger-than-expected profit for the most recent quarter, despite a series of price cuts that trimmed the amount of revenue it took per vehicle sold.
🔎 Stanford University's president is resigning after an investigation found that research papers he contributed to contained "manipulation of research data."
📈 Shares of Carvana, the online used-car seller, soared more than 40% after the company reached a debt restructuring agreement.
Last updated July 19 at 7:00 PM ET